Indian football – In need of a Steroid!
Normally I do not allow others to write something on my personal blog, but the following write-up by my friend Rahul Choudhury is so good and touches some interesting points that I simply had allow it knowing that Rahul is one of few people I know who ...
542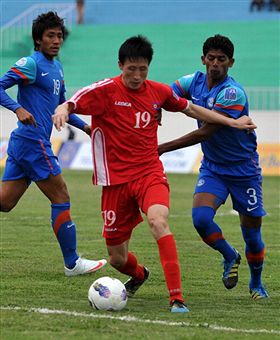 After the humiliating loss to North Korea in the 2012 AFC Challenge Cup, media reports were full with Coach Savio Madeira accusing his own team for lack of commitment on the field. Allegations ranged from lack of team spirit to reserving themselves for the next season. This reminds me of a similar incident in Delhi few years back, when the National teams players voiced their displeasure about the then National Coach. Allegations – counter allegations, fodder for the media, interesting reads for an armchair spectator like me.
Considering that conflicts can arise and it's normal it happens in all walks of life. However, I was wondering did Indian football progress a bit between the two incidents in Delhi and Kathmandu Or at least on the path of progress. My guess is as good as yours.
Let's face it – We are not there yet. It is not to blame anyone. Our players and the coaches are the best that our system can produce. However, our best is not good enough. We lack quality players and equally capable coaches to perform at the continental level. Experiments with the Arrows team seem to point in the same direction. So after every loss in such tournaments, you will see a huge hue and cry about how in-efficient the system is and the AIFF bosses defending it.
This reminds me of India, when we not so technologically advanced in all walks of life. So what did we do to become at least to be counted in G-20, WTO and other similar forums? We imported technology. Then over a period of sustained use and maturity we started developing on our own. However, till the time we started developing our own technology, at least, we remained afloat. Same goes for many other walks of Indian life. Why can't football follow the same example? Import – When you can't make it buy it!!
This is not an 'Eureka' idea. Many countries do this, look at the German and French team for example. Still there is a chance to save Indian football. We have to have some great success to catch eye balls of the Indian public and the purses of India Inc. Both of these are needed for sustained development- Remember the 1983 Cricket World Cup, the way it propelled Cricket from a 'sport-for the elite' to a religion. We need to make it big and quick. We need a steroid.
Players like Odafe Onyeka Okolie, Tolgay Ozbey, Ranty Martins Soleye are good enough to get India to win an Asiad Medal, AFC Asian Cup and may be a World Cup berth. Some may argue that is a temporary solution. Yes, I agree it is a temporary solution. However, this will keep us afloat. Otherwise by the time, our so-called strategic dream projects in grass-roots youth programs, infrastructure developments, exposure trips bring any result, football in India would be dead.
Let us allow PIOs, the OCIs and the foreigners playing in the I-League to play for India! This would give us enough success that can fuel all the youth development and infrastructure projects we keep talking about but can't pay for. Yes, government does not allow this yet. As of now the Government of India allows only the holders of Indian passport to represent India. Getting an Indian passport also means that you to need surrender all your existing passports. That is a tough call for all foreigners, who wish to play for India.
Going back to my example of importing technology, we had license Raj, we had import restrictions. However, someone did influence the government to open up. Why can't we take this up with the government?
Otherwise, let's hope that by magic '1′ Subrata Paul and '10′ Baichung Bhutia's would some how meet on a football pitch to get India an Asian title. Till such time let's be happy with SAFF Cup once in a while and for other tournaments… Players would blame coaches… Coaches will blame players… the story continues…
written by
Rahul Choudhury