Interview: Gary Phillips tells about the football in Tonga, an exotic Pacific Island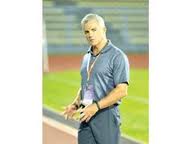 I love doing research about the football in exotic countries without tradition. Therefore, interviewing the Australian coach Gary Phillips has been a pleasure. He coached the  Tonga national team, a small monarchy in the Pacific Ocean known as Friendly Islands (composed of 172 islands). The Tonga team is number 190th in FIFA rankings. Check out the interview and find a new world of football!
Q. How did you get the invitation to coach Tonga in 2001 and what made you accept the offer?
Through the grapevine I heard there was a position available and at the time I was looking for a new challenge.
Q. What did you find in Tonga football on your arrival in the country?
Everything you would expect from a country ranked outside top 160: zero grassroots and zero development in all areas of the game. I even controlled the referees! No vision, no 5 or 10 year plans. The only plan was what are we having for lunch (laughs). The Staff only turned up to work when they got bored at home, we did have an air conditioned office! (laughs), but the challenge was to get them to smoke outside! All very interesting…
Q. What do you have to say about Tongan Football League?
There were not many teams! The Tonga Football Association (FA) actually used OFC/ FIFA money to buy uniforms for all the teams because they couldn't afford to buy themselves. Most players did not wear boots and of course no shin pads. Every Thursday night we would announce on the radio what time and who was playing who on Saturday. This was the only form of communication then. The games were mostly played in the Kings Palace – a ground right on the water front filled with patches of coral so you can imagine what this would do to the barefooted – if it rained there was no games because these were royal grounds we were playing on. Most Saturday's 1 or 2 teams would not show. If there was a death in the village – most weeks someone died – the village would be on mourning for 2 weeks honoring the dead. Or teams that got in their boat to come from the islands to play may not come because of rough seas.
Q. Was the 22-0 defeat against Australia in the Oceania Qualifying Round for World Cup 2002, the worst day in your career?
The day before our 1st world cup qualifier, most players received their 1st pair of boots (ever worn) and shin pads. I tried to explain that these were FIFA rules in competition. Most of the players had blisters after 1st training sessions. In the bus after that defeat, the Tongans responded in the only way they know how, they all started singing. All magnificent voices… It was a special moment and put life into perspective. Indeed Tonga's World Cup is try to beat American Samoa and West Samoa. We did that and there was talk I would be offered one of the hundreds of Islands throughout Tonga. So to answer to your question, NO.
The first time I was relieved of my coaching duties was the worst day of my career.
Q. Outside of football, how was your life in Tonga? Did you enjoy living there?
Tonga then had a very laid back culture. Everyone was on 'Pacific Time', that is you never knew what time someone would turn up or if they would turn up at all. 'We do it later' was generally well received. People were mostly very hospitable and visiting a Church on a Sunday was amazing listening to the singing. My sanity was the beach and sometimes I would just go surfing to escape life for a while (laughs). I have good memories of Tonga and I am still in contact with people there.
Q. Do you think Goal FIFA Project can do something to help the Polynesia football or is it impossible, the challenges in that region are very difficult?
Every country has challenges.  Impossible no, difficult yes, frustrating of course, but what job isn't? The Goal Project is a magnificent concept for these 'developing' countries and for someone it may inspire a life and provide a career beyond all expectations. Football can turn dreams into reality. Tongans are physically very strong with continued funding more international exposure and development programs who knows. The world is getting smaller and attitudes change. As a former National Coach I remain positive for all Tongans devoted to the game.