Indian Football : Interview of India's Youngest US Recruit: Pratik Shinde
Exclusive
10 Mar 2011, 04:40 IST
601
Pratik Shinde – A 15 year old boy from Chembur in Mumbai. Who defied poverty to rise through all the odds with sheer determination, dedication and hard work is all set to play for US Soccer Club Glavestone Pirate SC after signing a one year contract. With financial constrain, his dream of making big in football was hampered even earlier when he could not make it to the Spanish club Alcobendas FC. But this time, after bagging another contract with US based club he is leaving no stone unturned to get there.
Speaking to Babua Biswas, he talks about his achievement, ambitions and his future plans.
Excerpts: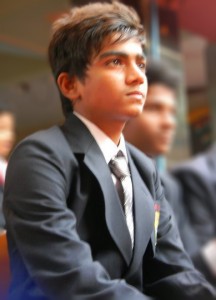 Babua Biswas (BB): Congratulations Pratik. This is a wonderful achievement for you and for India.
Pratik Shinde: Thank you very much. This is just the 'beginning for me. I still have a long way to go and hope to achieve many more.
BB: There might have been a long story behind bagging this contract. Can you tell us how it happened?
Pratik Shinde: No, there is no story behind it. I happened to participate in the Gotcha Cup in Sweden with the help of my Coach Maloy Sengupta. I represented India there and put up a good show and scored a goal. People noticed my talent then and I got some contacts. Back home I started posting my CV and Video's of my skills to them one after the other. To my surprise, Mr. Brendan Keyes was impressed with me and contacted me.
BB: When did you come to know that Glavestone Pirate SC wanted to sign you?
Pratik Shinde: Just a couple of week's back I got a call and came to know about it.
BB: What was your reaction when Mr. Brendan Keyes (Head Coach of Mr. Brendan Keyes) made you the offer?
Pratik Shinde: I was stunned. I just could not believe my ears. I did not know what to do and say. It was only after confirming through Skype I came to sense.
BB: When did you start playing football at all?
Pratik Shinde: I use to play since childhood just for fun but took it seriously just three years ago while in Class Eight.
BB: That is really wonderful. How come you became so expert in just three years?
Pratik Shinde: (Laughs) I don't think I am an expert as yet. I still have a long way to go to become an expert. But I use to practice a lot. I use to practice for about eight hours a day.
BB: You were studying in school as well while you were pursuing your football dream. How did you juggle between studies and football?
Pratik Shinde: It was very tough. I somehow managed it till class nine but could not continue further in class ten. I had to drop my board exams for my practice. So I decided to appear for my class ten through open school.
BB: Didn't your school supported you in your endeavour?
Pratik Shinde: No, they didn't allow me. I had to bunk classes for practice and matches.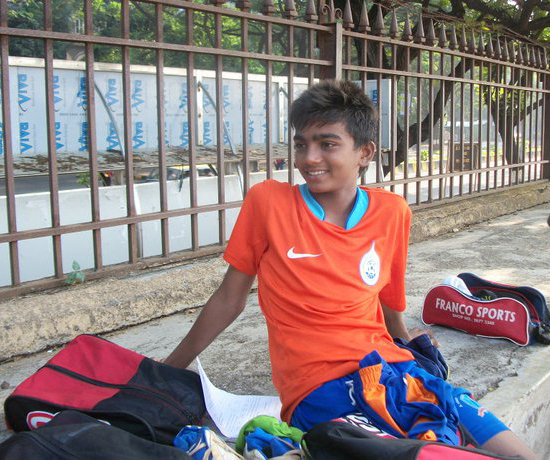 BB: So who was your source of inspiration all these years?
Pratik Shinde: My Mother and my coach Maloy Sengupta.
It's just because of my mother, who works so hard to support me, I could continue to play. She believed in me and did all the hard work for me. She gave me whatever I wanted and never made me feel deprived of anything. I owe my life to my Mom.
Then it's my Coach Maloy Sengupta, who shaped up my career. His constant encouragement always pumped me up to do better and he inspired me and showed me the road to success.
BB: Who all are in your family and what do they think about your achievement?
Pratik Shinde: I have my mother, my two granny's and two younger sisters. They all are very happy about my achievement and they all want to see me making it big.
BB: You missed out a chance to play for Spanish outfit Alcobendas FC due to financial constrain. Who is sponsoring you now?
Pratik Shinde: Nobody is sponsoring me. I don't have any sponsor as yet. It's just because of Mr. Brendan Keyes helping hand that I will be able to go there. He is ready to take care of all my expenses during my stay in US. In fact I will be staying with him in his house. I don't have words to thank him for his kindness.
My friends here are collecting money to buy me few football kits before I leave so that I can concentrate on my game and not think about all these. I am also really thankful to them.
Cox and King might sponsor my travel expense which I will be able to confirm by Monday. I wish someone comes forward to sponsor me.
BB: What do you think is your future prospect after playing for Glavestone Pirate SC?
Pratik Shinde: Glavestone Pirate SC is a semi-professional club of US who plays in the Northern Premier Soccer League and Houston Soccer League. Though it's not a Major League Soccer club, they are very professional in their approach and churns out good players especially with Coach like Mr. Brendan Keyes.
They often play matches with MLS clubs which will be a great exposure and learning experience for its players. Moreover the standard of football and infrastructure in US is better than in India. So I think future is good if you can perform well there.
BB: It's just a one year contract that you have with Glavestone Pirate SC. What after that?
Pratik Shinde: Ya it's just a one year contract initially. But I am sure it will be extended. I will aim for Europe after that. But I don't know how far I can go but I will try my best.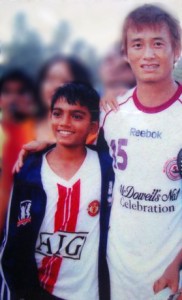 BB: We would also like to see you in Indian Colours sooner or later. Have you given a thought about it?
Pratik Shinde: Who would not like to represent his country? I am no exception to it. But I wish AIFF gets more serious with football.
BB: You will become a role model for many talented boys like you who can't make it big due to poverty. What message would you like to give to them?
Pratik Shinde: I would like to tell them that never lose hope. If you lose hope everything is over. Just work hard and keep trying, everything will automatically fall in places. Hard work never goes unnoticed.
BB: So when are you leaving for US?
Pratik Shinde: My Visa is under process. I will leave as soon as I get my visa.
BB: Thank you for speaking to us Pratik. I on behalf of Sportskeeda wish you a very good luck in your endeavour.
Pratik Shinde: Thank you too. In fact I would like to take this opportunity to thank all my well wisher who have supported in some way or the other in my quest for success throughout all these years. I would also like to specially thank my Coach and Mentor Sir Maloy Sengupta who has done so much for me. I would not have been here without his love, support and guidance.
I would also like to thank Mr. Brendan Keyes without whose kindness I would have ever got the chance to live my dream.
Indian Sports fans are raising 15,000 Rs to help him buy a proper kit and clothes.  Here are the details.