Junior Nationals: UP surprise holders Punjab; Delhi Girls get first win
565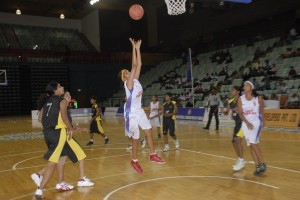 The second day of the Junior National Basketball Championship at the Thyagraj Stadium in New Delhi paid witness to the first major shock of the tournament. On Wednesday, an unfancied Uttar Pradesh boys' side rode a confident start to defeat Punjab, the holders of the championship, and in the eyes of many, the favourites for this year. There were several more exciting games played in the girls' section that made it another breathtaking day for the best U18 basketball players in India.
Punjab, who won last year's Junior Nationals at Vashi, came into this year's tournament with a frontline bolstered by Satnam Singh Bhamara, the 15 year old prodigy, who is already seven feet and two inches tall and has been training with the IMG Academy in USA on scholarship the past year. Bhamara has also been a part of the Indian Senior National team at the camp, but he and Punjab were in for a surprise against a plucky Uttar Pradesh side on Wednesday.
UP got off to a firing start behind aggressive play by Abhishek Singh. After trailing by nine points at halftime, Punjab made a furious comeback in the second half. Punjab unfortunately lost Bhamara to foul trouble, and despite having the game tied at the end of the third quarter, UP took control in the fourth again to extend their lead and notch a 81-67 victory. Abhishek Singh scored 31 points and Rana Vikram Singh added 18 for UP.
In Girls' action, hosts Delhi bounced back after an embarrassing loss to Tamil Nadu in their first game to defeat a hapless UP side easily on Wednesday afternoon. Delhi played tough defense to start the game and led 26-5 at the end of the first quarter. For the rest of the game, UP were forced to play catch-up, but could never recover from the first quarter collapse. Delhi rode behind 18 points by Shivangi Sarda to win 73-55, while Radha Gour scored 18 for UP in the loss.
Defending girls' champions Kerala have again been looking like one of the teams to beat in this year's edition. They faced their southern neighbours Karnataka in an exciting game that stayed close until the final quarter. Kerala held a slim lead at halftime, but Karnataka played an inspired third quarter to go on top. In the final period, Kerala turned the script around, and once again bounced ahead, to finally win this tremendous game, 76-65. Jeena PS was once again Kerala's leading scorer with 18 points and Suryan PR added 16. Navaneetha PU had 20 for Karnataka.
Tamil Nadu boys had a field day in their match against Andhra Pradesh. Kasiranjan M scored 26 points and the experienced Sivabalan G added 19 as TN dominated the whole game to win easily, 89-49.
Scores
Boys
Uttar Pradesh (Abhishek Singh 31, Rana Vikram Singh 18) bt. Punjab (Satam Singh 12, Harmandeep Singh 10, Baljeet Singh 10), 81-67 (18-12, 23-20, 12-21, 28-14)
Tamil Nadu (Kasiranjan M. 26, Siva Balan G 19) bt. Andhra Pradesh (Vaddadi Nagur Babu 12), 89-49 (30-17, 25-12, 15-8, 19-12)
Chandigarh (Navjhot Singh 21, Gautam 18, Pratik 14) bt. Tripura (Subraur Saha 14), 82-35 (22-11, 22-4, 26-7, 12-13)
Girls
Chhattisgarh (Anjana Daisy Ekka 25, Pushpa Nishad 14, Poonam Chaturvedi 14) bt. Rajasthan(Kamlesh Jat 28), 82-55 (25-14, 23-8, 14-8, 20-25)
Maharashtra (Krittika 18) bt. Orissa (Sitamani Tudu 28), 58-57 (17-22, 11-14, 15-13, 15-8)
Kerala (Jeena P.S 18, Suryan P.R 16, Poojamal K.S, Anjaleend Joy 12) bt. Karnataka(Navaneetha.PU 20, Sagarika Shyam 13), 76-65 (14-26, 29-6, 8-23, 25-10)
Delhi (Shivangi Sarda 18, Neha Joshi 15, Padma Vathyr 11) bt. Uttar Pradesh (Radha Gour 18, Dhriti Arora 15, Barkha Sonkar 14) 73-55 (26-5, 11-17, 17-18, 19-15).