Liverpool FC weekly roundup
Another weekend gone, another golden chance spurned by the Reds. Liverpool dropped 3 points at home for the first time this season, and will look to bounce back next weekend. First of all, I'd like to say, good job guys. Despite the result, I still think that the Reds produced a fine performance. The Liverpool [...]
542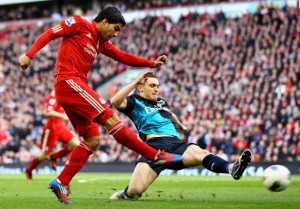 Another weekend gone, another golden chance spurned by the Reds.
Liverpool
dropped 3 points at home for the first time this season, and will look to bounce back next weekend.
First of all, I'd like to say, good job guys. Despite the result, I still think that the Reds produced a fine performance. The Liverpool players were tirelessly closing Arsenal players down whilst they kept their play neat and brought the ball forward well, so I genuinely think (although I've thought this several times this season) that we genuinely should have walked away with 3 points yesterday afternoon. So, for more a breakdown.
4 – Penalties missed by Liverpool in the PL this season, the joint-most by any side in a single season since 97/98. Spurned
Our penalty taking is poor. It's a fact now. I find it fairly surprising that we walked away from Wembley as a result of a penalty shootout just last weekend. We need more penalty taking practice at Melwood over the next week or so, as penalties are goals that we simply must take.
Luis Suarez, in my opinion, put in a good game yesterday. He is a top notch striker, just lacking in a bit of service from the midfield department. And for all the people still branding him a cheat, most people would still take a handball and take your nation to the semi finals of the World Cup. After all, it is the World Cup.
And of yesterday's performance, I won't lie. He exaggerated his fall when Szczesny supposedly took him down. The Uruguayan has to stop doing controversial things. But apart from that, he used the ball well and lead the line alone very well. I particularly found the combination play between him and our Dutch striker Dirk Kuyt particularly pleasing.
And of the statistics.
28 players have scored more goals than Suarez in the Premier League this Season. 100 have more assists. 26 have a better key pass average.
First of all, he has been out on a suspension which saw him miss many games in the Premier League. There was also another match suspension due to his finger pointing antics against Fulham earlier on in the season. All this means that Suarez hasn't had the proper game time to be compared against other strikers in the Premier League.
Another reason that really means for a hard time for the Uruguayan is the fact that he is a heavily marked man. He is really the only target for Liverpool targets, given there being a lack of depth in the offensive department for Liverpool FC. What this means is tight man marking. The likes of Sergio Aguero have more along side them to create a goal, eg. Dzeko, Balotelli, Silva, and therefore it is hard to keep them all out.
OK. So that's it with match review. Apparently Liverpool FC are targeting five players in the summer, with a transfer kitty of around 75 million pounds made available for Liverpool manager Kenny Dalglish.
There's a very positive vibe around the club across Europe. A lot players I know are very interested about joining the project because it's a very interesting project. We already know that there are big players who want to join us next summer because they believe in the project. Everybody in Europe knows what Liverpool football club are trying to do.
Damien Comolli