Match-Day 3: Dermalogica Football League 2011
556
Matchday three got even better at the Dermalogica Football League as there were better arrangements of cold water and shade. Most of the teams were able to get their full strength squad as most of the players were busy with exams the previous two Sundays.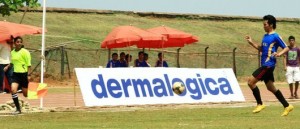 In the first game Classic Sports Club (Mumbai Central) lost to Chheda Nagar Prodigies 3-0, which put the Mumbai Central team to the bottom of the table. Youth Soccer Academy scored within 15 seconds as Prashant Paradkar found the net once again for his team. But the complacency took over in the second half as Veera United got one back through a corner.
Falcon Brothers continued their un-beaten run by defeating Sporting Options COLTS 3-1 in the third game to take the pole position in the League table. Sporting Option's goalkeeper suffered an injury in the first half which lead their manager with no option but to replace his goalkeeper with one of the midfielders.
In the most surprising result of the tournament, Peninsula FC won against the favorites Sajid Academy 1-0. The later had most of the ball-possession but could not convert. Peninsula were able to create a perfect counter attack initiated by Vishal Mulchandani and the striker made no mistakes.
The last match of the day between Oval FC and Millwall ended with the boys from Bandra wining 1-0. The day ended on high tempers as Millwall's coach was furious with the referee's assistant over an offside decision which could have given his team and additional goal.
Millwall are now second to Falcons FC on the top of the table on goal-difference.
"The referees should have done a better job. In a League format every goal counts and mistakes like these may cost us later" said the furious Millwall coach.