Most Memorable Moments in Indian Sports
Editor's Pick
15 Aug 2010, 10:37 IST
580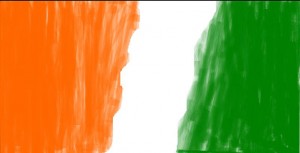 I have been thinking of writing an article on Most Memorable Moments of Indian Sports for some time. Today when we are celebrating 63 years of our Independence, it's perhaps the best time to do so. We cannot be called a Nation that takes its sports too seriously by any stretch of imagination. Culturally Sports has been a time pass activity for school and college kids. In an increasingly glocalized world, things are changing for better for sports in our country. Its realization of the fact that Winning in Sports is symbolic of a rises of New India. Parents are encouraging their children to pursue sports with passion and are open to it as a career option. Among various factors the most inspiring reasons have come from the Sports field itself.  Make no mistake we have had our moments of glory, however trivial it may look on a larger scale, at least for us they are fond memories. These are the moments that have housed themselves in our collective memory with the events recalled and re discussed every now and then. . Some of the moments have "Where were you when….." kind of effect. While taking a trip down the memory lane I was amazed that I vividly remembered when and where stuff and the Hi fives and celebrations after for most.
That there will be more references to Cricket is a given and of course the listing is in no particular order. All but one of the memorable moments are from last 20 years or say the time I can recall. The one exception is because I for one cannot ignore this one come what may. So let's put it first up.
India's victory at Cricket World Cup 1983:
Few events have changed the facets of any game than this improbable Victory of minnows India over the two time defending champions, the Might West Indies in the finals of the WC at England. India was supposed to roll over as they had in previous two editions. Only this time the Kapil Dev led team had different plans. They started well enough by pulling off a shock victory over WI in league phases. They seemed to be losing way mid tournament when the Captain led by example and played perhaps the Greatest ODI innings ever by scoring 175 against Zimbabwe. How seriously was the team taken till then can be gauged by the fact that at 17-5 the BBC camera team packed up and we missed out on any footage of Dev's inning. In the final when Indians were shot out for 183, match seemed  all but lost. But the Indian Military Medium Pace Bowlers in Binny, Amarnath, Sandhu , Madanlal and Kapil Dev pulled off a remarkable victory by 43 runs. Cricket was never going to be the same again. Cricket found a new centre, the subcontinent and ruled roost for next 25 years.  The image of a toothed Kapil Dev lifting the trophy at Lords is fresh in every fan's mind, no matter if they were born before the 1983 WC or after. It was the first ODI WC title and we still await the next.
Pullela Gopichand's All England Triumph of 2001 – . It was as delightful as it
was shocking. He emulated the Great Prakash Padukone's victory in 1981. But while Prakash was playing at the level where the victory was not really a shock,   Pullela's victory came like a bolt from the blue. It was the time Indian Cricket team was struggling against Aussies at home and so sports fans were hooked to the live telecast of the tournament once Gopichand got to the quarters and it just kept getting better with every victory. The motley crowd of chanting, flag waving vociferous Indian fans and Gopichand's unbridled celebration is etched in memory forever. Tragically Gopichand suffered the injuries one too many which cut short his career. But the fighter that he is who once famously refused to endorse Cola Brand saying it's not healthy, is today a proud mentor of another wonder Saina Nehwal who currently is world No.2 and looks set for more. We wish Gopichand and his disciple Nehwal all success in future.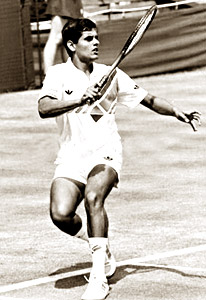 The quarter-final victory over the French in 1993 Davis Cup : Tennis seldom gives you an opportunity to play in a team. Davis Cup is the only one of its kind and hence the importance.  It was a momentous occasion. Played in france on red clay,  France's favourite and India's least favourite surface. The French Team had likes of Henri Leconte, Guy Forget in its ranks. Ramesh Krishnan lost the opening tie but Paes pulled one back by defeating Leconte. France won the doubles and Paes again showed his indomitable spirit by  restoring parity. In the decider, Krishnan kept his nerves in a 5 setter spread over two days in front of a partisan crowd to pull off a memorable victory against all odds.
Leander Paes bronze medal at the 1996 Atlanta Olympics:
There is something about Leander. Make him believe he is playing for the Nation, wave a flag, sing the National Anthem and watch the magic unfold. If he is down in dumps he will come back like a man possessed. We owe many a Davis cup victory to him. He has won numerous Grand Slams but his greatest singles effort ever has been on the largest stage for all sports, the Olympics and an individual medal after 44 years at the Atlanta Olympics. . This event has no prize money and no ranking points, just national pride and honour. Not surprising that Leander was at his very best. Agassi on his come back trail when he had fallen out of top 100, won the Gold by defeating Sergei Bruguera. To watch Paes And Agassi on the Podium, one teary eyed, another allowing the emotions to get better of him, watching the Tri color go up. It was as if time had stopped.
Hockey Gold Medal at 1998 Bangkok Asian Games :
Entire generations have been starved from witnessing Indian Hockey team win a tournament. India's last Olmpic Gold was in 1980 in a vastly depleted field. Last Asian Games gold was in 1966. and that made this win so special. India had decimated its opponents 9-0, 7-0 in its first two matches. It defeated defending champions South Korea to top the group. After seeing off Japan in semis India ran into Koreans once gain in Finals and came up with 4-2 in tie breaker. While Dhanraj Pillay scored 11 goals , it was Goalkeeper Ashish Ballal who became a hero after stopping two shots by Korean in shoot out. It was an end of Big tournament title drought and seemed like a new dawn in Hockey but alas.
2007 T20 WC victory and Yuvraj's six sixes :
In some ways what Kapil Dev's devils did in 1983, a  rookie team led by a cool captain with a midas touch belied all expectations and brought home a World Cup after 24 years. Indian Team's form leading up to the tournament was not too good. Add to it the selfless decision by the Big 3 of Indian batting to excuse them selves from T20 to promote youngsters had weakened the team considerably. India had no experience of the format.They just about scraped though in the league phases against Pakistan. From then the team went from strength to strength in the tournament with the highlight being Yuvi's masterful 6 out of 6 hits out of ground in one over of Broad while racing to a 12 ball fifty. In the finals India was cruising to victory when Misbah decided other wise and brought Pakistan right back in the game. In a cliffhanger of a contest, Misbah got himself out in last over of the match bowled by Joginder and gifted India the title. Dhoni's gut decisions  had proved right every single time. The team was taken on an open bus ride on home coming bringing the Maximum City to a grinding halt.  India had found a new captain, a bunch of fearless Cricketrs and Cricket a new format which ironically looks like pushing out ODI's from the lime light for good.
Three Olympic Medals in 2008 :
Mostly Olmpics make us feel vain. While even smaller countries pile up medals we have to make do with one Leander Paes or Malleswari or Rathod. Not surprising as the athletes here are often let to fend for themselves at their own.  When Abhinav Bindra shot his way to Gold, he became the first Indian to claim an Olympic Gold. As an  icing to the cake, Vijender Singh, a boxer with Chocolate Boy looks won a Bronze and Sushil kumar topped it with another one in wrestling. While Bindra is from affluent background, the other two have spent their life in hardships. It was the best showing ever by India and it also brought attention to so far the neglected sports of wrestling and boxing.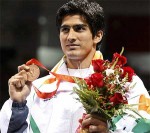 The 2001 Eden Garden test and Sydney and Perth Test of 2008-09:
The epic battle of Eden gardens where the Australian Juggernaut had coame to halt. The Laxman Dravid special that turned the tables, the rechristening of Harbhajan as Turbanator, India has been the only team that has run the Aussies close in every series. The rivalry has caught public eye in both countries and has relegated Indo Pak rivalry to a back burner. The Eden Test is done to death and we shall add no more to it. The ill tempered Sydney Test of 2008, marred by Sub standard umpiring, Symmo-Bhajji face off and Clarke's miracle over gave Australia an unexpected victory. Much hue and cry was raised off field and Aussies were roundly condemned. Bucknor became the most hated person in India for his wrong decisions turning the game in favor of the hosts. . It was in such atmosphere that the team face doff in Perth. A pitch known for its bounce and carry, it was suspected the Indian team would crumble with all controversies. Instead the team showed great character to put off the acrimonius events and recorded one of their most amazing Test triumphs overseas, when they beat Australia by 72 runs in the thrilling third cricket Test to snap the champion team's record 16-match winning streak once again as they had done in 2001. This was one victory that gave  immense pride and joy.
India lift Nehru Cup 2009:
11 months back, Indian Football got a shot in the arm when the home team defeated Syria in penalty shoot agter being tied 1-1 at the end of extra time. Though Syria was ranked much higher to our than ranking of 156, frankly its not a force in world football. But a victory for a team whose cupboard is completely bare was something to cherish. The tournament got popular support and the Final was a House full show. Delirious fans ran on to the field to celebrate. Its not everyday one gets to witness such scenes in Indian football. May be not as mega as others but memorable it is.