NZ Beating South Africa-We are Talking Rugby-Aren't We?
550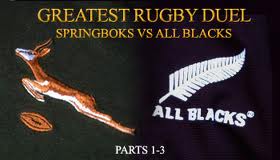 When I was awoke this morn by my radio exclaiming a New Zealand victory over South Africa.
First I thought I was dreaming and then secondly thought because I was listening to Retro 80′s that I was indeed had been indulging in substances from those indulgent days.
Then thought have a stiff Scotch roll over and accept that the Springboks have been struggling of late and the All Blacks are the All Blacks after all
So the clock ticks over to 5am and as always my cat is body slamming me to wake me to feed it.
The radio again telling me the Kiwis beat the South African's………….!
But NOT in Rugby, but in cricket…….
The penny drops and a few expletive filled sentences later I drag my sorry old carcass to my lap top and get on WWW to confirm this miracle of all miracles……..
Indeed it happened and again *^^%$# followed by *&%#$@
Hehe lol I didnt even feel the need to write a preview of the match such was my certainty that the regal South African's would smash the Kiwi's into oblivion…
Though citing the Earth quake tragedy in their fine land, the men from the shaky Isles rose and indeed slayed the giant Prompting wags in the spothlight like Andy Zaltzman to twit this on the key action in the match-the running out of DeVilliers by Faf Du Plessis
"AB was batting so beautifully I felt compelled to run up to him and ask for his autograph… but he blanked me and ran off in the other direction. Bloody celebrities."
So the farce aside what can we say about this game?
Most will say the South African's choked,but that in truth is very disrespectful to the Kiwi's who just played out of their boots to beat them
Though the result from a South African point of view is best summed up by this learned Indian cricket pundit Srinivasan Narayanan
'2011 – harakiri (no presure when the madness took over). So SA must be a gold mine for a psychologist studying 'why men fail' :('