Observations on World Cup - 3
545
Finally the group stage of this World Cup is over and we are lined up for the quarter finals. All the matches from now on are crucial highlighted by the fact that only 3 victories lie between the 8 teams and the Holy Grail. Some of the things that are worth mentioning have been –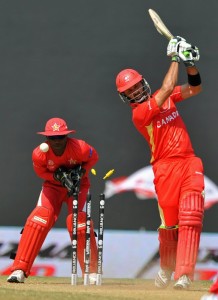 1.       Adieu to the Stalwarts – Steve Tikolo and John Davidson have played their last match for their respective countries. Tikolo who led Kenya to Semifinals of the 2003 world cup will be remembered for his calm batting. He has been the true identity of Kenya since they started playing cricket. John Davidson on the other hand is remembered for his whirlwind 67 ball hundred against West Indies, again in 2003 world cup. (Let us not forget that West Indies chased the 200+ score in abt 20 overs and the catch Vasbert Drakes took to get Davidson out.) This was then the fastest century in world cup.
2.       Australia finally beaten – It took 3 world cups and 34 matches to beat Australia. And it was Pakistan – the team against which it lost in 1999 world cup at Headingley. The game though low scoring was an interesting one courtesy some good bowling performance from the Pakistanis and Brett Lee. In the end it was a comfortable 4 wicket win for Pakistanis. One of the longest streaks comes to an end.
3.       No surprises in the Quarter final line up – The final 8 in this world cup caused no surprises. As expected it was the 8 regular tests playing nations. Is this any indication to the fact that getting the basics right has no short cuts? (meaning playing more of T-20) I would like to believe so.
4.        Names which matter – Ryan Ten Doeschate has shown he is effective not only against the associate nations. Ashish Bagai has been the batting lynchpin for Canada. Harvir Singh Baidwan has bowled with lot of heart.  Kevin O'Brien is a prospect for future.
5.       High Impact Individual Contribution – Muttaih Muralidharan's 8 over spell against the Kiwis despite his injury is a tribute to this guy's commitment. His figures of 4 for 25 is surprisingly his second best performance in World Cups. Yuvraj Singh's all-round perfromace(113 and 2 wickets) against the Windies earned him his 3rd man of the match – his getting back to form means a stable middle order for India.