Rare and out of print display at World Book Fair 2012 by Indian Sports Books
News
03 Mar 2012, 17:13 IST
837
March 3rd, New Delhi: Indian Sports Books is proud to display its rare collection of over 500 titles at the 20th edition of the World Book Fair at Pragiti Maidan, New Delhi.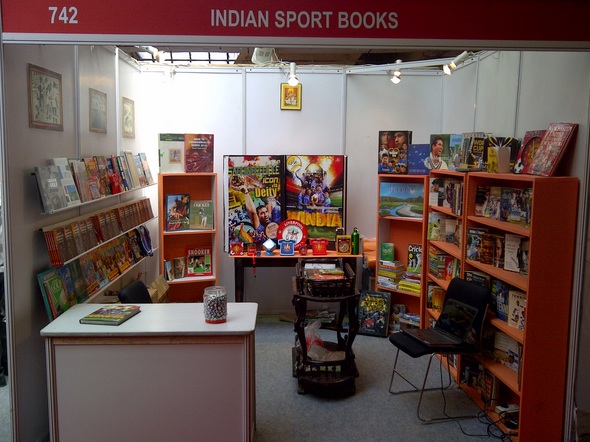 In their maiden outing at the World Book Fair, they have introduced a concept of incentivizing sports reading in the country by offering sports memorabilia and merchandise equivalent to the purchase price of the books. This comes as a relief to a country of a billion sports lovers where reading books is on an upward trend. After successfully hosting the 2010 Commonwealth Games, 2011 ICC Cricket World Cup and the F1 Indian Grand Prix, the interest in sports has hit
a new high.
"The World Book Fair helps us achieve our twin objectives; to assemble and to assess the sports reading population under one umbrella and incentivize these readers in order to boost sports reading in this country.
Riding on the success of Women's Cricket World, written by women's team captain Anjum Chopra, the book also received commendations from Bollywood stars Rani Mukerji and Shah Rukh Khan.
The time is right for sports in India. A 2011 study by the management consultants firm A.T.Kearney indicated that India's spending on sports is increasing by 17% annually. Furthermore, a 2010 study by the Indian Council for Research in International Economic Relations (ICRIER) has projected spending on sports recreation to increase 8.9% annually.
Annual reports show that sales of sports good increased by 27% and 32% in 2009-10 and 2010-11 respectively.
"With over a dozen sports channels and several print media dedicated to sports, the time is ripe for us to cater to sports lovers. This is our first attempt at tapping into this lucrative area. Over the period of this year, we plan on coming out with titles aimed at sports enthusiasts of all ages along with strategies aimed at capturing this niche audience", said Mr. Justin Alva the Project Head (Emerging Media) of Indian Sports Books from Bangalore. "In the next 6 months, we aim to have direct presence in 4 major cities in India." Mr. Alva added.
The World Book Fairs ends Sunday, 4th March, having run for over a week.