SIMSR Yudh '15 Results - Day 1
All the results from Day 1 of SIMSR's sports fest
News
30 Jan 2015, 23:55 IST
1.85K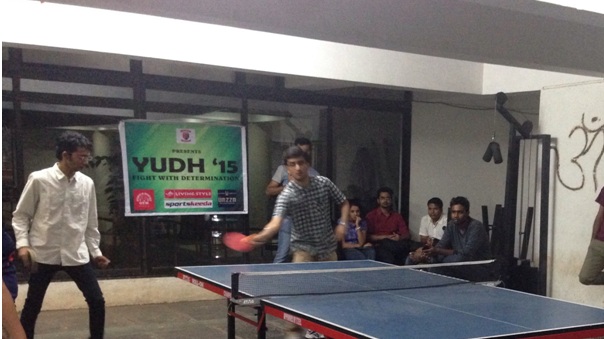 Mumbai: It was the first day of the three-day annual sports fest of K.J. Somaiya Institute of Management Studies and Research (SIMSR) – Yudh 2015. It was a power packed day with participants from many esteemed B-schools like Narsee Monjee Institute of Management Studies (NMIMS, Mumbai), Sydenham Institute of Management Studies (SIMSREE, Mumbai) and Welingkar Institute of Management Development and Research to name a few.
Day 1 Results
Badminton
Anshuman (NMIMS) bt.Prateek (SIMSREE) 12-15 15-9 15-13
Priyanka (NMIMS) bt. Aditi (SIMSREE) 15-9 16-14
Anshuman-Ishan (NMIMS) bt.Vidit-Ajinkya (SIMSREE) 15-12 15-13
Basketball (Women)
SIMSR bt.Welingkar 28-3
Basketball (Men)
SIMSREE bt. SIMSR B 34-15
TISS bt.Welingkar (Walkover)
Squash
Adhiraj (NMIMS) bt.Shishir (SIMSR) 11-4 11-5
Aayush (SIMSR) bt. Karan (SIMSR) 11-6 11-3
Varun (SIMSR) bt. Satya (SIMSR) 9-11 11-9 13-11
Madhav (SIMSR) bt.Rajat (NMIMS) 11-7 11-8
Table Tennis
SIMSR bt. SIMSREE 3-0
SIMSR bt. IIM Indore (Mumbai) 3-0
SIMSR bt.Welingkar 3-2
Welingkar bt. IIM Indore 3-1
Welingkar bt.Simsree 3-0
The opening round matches for cricket, football, athletics, volleyball and LAN Games will begin on Saturday.