Sport radiates the beauty of players
Editor's Pick
29 Mar 2012, 15:52 IST
1.99K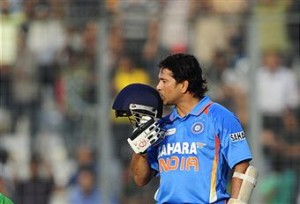 How many of us have not gasped in amazement at the ruthless backhand of Roger Federer, at the happy feet dance of Lionel Messi with the football  and at the classic straight drive by the master blaster, Sachin Tendulkar? More often than not, when we speak about these players we say that the sport is blessed to have them. People pursue their dreams and celebrate their laurels. Sachin's hundredth ton, Federer winning the eluded French Open and Messi becoming FC Barcelona's highest goal scorer may not be feats that can be repeated but they do inspire people across the world.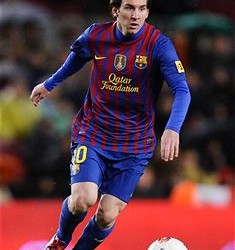 Few of those inspired players love performing under pressure. It comes so naturally to them, almost like it's their second nature. Sandeep Singh, the Indian Hockey player is one such person. When he scooted the puck into the net repeatedly 5 out of 6 times to take India to the Olympics, the audience was reduced to tears. When Andrés Iniesta scored the World cup winning goal for Spain in the extra minutes, their nation erupted in joy. Virat Kohli's aggressive display of achievement when he scored that hundred against Pakistan gave a sneak peek of his determination.
Stories of achievement inspire us but stories of grit and to rise above oneself move our core. Pyrros Dimas, Jelena Dokic and Lance Armstrong are few players who fought adversities and established themselves. Watching few Olympic Games repeats on TV made me aware of Pyrros Dimas, the retired Greek Weightlifter. Participating in the his last Olympics in 2004 in Athens without ample practice and with three surgeries in his knee, this man came with the sole motive "For Greece". He won a medal, albeit a different one from his previous time, Bronze. He retired on the same day. The roar that went through the stadium during the Medal ceremony halted the crowning of the winner who waited patiently for it to die down.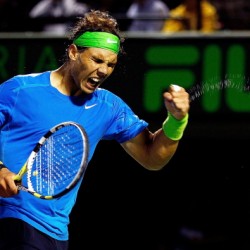 Following these stories, another spell binding clan of players that amaze me are the split personalities. These guys have "the" look in their guys. Their aggression and game plan is a lethal combination which ends up intimidating the opponents. But when you follow their pressers and their behaviour off screen, the feeling that you experience is of awakening. Rafael Nadal is the perfect example for this. His gut wrenching "Vamos" on court to his humble "Thank you" in the same on-court interview, he redefines humility. Saina Nehwal, the Indian Badminton star is another. While I had the opportunity to play with her during the nascent stages of her career, it gives me great pride to see her reach sky scraping heights.
When I talk about Usain Bolt, Michael Phelps and Yelena Isinbayeva, the best common factor that I recollect of them, of course apart from they being successful sport personalities, is World records. Breaking their own set records for newer and tougher ones is their characteristic. Phelps' 8 Olympic Golds, Yelena crossing the 5 meter mark time and again with her pole vaulting skills and Bolt's lightening speeds are gifts to the sporting world.
Each player brings something unique to the sport and a different perspective. While it is impossible to abridge every one's story in the realms of an article, one thought crosses my mind repeatedly.
The sheer beauty of any sport lies in its players and every sport has its own story and every player his own.