Sri Lanka and England: The Carefree v The Careworn
545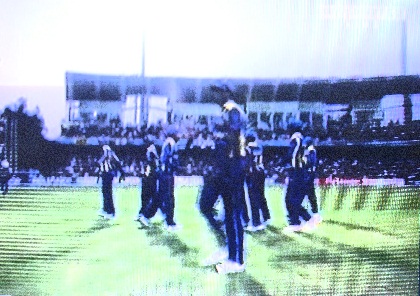 Before leaving the field at 'half time' in the fourth quarter final of the ICC World Cup 2011 played in their own back yard in the R Premadasa Stadium, Colombo, Sri Lanka openly and confidently celebrated keeping England to 229 off their fifty overs.
Not for a moment did they reflect that this score was ten runs more than New Zealand had defended against South Africa the day before in Mirpur.
Carefree is defined as being free of trouble and worry and care and such is Sri Lankan cricket with its full hearted pace, its innovative spin and its ambulant batting.
After the interval this carefree culture enabled Dilshan and Tharanga to treat the ecstatic home crowd to an exhibition of fluid stroke-play with their high back-lifts, full swings, unfettered footwork and flourishing blade-work which took Sri Lanka to a ten wick annihilation of their opponents.
In contrast, careworn England displayed the effects of worry and anxiety.  Confined to the crease by burdensome responsibility and intimidated by constant scrutiny, their cricket was riddled with pessimism, deeply defensive and as intrinsically negative as Sri Lanka's was positive, optimistic and attacking.
Cricket proceeds from a frame of mind.  As the young of today would say, "It's chicken oriental." (trans: It's mental)
Andrew Strauss was more expansive but no less accurate, commenting openly,  "I thought [it] was a good example of playing with fear. We were very tentative and we obviously had a very poor start," he said. "We are paying the price for that tentativeness."
Knowing what went wrong is 95% of putting things right.  The 5% is process.  England are unlikely to enter the next world cup on the back of a demanding Ashes Test series followed by a heavy schedule of seven ODIs against Australia and a couple of days R and R in the VIP lounge at Heathrow Airport.
They are unlikely to lose through injury such vital ingredients of their batting and bowling attacks.  They will not be playing on sub-continental wickets.
But in 2015 they will still have to field five or six batsmen with free swinging bats and the aggressive footwork that is not just successful in Asia and not just successful in T20.
They will still need to find four or five spinners with the arsenals capable of beating both sides of the bat, and a handful of seam-up bowlers with the disguised variations of pace and movement now required to challenge the world's top batsmen in each form of the international game.
Simple?
It will require drier, faster, bouncier, dustier wickets with their rewards to pace and spin.  It will require more encouragement and permissiveness for batsman to dance down the track and hit the ball in front of the wicket.
Above all it will require a revolution in the chicken orientality with which players in England go about their business.  At this point in their careers Strauss, Flower, Vaughan and Graveney have the experience, the authority, and the imagination to lead that revolution through the academies, the development teams, the counties and the national side.