Steven Gerrard is a doubt for the Arsenal tie
It is a beautiful Friday afternoon and I've got lots of things to cover in today's column, including news on Alberto Aquilani and a short team...
News
02 Mar 2012, 17:20 IST
544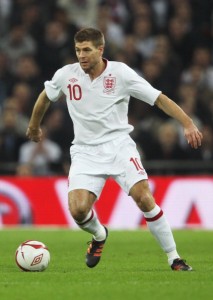 Steven Gerrard might sit out for the Reds after being taken off in mid-week (as a precaution, apparently), so he is a doubt for this game. Daniel Agger is definitely be ruled out of the game, having suffered a fractured rib in Liverpool's Carling Cup final victory over Cardiff City, and the Danish defender will only return for the Reds in a month's time.
Apart from the duo, and Lucas Leiva, Kenny Dalglish has a full squad at his disposal as Liverpool take on Arsenal in a do-or-die 4th place battle, with the Reds realistically needing a win to keep their hopes of claiming the 4th and final Champions League place. The Reds currently lie in 7th place, trailing the Gunners by seven points.
Kenny Dalglish has also talked about the excitement that comes with the chase for fourth place in his recent pre-match interview for the Arsenal game at Anfield:
I'm not worried about excitement (of the race for fourth); I'm worried about moving the club forward. And we've got a really difficult game against Arsenal on Saturday and we're going to go and play it and compete as best as we can.
In other news Aquilani is set to sign for AC Milan on a permanent deal, according to the Italian midfielder's agent. The reason behind this is a clause in the loan deal, which stipulates that the Italian can be snapped up by the Rossoneri on a six million pound deal should Aquilani feature in 25 games for AC Milan this term. The six million pounds is in fact a buyout clause, which means that Aquilani is likely to move back to Italy on a permanent deal.
It is believed that the Reds will indeed proceed with this deal should AC Milan fork out the six million pounds to buy Aquilani.
The Italian midfielder has already featured in 15 games for AC Milan in the Serie A whilst playing for them on five occasions in the Champions League this 2011/12 campaign.
I feel more assured. You can never say no to Milan. I have always had the hope of becoming a Rossoneri player.
Aquilani talking about his loan deal earlier on in the season.
Arrivedercci Aquilani.