Talking Tactics: Liverpool FC's attacking combinations Part 1
Attacking options. Liverpool FC have many of them. Whether it be the unsolved question which is whether we should deploy Andy Carroll to where Steven Gerrard or even Luis Suarez should play on the ball park, Kenny Dalglish needs to figure out his best attacking combination fairly quickly. So here's what I generally think about [...]
Editor's Pick
28 Mar 2012, 23:45 IST
542
Attacking options. Liverpool FC have many of them. Whether it be the unsolved question which is whether we should deploy Andy Carroll to where Steven Gerrard or even Luis Suarez should play on the ball park, Kenny Dalglish needs to figure out his best attacking combination fairly quickly.
So here's what I generally think about the Liverpool FC attack.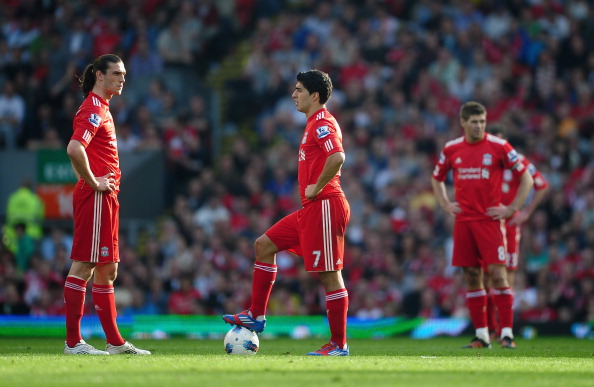 Andy Carroll and Luis Suarez
Generally, I think that Luis Suarez has to start most, if not every game for Liverpool FC. Put simply, he's just too good of a player to be left out of the team. Now the question is whether we have a strike partner beside him. Carroll is our only other recognized striker on our roster apart from our talented Uruguayan number 7. He knows how to operate both the traditional 'Number 9? and 'Number 10? roles.
But I honestly think that Andy Carroll, at least for now, has to be part of the equation. Carroll is the type of player that will draw a lot of attention away from other Liverpool FC teammates, hence opening up play for Liverpool FC. In some ways, you could say that he's a sacrifice, meaning that Luis Suarez has more space and time when he's on the ball. Furthermore, Carroll's height and heading ability means that the reds are also able to play aerial balls and retain possession, with Suarez/Gerrard picking up the scraps from Andy Carroll's knock-downs.
Suarez is not a clinical finisher. This much has been shown this season. This might do with the heavy marking when he is deployed as a lone striker in a 4-5-1 formation. He doesn't have the pace to get past defenders, but he more than certainly has the ability to beat even the best of defenders with his dribbling ability. Carroll's mere presence will be allow for Suarez to go back slightly further back and play in a position where roaming around dangerous areas is his job, with his impact very restricted when he plays up top waiting for the ball in a 4-5-1 system.
Maxi Rodriguez and Luis Suarez
Sometimes I wonder. What does Maxi Rodriguez have to do to get a game. In his brief spells with the team, he seems to be performing really well. He gets into dangerous areas, plays neat passes, opens up play and he even scores a couple while he's at it as well. Which is why I am completely puzzled as to the exclusion of the veteran from the team in the season thus far. It must be remembered that he was one of the key players at the start of Kenny Dalglish's successful restart to life as a manager of Liverpool FC.
He combines well with striker Luis Suarez and he fits perfectly in Kenny Dalglish's 'pass and move' philosophy. His movement also enables him to cause a ruckus in the penalty box, with his positioning often inch perfect and his finishing (both with his heading and his two feet) often very clinical. His partnership with Suarez was potentially best shown in the FA Cup quarter finals, when him and Luis Suarez combined with neat passing to produce a peach of a goal.
Rodriguez finds space in very tight areas and can also play from out wide and work his way into the penalty box before delivering the ball in. I personally think that if Kenny Dalglish is going to experiment, this partnership is one great way to start.
Steven Gerrard and Jay Spearing
Personally, I think this partnership is only for the moment. Lucas Leiva will get his spot back immediately when he returns from injury. For how much passion and pride the young scouser has when it comes to playing in the red of Liverpool, Lucas is simply a class above. The Brazilian still covers much more ground and is more precise with his tackling.
But nonetheless, this is something that must be covered. The thing with playing Lucas is, that Liverpool will then be confident of letting Steven Gerrard off the leash and get into more offensive areas. There is somewhat a lack in confidence in the young Englishman's ability, with Steven Gerrard often made the sacrifice for the sake of protecting the defence.
The way I view things, with 4 pretty sturdy defenders at the back and 1 defensive shield in Jay Spearing, Gerrard should be given more license to get forward, with the right winger potentially being one who is also able to swap roles with Gerrard. Which brings me to my second point, that we don't have a natural right winger. Rodriguez, Bellamy and Downing all naturally play best on the left. Dirk Kuyt is a different case, and Jordan Henderson actually needs to play in a 'Steven Gerrard' role.
More will be discussed in the next part!