The Great Indian tennis contingent: A bit of hope, a lot of luck
23 //
27 Jul 2012, 16:29 IST
There have been protests, gamesmanship, stabbing, back-stabbing, politics and a whole lot of drama, but the Indian tennis contingent has finally made it to the Olympics in one piece. Or as close to in one piece as they can get. The draws have been announced, with there being no chance of Bhupathi-Bopanna running into Paes-Vardhan before the final. So thankfully, we won't be treated to the unsightly spectacle of Paes and Bhupathi trying to pull each other's hair out on the tennis court. At least not until the final.
On a serious note though, what are the realistic chances of the Indian players to make their way through the draws that have been handed out to them? Here's a brief look at each Indian participant, starting with perhaps the least hopeful of them all: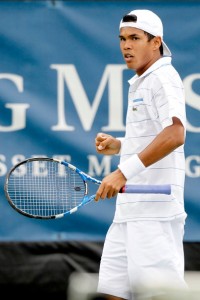 Somdev Devvarman, men's singles: Devvarman was granted a wildcard entry by the ITF, and so he finds himself in the main singles draw of the Olympics despite the fact that he's far from being the highest-ranked male singles player in the country (that honor goes to Yuki Bhambri, who recently broke into the Top 200). Devvarman has suffered injuries, loss of form and a whole lot of unsavory things in the recent past, so to an objective observer, winning a single match might be considered a significant achievement. The problem, of course, is that winning even his first match might be a bit of a stretch for Devvarman, as he is pitted against Jarkko Nieminen, an experienced pro with solid shot-making skills, in the first round. If he manages to get past Nieminen, Devvarman will most likely run into Andy Murray in the second round. Now let's play 'hopeless optimist' for a minute, and assume that Devvarman somehow manages to overcome that hurdle too. His next likely opponent will be Richard Gasquet; surely that flaky Frenchman will put up less resistance than Murray? Devvarman's quarterfinal opponent will most probably be Tomas Berdych. The Czech headcase has to be considered a manageable opponent, right? And once he beats Berdych to a pulp, Devvarman will be in the semis, against Novak Djokovic! Alright, maybe defeating Djokovic is something that even a hopeless optimist can't envisage. But there's always the bronze medal playoff, right? That's our medal right there! Don't sneer, stranger things have happened.
Medal chances: Borderline impossible (unless you're a hopeless optimist)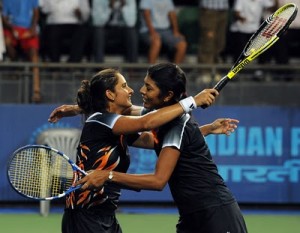 Sania Mirza-Rushmi Chakravarthi, women's doubles: The team that no one's talking about. Or is it the team that no one cares about? Sania Mirza and Rushmi Chakravarthi have made their way into the women's doubles draw with little fanfare, and perhaps lesser hopes. They face the Chinese team of Chia-Jung Chuang/Su-Wei Hsieh in the first round, followed likely by Italians Flavia Pennetta and Francesca Schiavone, and then probably Andrea Hlavackova/Lucie Hradecka from the Czech Republic. All formidable opponents, all likely to toy with the Indian pair. Sania Mirza will need her ferocious forehand to be firing on all cylinders for the Indian duo to make any kind of impact on the tournament, and even that may not be enough.
Medal chances: Bleak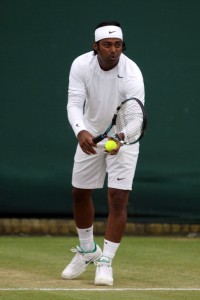 Leander Paes-Vishnu Vardhan, men's doubles: The reluctant duo are slated to meet the Holland pair of Jean-Julien Rojer and Robin Haase first up – not an impossibly tough match by any means. But things get infinitely tougher after that, with a possible 2nd round clash against second-seeded French pair of Jo-Wilfried Tsonga/Michael Llodra, and, if they get past that, a likely quarterfinal against 5th-seeded Czechs Tomas Berdych/Radek Stepanek. On the other side of the quarter are the 4th-seeded Polish team of Mariusz Frystenberg/Marcin Matkowski as well as the 8th-seeded Serbian team of Novak Djokovic/Victor Troicki, while the Murray brothers and the big-serving team of Andy Roddick/John Isner are strewn somewhere in the middle of all the seeded teams. The thing that the Indian duo would have going for them is that, with the exception of the Frystenberg/Matkowski team, there aren't too many regular doubles teams around them – most of the pairs are made up of exceptional singles players rather than proficient doubles specialists. But then again, Paes and Vardhan haven't exactly been 'regular' doubles partners either, have they?
Medal chances: Very tough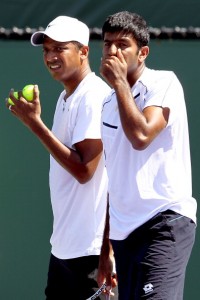 Mahesh Bhupathi-Rohan Bopanna, men's doubles: Ah yes, the team that got their way by stamping their feet and throwing a tantrum. Will Bhupathi and Bopanna prove that their shenanigans were worth the trouble? To be fair to them, they do look more likely to make a medal run than any other Indian team. They have a fairly manageable draw – they face the unheralded Belarussian team of Max Mirnyi/Alexander Bury in the first round, followed likely by the French pair of Richard Gasquet/Julien Benneteau in the 2nd, and then probably Nenand Zimonjic/Janko Tipsarevic in the quarters. Admittedly, the Zimonjic/Tipsarevic encounter looks just a wee bit unwinnable at this stage, but if Bhupathi-Bopanna can catch hold of that tiny ray of hope that separates the miserable pits of defeat from the glorious sunshine of adventurous victory, then they can, theoretically at least, make it to the semis against the Bryan brothers (or Roger Federer/Stanislas Wawrinka). And once you reach the semis, it's anyone's game, right?
Medal chances: Reasonable
P.S. There's the pair of Leander Paes and Sania Mirza in the fray too, but the mixed doubles draw will be announced only on 1st August, so we'll hold back our analysis of their chances until then.