The Szczesny situation
Feature
16 Mar 2012, 09:47 IST
547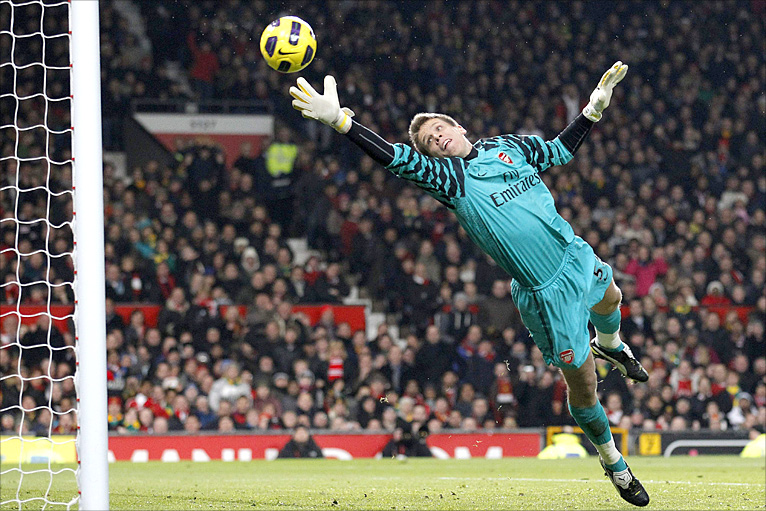 The 21 year old goalkeeper has been has been Arsenal's go to man this past season, but lets try to analyse the situation. After joining the youth program in 2006 and a subsequent rise to Arsenal's No. 1 goalkeeper in the 2010 -11 season, the polish international has grown immensely over this season.
No doubt the man is a prodigious shot stopper but not of all Arsenal's woes while conceding goals is the defences fault. Sure he makes some fantastic saves but his inconsistensy in dealing with not so difficult chances has cost Arsenal dear. Arsenal fans would remember the heart breaking loss to Birmingham in the Carling Cup finals last season where an 89th minute mix up between Szczesny and Koscielny lost Arsenal the cup. I am not implying it was entirely the goal keepers fault but just that that situation could have been handled way better.
 On a happier note Arsenal fans would remember the penalty save against Udinese in the UCL spot playoffs, his saves against Barca at Emirates last season and of course his brilliance at Anfield this season and not to mention numerous good performances in between. The main problem is that even though he has been one of the best keepers in the premiership this season he doesn't quite have the clean sheets to back his credentials. But, then again gooners love his steely arms and so do I. What the gunners really like about this lad is his declaration of undying loyalty to the club . Szczesny aims to be Arsenal's No. 1 goalkeeper for another 15 years . This is good news for the club whose other goal keeping options are Vito Mannone , Manuel Almunia and Fabianski none of whom inspire any confidence between the posts. Between Szczesnsy, The OX, Miyachi, Benik Afobe, Ozyakup and of course Wilshere, Arsenal have a new wave of talented youngsters to call upon to perform for the club at the highest level.
In summation the man is a brilliant shot stopper, has amazing reflexes and does well during penalties but a little more consistency could really propel him to super stardom and could win the gunners some silverware . Yes he has not kept many clean sheets but with his incredible talent and the fact that he has got age on his side could really prove to be an asset for Arsenal in the coming years . With the legendary Oliver kahn's approval this young man has what it takes to become a legend himself.