Weekly Wrap: Latest from PGA China, CFA exposed, anti-racism campaign comes to the country
Taiwanese-born American Sam Chien (pictured right) followed up his T6th finish at the first ever PGA Tour China Series event two weeks ago with a win in the Tour's second event, the Buick Open. Chien finished on 16-under-par, three shots ahead of Chinese amateur Dou Zecheng, who made the cut at last year's Volvo China […]
1.93K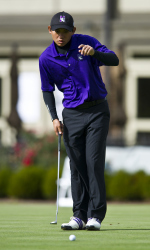 Taiwanese-born American Sam Chien (pictured right) followed up his T6th finish at the first ever PGA Tour China Series event two weeks ago with a win in the Tour's second event, the Buick Open.
Chien finished on 16-under-par, three shots ahead of Chinese amateur Dou Zecheng, who made the cut at last year's Volvo China Open aged just 16. Li Haotong, who played well for 70 of 72 holes at this year's Volvo China Open maintained his good form, finishing T5th on 7-under. Korean-born American Skyler Hong missed the cut, but drove away with a Buick GL-8 after acing the par-3 13th in the second round.
Staying with golf, here are a couple of stories from the SCMP, featuring pro golfers giving their take on the future of China's golfing prodigies, something that has been covered at length by China Sports Insider. Australian Brett Rumford nails it with this quote:
"Guan [Tianlang] will have a bunch of kids around him that are equal to him or believe they can compete with him – or even beat him – and it has a knock-on effect. It gives them a huge injection of confidence and instills inspiration and belief. That competitor inside you is what drives you to get better and better and you hate losing. You hate losing to your mates. It still drives me and it still drives everyone one else, there is no doubt about it."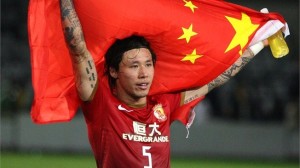 Wild East Football has the story on Chinese soccer star Zhang Linpeng's revelations about the unprofessional national team set-up:
"We played an Asian Cup qualifier with Saudi Arabia and, on the day of the game, we had three hours of meetings. Nobody could quite understand why. From the officials to the coach, everyone wanted to speak. Some of it was about football, but some of it had no connection with football. After three hours, we needed to go and play. It was too unprofessional."
Zhang has certainly ruffled some feathers, but as the author Christopher Atkins points out he is "practically undroppable", so the hope is that his comments will force some positive changes rather than prompt sanctions against the player.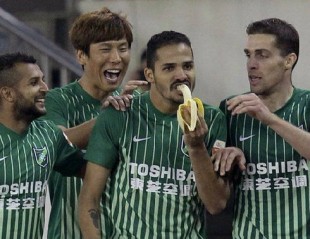 Meanwhile, Hangzhou Greentown's Brazilian striker Anselmo Ramon (above) has also brought the anti-racism banana campaign to China.
Finally, here's a lengthy piece from China Daily (featuring quotes from yours truly) on how the sports industry in China is creating opportunities for global companies.