What lies ahead for Diju-Jwala?
1.31K //
29 Jul 2012, 23:21 IST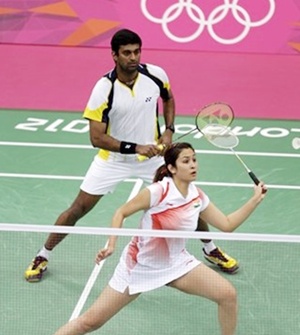 The Olympics come around once in four years and right on cue, the hopes of a billion go up a few notches. Unfortunate as it may be, there are but a handful of medal hopefuls in such a vast country and in these athletes rest the hopes of a nation. The thing is that the athletes, who, in other events of their own discipline are not really cared for become indispensable. The mixed doubles pairing of Jwala Gutta and Valiyaveetil Diju is one such.
Not many would perhaps know that they are ranked no. 13 in the world; indeed, not many will even have known that they play badminton for the nation and have been moderately successful. Now that the Olympics are upon us, they are medal hopefuls and when they lose, as they did, there is a lot of disappointment.
I must say that I do follow badminton but give it a more step-motherly treatment. When Saina plays, I watch. When Jwala and Ashwini or Jwala and Diju play, I watch at times; I contend myself with reading about it on the internet or the newspaper the next day at other times. I did, however, watch Jwala and Diju play today and to be honest, I was appalled. I really was.
I do make this disclaimer that I have not really followed Jwala Gutta's career as closely as Saina's but I have watched her play a few times. I must say that today's display really left me gutted. There was hardly anything in it, in truth. It was lackadaisical, limp and labored. It was as if there was something else on her mind.
By the time I started watching , the first game had been lost and the Indians were trailing by a bit early in the second. There was one point of brilliance from the Indians. There was one point of rubbish by the Danes. I found myself thinking that the first set was a mere blip. Surely we are too good for this team. Surely, it is only a matter of time before we forage ahead and wrap the game. In retrospect, not really.
In comparison to the opponents, the Indians were static; their movement was poor; there was hardly any communication and worst of all, there was this look of resignation on their faces – a look that was much more prominent in Jwala than Diju. Jwala, it seems, was stuck in the proverbial second gear.
From what little I have seen of her play, she does not seem to possess brutal power. Her smashes tend to be adept rather than weapons; she seems to be a more cerebral player who tries to outwit her opponents. Now, there is no doubting that this approach to play is wonderful. There is, however, a caveat. This approach is wonderful when it works. When it doesn't, well, the result is something that not many would care to watch.
When it comes off, she looks to be a brilliant player, but when it does not and when things are not quite going right, the shoulders tend to slump that much quicker and in a cascading effect, everything else tends to crumble like a pack of cards. Murphy comes to rule your life and well, before you know it, it's over.
This is precisely what happened to Jwala. Things were not quite going her way; her shoulders slumped; she became cold; she argued with the referee which in turn affected her even more; in the end, she lost it – quite literally. Diju, on his part, could perhaps have done a bit more but somehow there hardly seemed to be any communication at all between the two. Jwala did try to pump herself up when the team won a few points but in the end, it all proved futile.
There is one game to go in the group stages and needless to say, it is a must-win. However, it is one of those must-wins that is such that even a win would perhaps, or probably, be to no avail. There is a chance; there is always a chance. Going by today's display, however, a clever man would not put any money on that chance.