Why India needs to focus on grassroots sports development 
1.70K //
08 May 2018, 14:34 IST
India ranks a lowly 103rd on the Global Human Capital Index and 29th on the Global Sports Impact Index. The correlation between sports and quality of human capital of a country is a direct one. This itself should be enough incentive for India's policymakers to take this seriously, if we are to emerge as a dominant world force, in the times to come. And therefore we have to do more.
Statistics indicate that while 42% of our population participates in cricket, the average participation for all other sports (Badminton, Cycling, Running, Football, Volleyball, Tennis, Swimming, etc) is below 13%. Clearly, Indians, at large, have never been the 'sporty type'. Sports is not engrained in our psyche. Neither is it an integral part of our everyday life. The passion for sports has only resided in a small percentage of the population. 
Unless India makes a structured effort to broad-based sports & increase participation at the grassroots level, we will continue to lag behind, not just on social development & youth inclusion parameters but also deliver limited success at world sports events. But we must remember that the goal (health & fitness) is sequential and definitely more important than the outcome (Olympic medal).
Research also suggests that the sports industry is poised to grow at about 20% over the next decade and contribute between 1 - 5% of India's GDP. In addition, national sports programs such as Khelo India, the efforts of the various sports leagues and most importantly, the focus on health & fitness are all contributing to growing awareness and improving participation. Girls and women are participating in sports and winning laurels for India which is a wonderful sign from a national development context. The ladies constituted about 45% of the CWG 2018 team and won 42% of the medals.
While the sports ministry has to lead the charge, other stakeholders i.e. corporates, entrepreneurs, national federation, state-level associations, equipment manufacturers, media & service providers have to come together to develop & promote the cause of sport. My visual thoughts on the same are captured below: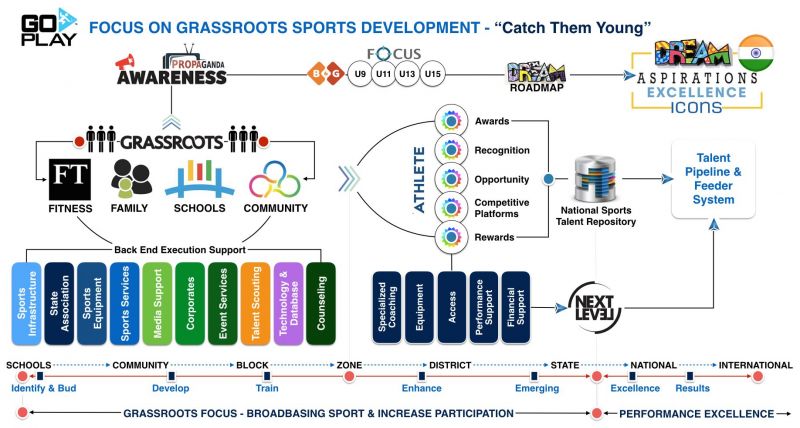 CLARIFICATION: My intent here is not to complicate and muddle the matter. As a starting point, one needs to have a 'vision and a big picture plan'. And then, of course, true success lies in the implementation and execution of the plan. However, visually depicting something like this is tough (and articulating it simply is even tougher) and therefore please bear with me as you read through the explanation.
THE JOURNEY:
The Journey of an Athlete begins with school & community participation, progresses through the zonal & district levels onwards to representing India at the national & international level. However, this journey, from interest in sports to participation to potential and then to excellence is a long and tough road and success rates are as low as 2 - 3%. This journey has two distinct phases - (1) Participation and (2) Performance Excellence, and is important because it equips the youth with life skills that help shape core elements of the personality. All the athlete expects from the ecosystem around him is support, best wishes, encouragement and inspiration. We should be large-hearted enough to give it.
The Journey of a Nation towards emerging as a sporting superpower needs investment in a structured program focussed on grassroots sports development. This will deliver numerous benefits, one of which is the National Sports Talent Repository, which, when nurtured, delivers international sporting success, youth icons, Olympic glory & national pride. We have to demonstrate the passion & the will to participate in this journey. And hold others accountable who are not aligned to this nation's purpose.
KEY COMPONENTS OF THE GRASSROOTS SPORTS DEVELOPMENT PLAN
(#1) BUILD AWARENESS & LAUNCH PROPAGANDA: A national campaign on creating awareness around sports participation & benefits has to be launched. This needs to be as prominent, far-reaching, expansive and impactful as the Swachh Bharat Campaign. It specifically needs to target the 08 - 15 year age group in order to build the social momentum towards sports & the outdoors. There is enough evidence to suggest that active kids do well in life and there are compounding benefits.
The campaign has to sell a dream. It needs to address the aspirational, excellence, life skills and iconic status possible through sports. It needs to encourage the youth to pursue sports as a career with the opportunity to wear the tricolor and represent India as the ultimate dream. This effort needs to be sustained over the next 3 - 5 years.
(#2) PARTICIPANT/ATHLETE EXPECTATIONS: Participants/athletes who associate with sports do have some baseline expectations. To begin with, they expect to be treated with respect. And they expect that their blood, sweat and tears are acknowledged with some reward & recognition by the concerned authorities when they deliver exceptional performance and results. They expect the system to create opportunities & platforms for them to perform their craft and to sustain a career doing so. And as they progress from demonstrating potential towards becoming an emerging star, they expect to be supported on multiple fronts, including specialized coaching, gear & equipment and financial assistance. We have to remember that a 'hungry stomach can murder passion'.
(#3) GRASSROOTS PARTICIPATION & LOCAL COMMUNITY CONNECT: Unless schools and communities are seamlessly integrated into focus, this plan will not bear fruit. For this to happen, local community influencers, key personalities, participant families, the local sports community and the local governance machinery has to come together as one. Today, there are grass root development agencies that have built a deep understanding, and strong connects that have to be leveraged to make this happen.
The second step is to understand the local community in terms of its historical association with sports. For example, if a region in Punjab (say Amritsar, Gurdaspur & Kapurthala) is historically known to produce hockey players, focus on hockey in that region. Don't create an archery program in this community as it will defeat the purpose. At the same time, if another region in Punjab (say Moga, Muktsar & Faridkot) has strengths in weightlifting & athletics, then focus on that. The third step is then to test the youth of this community using a standard measure to understand basic physicality, level of fitness, natural orientation and interest levels in a particular sports discipline and then encourage individuals to adopt a sport and to add relevant sports programs into that community.
(#4) BACK END EXECUTION SUPPORT: Grassroots sports development needs an exceptional program manager & event orchestrator to coordinate across multiple parties such as state associations, local media, sports facility owners, participants and the community to bring this to life. Quality has a price. As they say, 'if you pay peanuts, you will get monkeys'.
Obviously, one has to deliver high levels of engagement and stickiness with the local communities such that this becomes a family 'must attend' event over time and sponsors and advertisers look forward to associating with this platform. With a new market opening up, corporates, sports equipment manufacturers, media owners, technology enablers and performance service providers will be more than willing to invest time and money towards growing this market. 
Critical to both program and execution success is the vertical and horizontal linkages that need to be created and enabled through technology. For example, player participation, results by competition at different levels, athlete development program, profile & progress report, coaches & support staff, athlete injury record, etc have to be integrated into one common database across sports, across age groups and across states.
(#5) Measure & Monitor Impact: If grassroots sports development is integral to the development of India as a sporting nation, then we must "measure what matters". Therefore we have to set sports development goals. And if we don't, structural and systemic inefficiencies, human greed and personalities defeat the intent over time. While the goals can be set internally, measuring outcomes & impact is best done by an independent outside agency to remove bias.
In conclusion, 'what we sow today is what we will reap day after'. Systemic and cultural change is a slow process and bears fruit over time. We need to have the patience and the resolve to ride out this journey. But we have to build a thought momentum from today.
As more of us join this journey and participate in this debate, our voices will reach the right ears. Till then we hope, and we pray and we keep knocking on the door.