Wolverhampton Wanderers: An embarrassment; on and off the pitch
What an utter shambles Wolverhampton Wanderers have become; 5 goals thrashings, apathetic supporters, boardroom ineptitude, a managerial novice in charge. It has become a complete embarrassment, and Saturday's events, on and off the pitch, ...
543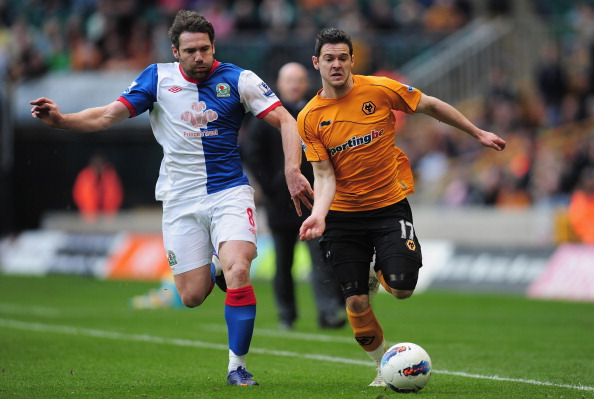 What an utter shambles Wolverhampton Wanderers have become; five goal thrashings, apathetic supporters, boardroom ineptitude, a managerial novice in charge. It has become a complete embarrassment, and Saturday's events, on and off the pitch, have contrived to send this club plunging into even darker depths than possibly imagined. Who would have expected this on the day that Mick McCarthy's five and a half year tenure came to an end?
Firstly, to the football. Wolves, in keeping with the majority of the season, were pathetic. No quality, no fight. Out of their depth. Embarrassing. Our relegation rivals, Blackburn Rovers, arrived at Molineux level on points with ourselves, and without a clean sheet since Moses wore short pants. That statistic was soon brought to an end as, aside from a speculative Jamie O'Hara effort on 88 minutes, visiting goalkeeper Paul Robinson may as well have sat in the South Bank alongside the jubilant Rovers fans. 
Fans had protested before the game had started, their anger firmly directed at Steve Morgan and the absent Jez Moxey. Once inside the ground, the team did little to brighten the mood as a more confident Blackburn took control of the contest from the beginning. After a slip by Stephen Ward, Mauro Formica stormed down the right flank, before finding Yakubu in the box. 

The ball bounced off the big striker, but still managed to get a shot away that was smothered by Wayne Hennessey. Later, both Formica and Junior Hoilett, a scorer at Molineux last season, combined well before the former's cross was headed narrowly wide by Yakubu again.
Aside from David Davis, making his first Premier League appearance, Wolves were looking pretty lifeless, though perhaps should have scored on 18. A cross from David Edwards was met by Matt Jarvis inside the six yard box, who failed to connect properly and scurried the ball wide. 
The visitors were by the far the better side, and Yakubu was close again on 40 after a fine run by Hoilett, but shot wildly over. The elusive Hoilett had been the best player on the field, finding spaces between the Wolves midfield and backline, and it was no surprise when he opened the scoring for Blackburn just two minutes before half time. A long throw from Morten Gamst Pedersen was headed clear to the unmarked Canadian, whose shot into the ground flew past Hennessey. The goal had been a long time coming.
Just a minute after the interval, both Jarvis and Ward combined well on the left flank, though an eventual cross could only be smashed into the ground by Steven Fletcher, Robinson saving with relative ease.
Davis had impressed in midfield, with his youthful exuberance a pleasant change from the indeterminate football served up by his more experienced team-mates. He was replaced by Nenad Milijas on 70 minutes, but by then Blackburn had sealed the points with a second goal. Substitute Michael Kightly had lost the ball in midfield, and the visitors sprang a counter attack. 

Yakubu, upon receiving the ball from Steven Nzonzi on the left flank, came inside to lay the ball to the advancing Hoilett, who turned on to his left foot before unleashing a superb 30 yard drive out of the reach of Hennessey. Game over.
Apart from a late spurt from Jarvis, in which Milijas somehow missed with a close range header, and the aforementioned late O'Hara effort, Blackburn coasted to a victory which gives them fresh hope of avoiding the drop. Wolves, on the other hand, look doomed.
Unfortunately, the embarrassment was not confined to the football pitch, as protesters waited outside for well over an hour to further reinforce their anger at the Molineux hierarchy. According to reports, Jamie O'Hara, alongside his fiancée and young son, were accosted by fans as they left the ground. For all the apathy and disappointment that we are all feeling at this moment in time, this was absolutely bang out of order and completely unacceptable. 

The altercation, of course, made front page news on the following day's broadsheets, thus ensuring the club were condemned with a double dose of disgrace.
Whilst this situation certainly does not reach the apathetic levels of the dark 1980s and the Bhatti brothers, it has been a very, very grim couple of weeks. The hopes of staying in this division have now evaporated, and you get the sense that the players, as well as the fans, seem to have accepted their fate. It sounds ridiculous to say, with 30 more points to be play for and us only being two adrift of the bottom three, but there has simply been no evidence throughout the campaign that we can stay up. 

Last season, even after the 3-0 beating we got at Stoke in April, I was convinced that we had shown enough over the previous 8 months to stay in the division and, however late in the day it got, we did it. Not this time. The team has no technical quality, no confidence, no cohesion; nothing. 

The painful truth is that we are just not good enough to compete at this level. Even Wigan, who have somehow managed to keep us off the bottom of the table, have a semblance of footballing quality that we yearn for at Molineux. 
I can't delve into the sentimentality and say we shouldn't have sacked Mick, because it was the right decision to let him go. I had been one of his biggest backers until I saw his team selection for the QPR game, which we were lucky to win. And he wouldn't have been able to pick up the players after the West Brom debacle. 

What has happened since that day, though, has been farcical, embarrassing and soul destroying. Going into this game, I was of the proviso that whatever we got was a bonus, and that says it all for the mood around the place at the moment. 
I feel sorry for TC, because he's in an impossible position. He has been thrust into a Premier League relegation battle with no managerial experience, and he is out of his depth. But he'll be here until the end of the season now. Some supporters are saying we should try to get Steve Bruce or Lee Clark to give ourselves more of a chance, but it's not going to happen. 

Steve Morgan has made enough howlers in the last few weeks; his public image would take another severe battering by sacking a man he had previously promised would be here to the campaign's end. 
Unfortunately, I don't see a way out of this hell at the moment, but you have to look at the positives. At least we are not Rangers, Port Vale or Portsmouth, whose very existence is still under threat. We are a financially well run club, so Morgan at least deserves credit for that, if nothing else. 

On the pitch, we have a talented young player in David Davis, whose performance was a rare ray of light on Saturday. As well as the likes of Matt Doherty and Danny Batth, hopefully he goes on to have a big future at the club.
And, I suppose, as long as the dreaded 'R' isn't next to our name on the Premier League table, we still have a mathematical chance, however slim that may be! 




Written by Nick Wall
Follow him on Twitter @NickWolf89


Please like O-Posts on Facebook
Follow the site on Twitter