Yuvraj Singh : Cometh the hour, Cometh the man
590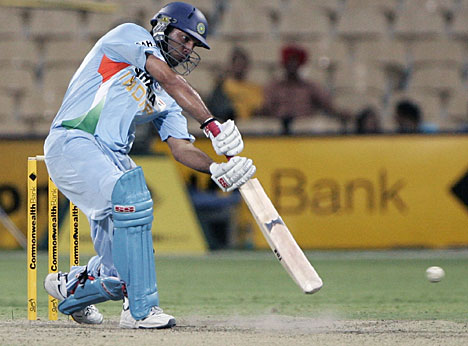 The emotions, I really can't explain them, because it was tough out there. From last year I have been dreaming of playing Australia in a crucial game. I don't know why Australia; probably because they are three-time world champions. I had been thinking about this moment for the last 365 days and it actually came true. I just believed in myself, I envisioned that moment from time to time: me staying there till the end and hitting the winning runs for India. So it is a very emotional moment for me -
— Yuvraj Singh after being adjudged man of the match against Australia in the quarterfinals of World Cup / March 24, 2011
Yuvraj Singh made his debut against Kenya at Nairobi in 2000, at the ICC knockout Trophy. He showed his potential in his second ODI which was against the Australians where he scored a quickfire 84 off 82 balls against a quality pace attack consisting of bowlers like
Glenn McGrath
,
Brett Lee
and Jason Gillespie. Incidentally its the Australians who probably bring out the best in Yuvraj as a player. His highest score and probably his best innings in the ODI came in the pacy
Sydney
Pitch against a Australian attack which was the best in the world . Although India lost that match , even the Australians acknowledged that innings the one of the best they have seen.
Since then , Yuvraj Singh's career has been like a rising curve with occasional slumps. But its his ability to bounce back stronger and better from those slumps is what makes him a wonderful player. In his career he was dropped more than once from the ODI team but every-time he has risen from the ashes like a phoenix. In fact last year was probably one of his worst years in terms of form and at a point Yuvraj admits , he was contemplating retiring from cricket. However his parents gave him the support to overcome those low points . A lot of appreciation also goes to the India Team Management who also kept their hopes on Yuvraj , who would not have have got a place in the current world cup squad had it been based only on last year's performance.
However if there was someone in the team who has always given his best when playing for India its Yuvraj. As its said , form is temporary and class in permanent. He might not be the fit and young Yuvraj Singh when he made his debut , but his class and touch is still intact. He has become a better bowler and his bowling has further given a impetus to his batting. He has been the closest in filling the gap of an all-rounder in an Indian team which has lacked a genuine all-rounder since Kapil Dev and Mohindar Amarnath.
After India's famous win over Australia in the world cup semifinals one thing was vindicated. Yuvraj Singh is back. And he is back with a bang. His cool head and perseverance was evident when he pulled India out of a precarious situation in the quarterfinals.Winning four man of the matches out of India's seven matches in the tournament , scoring 300+ runs and taking 11 wickets , shows how much Yuvraj has been the linchpin of India's hopes in the tournament. But his most important asset in this tournament has been the ability to finish matches with the bat and taking crucial wickets for the captain when the team needs it.
With the world cup reaching its climax stages , India needs Yuvraj to continue what he is best at doing ; winning matches for his team. If India are to win the world cup , they need Yuvraj to keep on firing.  If he continues to play with such responsibility and maturity , it will be hard for any team to stop India.
To quote his mother,
"Give him the responsibility and see what he does. I am confident he will do it for the country."
He has already proved her right on many occasions. As an Indian fan we just hope he continues to do so.