Disability is not a challenge for Sharath
1.47K //
05 Mar 2012, 15:29 IST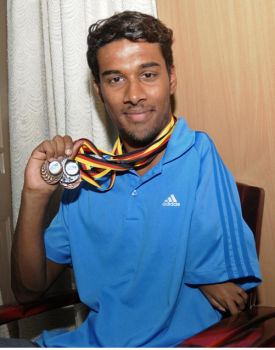 When Sharath M Gayakwad sets out to Esbjerg, Denmark on Wednesday for the Danish Open, he would be two things on his mind: 1. To win medals for India, 2. To retain his qualification for the London Paralympics Games to be held this year.
About a decade ago, when Sharath's school Little Flower made swimming mandatory for all its students, Sharath was slightly apprehensive, for unlike other kids he was born with a deformed hand. He wondered if his disability would allow him to pursue a physically demanding sport like swimming.
A hard choice to make not just physically but mentally too. However, the coaches in PM Swim Centre were not as indifferent to him as many people would otherwise be on looking at Sharath.
They were supportive and helped him get the basics of swimming right. He was hardly 10 years old when he started and his first coach Muthu Swamy inisisted that he took up swimming more seriously. Within a few months, Sharath was seen taken part in swim meets meant for disabled swimmers.
Since then, the young lad was undeterred by his deformity and has made a name for himself in the international circuit of the Paralympic fraternity. In 2010, Sharath became the first Indian to qualify for the London Olympics for disabled.
Then 19, he won India its first medal in swimming events at the 2010 Asian Games when he finished third in 100 meters breast stroke. In his bid to win, he clocked one minute 20. 90 seconds, which was 0.32 seconds faster than the qualifying mark for London Paralympics in 2012 making it a remarkable victory for the Bangalore lad.
What sets Sharath apart from the rest of the pack is his strength to overcome a disability. His tough mettle has helped him even battle a severe shoulder injury through his training days ahead of the all-important meet, which makes his feat all the more special. Having born with a deformed right hand, taking up a challenging sport like swimming has never been easy, but Sharath manages to go through the challenging workouts every single day, says his coach John Christopher. "From what I have observed, Sharath has shown tremendous mental strength over these past couple of months.
"I think that encouraged me to train him better. He suffered a shoulder injury and he was put under physiotherapy for a couple of weeks but he never gave up. I think it's a very special victory and a dream come true for me as his coach," he adds.
Apart from his 100M breast stroke win, Sharath came up with creditable fourth place finish in 100M butterfly (1:12.19sec), 100M freestyle (1:06.39 sec) and 200M Individual Medley (2:41.41 sec). He touched fifth in 50M freestyle clocking 30.09 seconds. Considering a strong competition from hosts China, who had the liberty of sending three entries per event, Sharath's impressive performance stood out for the Indian swim team. His strokes are perfect and efficient, his swift movement in water hardly makes it seem like he has any problem.
"He moves really fast in water. I was watching him do his routine workout and his strokes are also perfect. He turns are fast and efficient," says Bharath Kongovi, a former International swimmer. Olympian Rehan Poncha said: "Gayakwad is a fighter and I admire his guts. I hope he continues to inspire not just physically challenged people but also able-bodied people. He has shown how to overcome hurdles."
Currently Sharath is focusing on freestyle events as he fancies better chances in them to win a medal at the Olympics. "Though my main stroke is breaststroke, I am focusing on freestyle now because in my category its more realistic in win a medal in these events," said Sharath.
No small feat
Since 2003, when he made his first appearance in the National swimming championship for the disabled, Gayakwad has won 30 gold medals
At the International FESPIC Youth Games 2003 in Hong Kong, Gayakwad won a silver and four bronze medals
He was a finalist at the 9th FESPIC Games 2006 held in Malaysia. At the 2007 IWAS Games held in Taiwan he won two gold medals, two silver and one bronze.
He was also a finalist at the 22 German Open International championships 2008 in Berlin
Won bronze medal at 2010 Asian Games