I always wanted to work with USADA - swimmer Shikha Tandon Interview
3.53K //
27 Nov 2012, 18:20 IST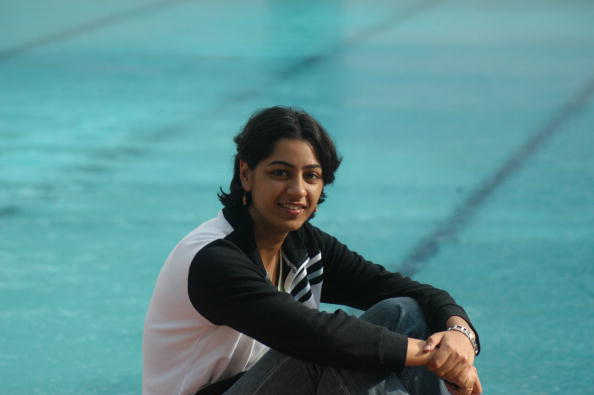 There are very few in the sporting world who apart from winning accolades in their respective sport, have also gone on to achieve academic excellence. Brazilian football great Socrates was a doctor who completed his degree while pursuing professional football. Hockey Olympian Vece Paes is a qualified doctor too. Indian off-spin legend EAS Prasanna is an engineer and passed out of National Institute of Engineering in Mysore. Cricket legends Anil Kumble and Srinath too are engineers by profession.
Likewise, India's speedster in the pool, Olympian Shikha Tandon too has gone on to become the first Indian to be employed in the prestigious US Anti Doping Agency. Tandon left Indian shores in 2009 to pursue a masters programme in bio-genetics at the Case Western Reserve University in the United States. She hasn't looked back since.
She is an Arjuna awardee and a participant at the Athens Olympics. She ruptured her shoulder during practice session ahead of the trials for London Olympics and missed out on a berth. She hasn't given up on swimming yet and hasn't stopped dreaming about making a comeback. But she has certainly moved on to greener pastures when it comes to an alternate career apart from sports.
In a light-hearted conversation with Sportskeeda, Shikha talks about her new role in the USADA and also Indian sports.
Excerpts:
Why did you choose a career in bio-genetics? It's complicated and especially for a full-time sports person, it's almost impossible to dedicate the required time to study science.
I always wanted to work with the USADA. As an athlete, you are exposed to testing and I myself have got tested so often. I thought it's nice to be on the other side of the procedures. I have long been interested in how the human body works and when it breaks down, how it regroups. That's probably why I took up science and did biology.
Do you think sports must be an integral part of the curriculum these days especially since it equips a youngster to deal with uncertainties of life in a better way?
I believe that sports should be an integral part of academic curriculum. Sport teaches various soft skills in a very real setting on a daily basis that eventually get translated into life skills off the field. Through sports, students learn to set goals and work towards them while coping with pressure and expectations en route to achieving these goals. Once these goals are met, short or long term, it is a great confidence builder that in turn provides the student the belief to achieve further success.
Balancing academics along with sports is not easy and requires time management and prioritization from the athlete and understanding and support from academic institution. I was fortunate to receive this from all my academic institutions.
Despite a hectic academic schedule, you never gave up swimming?
Yes, I in fact, was training for the London Olympics trials under my university coach and that's when I hurt my shoulder again. It had happened earlier when I was in India and I even went through surgery. This time it was very bad. I couldn't even lift a bottle of water. I was asked not to even run on a treadmill. It was that bad. I spoke to my coach in Bangalore, Nihar Ameen when this happened and he was very disappointed on hearing that. I was doing really well until then and I probably could have achieved the qualifying time in 50m freestyle.
Tell us about how you took up swimming as a career…
I was really scared of water. We (family) used to go to Bangalore club and all my friends used to swim while I used to sit with my feet in the water. I used to walk around the fountains at the club and that used to be my idea of swimming. Then, when I started going to Ulsoor pool, things changed and I was promoted to swim with the elite group one day. For me, that's when swimming started.
Take us through the 16 years of your career
I was nine-years-old when I first won a national medal. My first international meet was the Asia Pacific in Korea when I was 12. At 13, I went for the Asian games, making me the youngest to qualify. Basically, I took one step at a time. When I started swimming, I didn't know how far I was going to reach. I think I seriously starting training for the Olympics in 2000. I missed the qualifying by less than half a second but I was only 15 then. Qualifying for the 2004 games was the highlight of my career so far and then in 2005, I won my first Asian indoor games medal. That was the first time any Indian woman was winning and it was a big moment for me at that time.
In 2006, I suffered an injury and was out of training for a few months. Then in 2007, I missed the qualifying by 0.6 seconds which was heart breaking. Now I am just looking forward to train in the US and come back for the Asian Games and Commonwealth Games.
If you had qualified for Beijing Games, you think things would have been different today?
Well, it would have been my second Olympics and it would have made me the first Indian swimmer to qualify for two Olympics back-to-back. That would have been an achievement by itself. If I had qualified, maybe things would have been different, I don't know. The fact is that I didn't qualify.
Your opinion on the current Indian swimming team…
There are some really good junior swimmers coming up. At the Asian level, they are good and can even win medals. Junior level international meets like the youth commonwealth, the Youth Asian Championship and now Youth Olympics have been introduced, so I think because of that, the standard of swimming in India has gone up. Now the timing the girls are clocking is what I used to clock at their age, so that's good otherwise the timing 16-17 year olds were swimming was slower than what I used to clock was I was 13. Things are definitely looking up.
Indian sports haven't evolved much. There is still corruption. Athletes still get caught for doping. What's your opinion on this?
I do agree when you say that things haven't changed much in Indian sports. I keep reading a lot about how our para athletes are treated by the concerned federations and how there are many flaws in selection process etc. The worst was during the time of Commonwealth Games when a lot of people kept asking me here (in US) if things are so bad in India. It's very disturbing but at the same time, look at our performance at the London Olympics. Our athletes have done very well and things are looking good for sports. There is a lot of private funding that's coming in and one shouldn't be too disappointed and give up on sports.
What kept you in the sport for so many years despite the fact that it hardly pays back?
It's the love for the sport. I enjoy competing, training and racing though it's tiring. The passion is what really kept me going.
One race which you would want to swim again.
In Singapore, at the Beijing qualifying event, I swallowed water at the 35 metre mark in the 50m freestyle event. I think that's what cost me my qualification. That's one event I would like to swim again. That's something I still can't believe till date.