Asian Games 2018: Infuriated by the unfair selection process, Indian Taekwondo athletes demand justice
1.84K //
11 Jul 2018, 12:23 IST
The 18th Asian Games are scheduled to be held in Jakarta and Palembang, Indonesia between 18th of August and 2nd September and Taekwondo is one of the most aspired combat sports with top athletes participating from every Asian country.
For Indian athletes, challenges pertaining to participation are not limited to their performance or training but have rather moved to an alleged political conundrum by the national authorities. According to a story by Dainik Bhaskar which first reported on the issue, athletes who will be representing the country in the 2018 games have been finalised without a fair set of selection trials.
Usually, in Taekwondo the medal winners of the last major national event are invited to participate in a final selection in which the winner is then made to be a part of the national team. However, according to players and coaches, no such process took place this time. This was due to the failure of authorities in meeting deadlines and maintaining clear expression of the process.
In a series of letters issued by Taekwondo Federation of India (TFI), it is clear that the federation had failed to meet the last date of sending entries to the games which were the 30th of June.
This created a haste in coordination between the Federation and the Indian Olympic Association (IOA) and trials were said to be held one day prior to the last date. But it has been reported that players had already been selected without the proper organization of trials leaving out many deserving athletes who had consecutively performed well in national and international championships 
In a second letter written to the Indian Olympic Association, the TFI clarified its position by saying that the trials that had been organized on the dates were only for the training camp and were not the deciding trials for the games as the participating athletes have already been finalised.
This absence of transparency and communication became a boiling point for many players and coaches who have been training vigorously for years, looking forward to the games, but were given no fair chance to prove their capacity.
"I had been training for a long time for this but it really hurts to know about such unfair play. There were no trials that could decide who deserved to participate. What is more discouraging here is that we think of the country before us, we sacrifice so much for it with our studies, our families but in the end, such betrayals make us think that the nation doesn't really care," says one of the Indian athletes.
It has also been reported that there are no men in the selected set of athletes. Sourav Sharma, one of the top male athletes from the country and also a participant of 2014 Asian Games said while speaking to DB, "It is a sheer injustice to us players who have been preparing for this for the past 4 years. Despite announcing the selection dates, no trials were organized."
Taekwondo isn't the only sport to be going through hassles like these. The entire team of triathlon had to be dropped as a reason for 'misleading information' being piled up by the Indian federation.
After the heat spawned on the social media, celebs didn't back from calling the authorities out either. Bollywood actress and martial artist, Neetu N Chandra tweeted saying how such incongruence prevents players from bagging medals in international tournaments.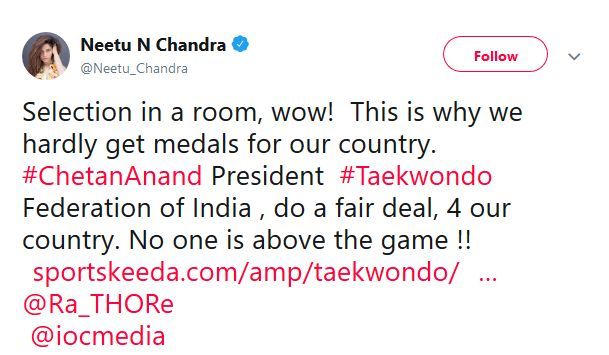 "Federations exist to protect the rights of the athletes but what has happened feels like a violation of them. It is not a just way to organize selections and that too for an event as big as the Asian games. We do not wish to go to court but if such will be the case in future we might have no choice but to appeal for jurisdiction," says Vinay Singh, manager of Peace Sports Trust, New Delhi.
Athletes from Peace are also a part of the national camp and have not been given a fair chance to participate in the selection. TFI justified its position and denied any assertions speaking to Dainik Bhaskar. Joint Secretary of the federation, Prabhat Sharma, said that the selections have been done as per the norms of Indian Olympic Association. The athletes and coaches, however, disagree with this.
"We are waiting for the federation to respond to this and rethink their decision but we don't think we are going to expect any measure that allows deserving athletes to participate. There is no dearth of talent in the country but it is only such matters that prevent athletes from becoming motivated enough to do well," Singh adds.