2nd National Club Volleyball Championship: Chennai Customs lose to Western Railways, miss out on semis berth
1.41K //
24 Mar 2013, 12:14 IST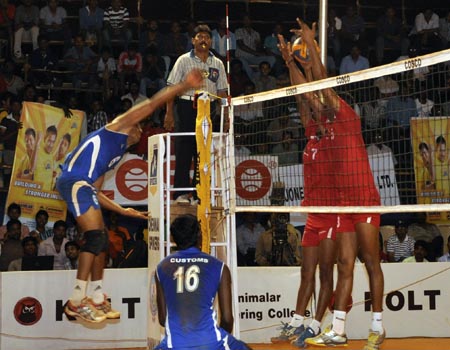 It was a must-win match for home favourite Chennai Customs but they only contrived to make a mess of it, losing to Western Railways to bow out of the second National Club Volleyball Championship being played at the Trustpuram Corporation Ground in Kodambakkam, Tamil Nadu.
The men in blue held a crucial two sets-to-one lead but went on to lose 21-25, 25-21, 25-16, 20-25, 13-15.
Customs began proceedings on a poor note. They struggled to play as a unit and lacked sting in their smashes. Their blocking was below par while their reception was so abysmal that it had a huge bearing on the outcome of the first set which they lost 21-25.
The home side hit the straps in the second set and matched their opponents in all departments of the game.
Western Railways refused to capitulate and kept gleaning points to stay in the set. Universal Ankit Choudhary was in fine form for the Railwaymen as he unsettled the Customs with his impressive performance.
However, Customs held their nerve in the final  stage to win the second set 25-21.
Customs were a much more confident bunch after levelling the issue.
Substitute I. Yuvaraj started to make an impact on the game with a solid show. So were John and all-rounder K.P. Shaheem.
Western Railways were let down by setter R. Prabhu who looked off the boil in the third set. Customs raced away to a decent lead and maintained it to pocket the third set at 21-16.
Western Railways came roaring back in the fourth set as complacency crept into Chennai Customs' game.
Errors happened on a regular basis as the Railwaymen took  advantage to run up a good lead before winning the set at 25-20.
The seeds of doubts began to crop up in Customs' game in the decider. Western Railways played the crucial points well and set up a 11-5 lead. They won the set at 15-13 to set up a semifinal date with last year's runners-up Indian Overseas Bank (IOB).
Indian Overseas Bank (IOB) outclassed BPCL 28-30, 25-13, 25-22, 25-21 to finish on top of Group B. Despite the defeat, BPCL are also through to the semifinals. They now take on defending champions ONGC.
In the women's section, KSEB got the better of St. Joseph's 29-27, 25-20, 25-19.
Results:
Men:
Group A: Western Railway bt Chennai Customs 25-21, 21-25, 16-25, 25-20, 15-13.
Group B: IOB bt BPCL 2830, 25-13, 25-22, 25-21.
Women:
KSEB bt St. Joseph's 29-27, 25-20, 25-19.