2nd National Club Volleyball Championship: ONGC retain men's crown, KESB pocket women's title
2.11K //
25 Mar 2013, 12:32 IST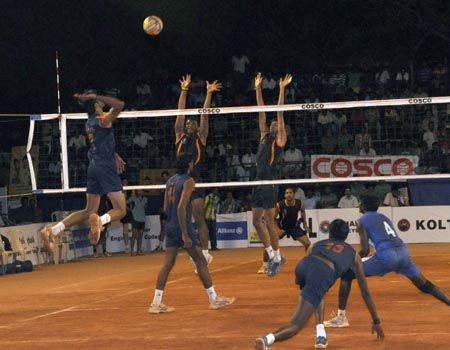 If ONGC (Dehradun) did not built an aura of invincibility when they put it across Indian Overseas Bank (IOB) in the inaugural edition also held in Chennai in 2011, they surely did this time around when they once again inflicted a narrow defeat on IOB to claim the second National Club Volleyball Championships, which concluded at the Trustpuram Corporation Ground in Kodambakkam, Tamil Nadu.
The win virtually confirms ONGC as the best volleyball outfit in the country.
The Oilmen sneaked past IOB, Chennai 25-20, 19-25, 21-25, 25-16, 15-12 in an intriguing final showdown. The only difference between the 2011 final and this final was that the 2011 final was a straight-set affair for ONGC but this edition went right down to the wire.
Playing in front of 4,000-odd spectators, ONGC meant business from the start doing everything they could to control the proceedings. The Oilmen were blessed by the resounding form of attackers Gurchand Singh and Lalith Kumar – such was the performance of the duo that they were not affected too much by the poor form of Mandeep Singh. ONGC were also solidified by the excellent blocking of Navjit Singh and Subba Rao.
ONGC took the opening set at 25-20 to push IOB on the backfoot.
However, IOB, with strong home crowd, were able to chart out their recovery path in the second set. They took ONGC by surprise with a much-improved display and kept winning the crucial points to level the issue pocketing the second set 25-19.
There was an extra spring in the strides of IOB spikers in the third set. Naveen Raja Jacob lived up to his responsibility and played a big part in the Bankmen winning the third set 25-21.
Down two sets to one, ONGC were staring at an revenge-exacting defeat at the hands of IOB. ONGC started to recapture the form which saw them win the first set. Their attackers and blockers combined nicely as they raced away to a decent lead before going to win it at 21-16 to set up a cracking final set.
ONGC started the decider with a cozy lead but IOB levelled the score 5-5. ONGC took off from here and kept IOB at bay. IOB were let down by the sloppy form of their main blocker, G.R.Vaishnav, who is considered as one of the top blockers in the country.
Lalith and Gurchand came up with superb smashes at key moments as ONGC wrapped up the match winning decider at 15-12.
The win has earned ONGC a ticket to the Asian Club Championship slated to be held in Iran next month. Last year, ONGC became the first club in the country to take part in the continental championship.
In the women's section, Kerala State Electricity Board put it across Southern Railway 25-18, 25-20, 20-25, 25-22 to bag the title. By virtue of this win, KSEB have qualified for the Asian club championship to be held in Vietnam in August later this year.
ONGC took home a cash award of Rs. 2 lakh while IOB had to be content with Rs. 1.5 lakh. The KSEB women bagged a cash prize of Rs. 1 lakh, while S. Railway got Rs. 75,000.
Men Final: ONGC bt IOB 25-20, 19-25, 21-25, 25-16, 15-12. Third place: BPCL bt Western Railway 25-12, 25-14, 19-25, 25-16.
Women Final: KSEB bt Southern Railway 25-18, 25-20, 20-25, 25-22.
Men:
Best attacker: Naveen Raja Jacob (IOB)
Best all-rounder: Ankit Choudhary (Western Railway)
Best setter: Ranjit Singh (ONGC)
 Best blocker: Vaishnav (IOB),
Best libero: Kiran Philip (BPCL).
Women:
Best blocker: Tiji Raju (KSEB)
Best Universal: Pooja Rani (Mayor's Club, Hyderabad)
Best setter: Shanty Elias (S. Railway)
Promising player: Sindhuja (St. Joseph's COE)
Best libero: Yogavathi (S. Railway).