National Club Volleyball Championship: Reigning champs ONGC march into semis
886 //
22 Mar 2013, 13:01 IST
Defending champions ONGC had to dig deep into their reserves before prevailing over HSIIDC 23-25, 25-12, 25-16, 25-18 in a Group A encounter in the second National Club Volleyball Championship being played at the Trustpuram Corporation Ground in Kodambakkam, Tamil Nadu.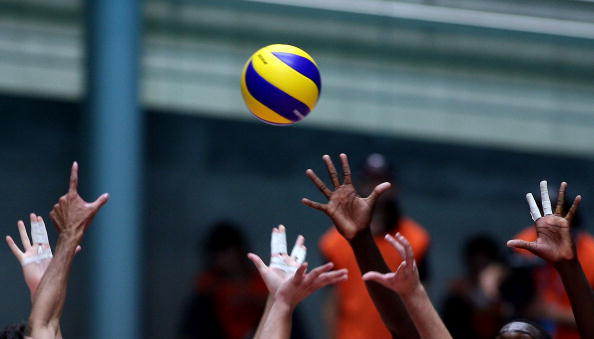 ONGC got a jolt when they lost the opening set at 23-25. It was a keenly contested set, both teams showed their superiority. The oilmen were up against a determined HSIIDC outfit, who were desperate to make a match of it after their Wednesday's loss to Chennai Customs.
ONCG play true to their reputation in the second set. The consistent wave of smashes and sturdy blocks unsettled HSIIDC, who did quite have any answers to the questions asked by ONGC.
Errors came thick and fast from HSIIDC as ONGC towered over them and eased through 25-12.
The third set went pretty much the same way like the second. ONGC asserted themselves from the beginning and did not allow HSIIDC to ran away with a big lead.
ONGC held a decent lead midway through the third set and powered home 25-16.
Down by one set to two, HSIIDC needed to put up a serious fight to stay in the championship. They threw up some resistance in the fourth set but ONGC had far too many ammunition as they pocketed the set at 25-18 to win the match by three sets to one.
This was ONGC's third consecutive victory and they are now on top of Group A. The oilmen are virtually assured of a berth in the semifinals.
For HSIIDC, it was their third straight defeat, which puts them out of the championship.
The second semifinalist from Group A will be known on Friday when Chennai Customs lock horns with Western Railway.
Meanwhile, strong contenders Indian Overseas Bank (IOB) and BPCL have made it to the semifinals from Group B with a match to spare.
Both teams meet on Friday – a match which would determine the group winners.
In another inconsequential Group B match, Income Tax (Hyderabad) whipped ICF 25-21, 2519, 25-18.
In the women's section, Southern Railway pipped Mayor's Club (Hyderabad) 25-20, 25-16, 22-25, 25-13.
Results: Men: Group A: ONGC bt HSIIDC 23-25, 25-12, 25-16, 25-18. Group B: Income Tax (Hyderabad) bt ICF 25-21, 2519, 25-18. Women: Southern Railway bt Mayor's Club (Hyderabad) 25-20, 25-16, 2225, 25-13.