India's fastest long-distance ice speed skater, Vishwaraj Jadeja, has put India on the map for ice-skating. He trains as an elite athlete in the Netherlands and undertakes numerous adventure expeditions related to the sport.
With 65 other national records, he surely has proven himself as a student of the sport. Some of his notable records would be the fastest Indian for the 3K, 5K, and 10K long-distance ice speed skating. He has also participated in the 2017 Asian Games over all distances. Another record that he holds is competing in over 200 races for India.
Vishwaraj has always been a sports enthusiast. With a special interest in roller-skating, he rose to the level of captaining the Indian national team. Of course, like every athlete who loves his or her sport, he had only one dream and goal - to represent India at the Olympics. Unfortunately, roller-skating wasn't a part of the Olympic Games, so that made him look for similar opportunities to explore.
It is then when he came face to face with ice-skating and decided to go to Europe to train in and master the sport. Of course, upon reaching the Netherlands, he realized that switching to ice-skating from roller-skating wasn't going to be easy, and he dealt with his fair share of ups and downs until he met his current coach Wim Nieuwenhuizen, who is arguably known to be one of the toughest coaches in ice-skating in the world and in history.
I caught up with the speedster on his career, ambitions, passions, and more in an exclusive interview. Read on to find out more about the mind of an elite athlete!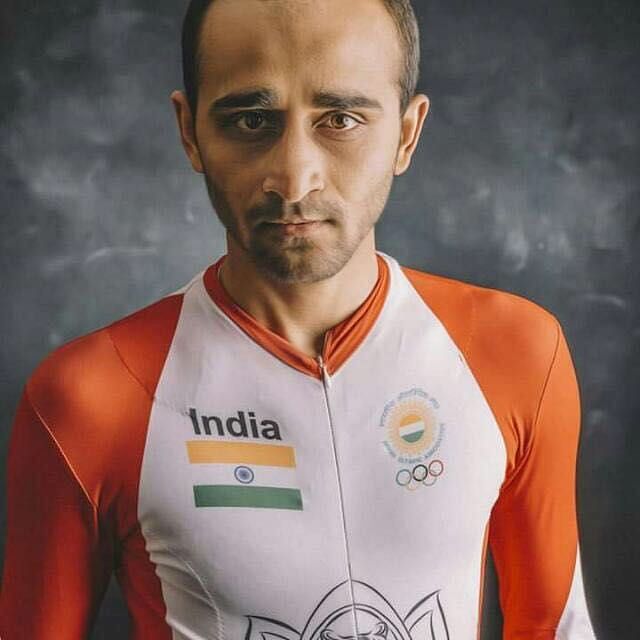 1. What was your earliest memory of success in a race?
In 1999, I raced in my first roller-skating Nationals in Chandigarh. I was so nervous, and it was in the winters so it was also cold. However, finishing in the top 10 at the time for me was quite a satisfactory feeling.
2. You are now based in the Netherlands and are training there in ice skating and not roller skating. Can you talk about the shift in the sport and why you had to do it?
It would not be fair if we compare roller-skating with ice-skating. It is like differentiating between apples and oranges. Although the two sports are a bit similar, they pose their own set of challenges.
Long track ice-skating to the Netherlands is like cricket in India. The main reason to move to Europe for a prolonged period of time was to use the infrastructure for ice skating as long track speed skating in India is relatively non-existent.
3. Let's move forward and speak about your training. How does your daily routine look like? Has it changed since you first started and if yes, then how?
Long Track Ice-Skating is an elite sport. When I say elite, it means that it has been a part of the Winter Olympics since they were founded. So, the preparation for such a sport is also very special and complex.
Training is divided into two parts - summer and winter. In the summer, we work on improving the power to weight ratio of the body and basic fitness simulating all the moves we make on the ice and optimizing them. One of the fundamental things that we do is cycling as a part of cross-training.
On average, we end up cycling 10 thousand kms a year. In the winter, which is from October to March, we race almost every weekend - around 22 weekends and 44 race days, including both the big and small races. On the weekdays, we spend as much time on the ice as possible to improve our technique on the rink and strength off it.
4. Who do you look up to for inspiration? Do you have any role models?
Well, perhaps from my coach Wim Nieuwenhuizen. He is 71 and ends up cycling almost 10 thousand kms a year! His passion for the sport is one of the most amazing things that I have witnessed. It has been a long career for me, so depending on the exact phase of my life, there have been various role models. Lance Armstrong, Chad Hedrik, Steve Prefontaine, Bill Bowman, Paan Singh Tomar are a few to name.
5. You have taken up a sport that is relatively unheard of at the highest level in India. How did you feel about it? Also, how difficult was it to find sponsors?
The most important thing for me is how I am able to perform once I put on the India speed suit. I have made my country proud by giving my 100% in each and every race. So, that's it. Well, seeking support for sports in general in India is a bit challenging, including winter games. Once you are able to embrace the impossible odds stacked against you, only then it is possible to keep moving forward!
6. You are now looking to compete in the Winter Olympics in 2022. Can you talk a little about this journey and how you are preparing for it?
The Winter Olympics in 2022 and other international platforms like the Masters World Games (2020), the World Winter Games, and the Asian Winter Games (2021) are some events that I will be competing in for India. I also have my heart set on exploring frozen lakes across the world (between the altitudes of 4,000 metres - 5,500 metres).
The training programme has been tailored to the goals, and I hope to be able to pursue them without any distractions.
7. How do you feel about getting an education from a formal school and university? Did you ever intend to undertake such a program yourself? If yes, can you speak about balancing both sports and academics?
Well, I was on my way to becoming an engineer having passed 12th grade in the Science stream. Winning a national gold in the same year had proved that it is possible to balance academics and sports at the highest level.
For pursuing an elite sport like long track ice- speed skating, a different mindset and approach were required. Education to just get a good job and that for knowledge are two very separate things, I believe. I remember waking up at 4 in the morning and going roller-skating with my father to train for marathons.
Following this, I went to school at 8 am and was back on the track by 5.30 pm. At the end of the day, it is a matter of choices and what we are willing to do for these choices.
8. Where do you see yourself in the next few years, maybe even months?
The season 2019-2020 has started, and my main focus is to get a couple of podiums this year for India. I mentioned previously about my upcoming championships in the next few years until the Winter Olympics in 2022.
9. Finally, what advice would you like to give to our readers and followers of the Winter Sports?
Everything is possible in life as long as you are willing to step outside of your comfort zone.
Rapid Fire Questions (Answer in One or Two Words)
1. Favourite Book- Shantaram
2. Favourite Player- Paan Singh Tomar
3. Favourite Race- Marathon Race SVU Utrecht, 2015
4. Favourite Recreational Activity- Cycling
5. Favourite Film- Without Limits
6. Roller Skating or Ice Skating- Ice Skating
7. Favourite Destination- Tso Moriri Lake in January
8. Favourite Championship- Olympics
9. Motivational Words- HOPE
10. Title of your Autobiographical Book- Well, I am not done yet, and books are written once your journey is over. It's not for me! So, it's better that I be in the moment now.