Brandon Roy: The Minnesota Lotto ticket
2007 Rookie of the year?-✓CHECKED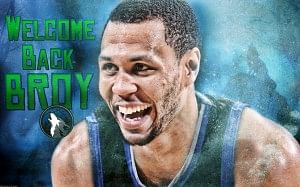 Multiple All-Star Appearances? -✓CHECKED
Multiple All-NBA selections?-✓CHECKED
Clutch Shooting?-✓CHECKED
Broken knee with with no cartiledge in it?-✓CHECKED
He has all these categories checked and more. He was the biggest High Risk-High Reward  free agent out there in the market (you may rather say somewhere in the basketball wilderness). He now comes back from his exile  from the NBA as a wolf, as a part of the Timberwolves to be exact. He is one of the plethora of off-season moves Minnesota have made to their roster in an attempt to be back as the Alpha-Wolf of the league first time ever in their post Kevin Garnett era.
You may hear me utter the same words in my future writings but that just won't stop me from saying it again. Roy is the third-best shooting guard in the NBA, if he is healthy. I would only only put Kobe and Wade in front of Roy in terms of pure basketball pedigree, and that should say something. The 'if' however, stands in front of his future endeavours bearing the size of  a great Colossus. There is no better clutch shooter in the NBA than Roy. Period! Its a big no for all you people amazed at such a remark. No Kobe, No Ray Allen, No Chris Paul and No Dirk. Since Roy has been in the league, he has been The guy for the big moments, and has delivered over and over again. So let's look at the figures then.
"Clutch" since 2006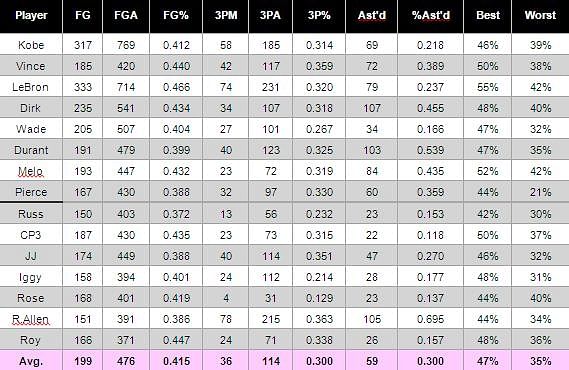 Final 24 seconds since 2006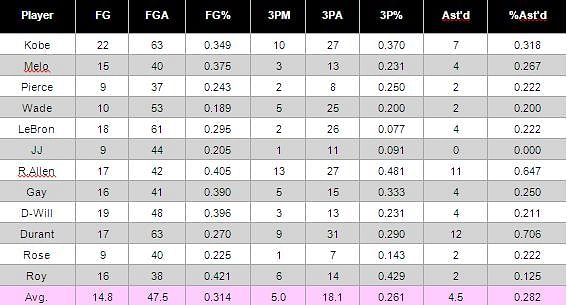 Only Lebron (I see your :O faces) has shot a higher percentage of clutch shots than Roy, and when it comes to the final seconds with the match on the line, there is virtually no one you would trust the ball with, more than Roy. That was his pedigree. That was his closing line. But his knees had the last laugh, or now you can say ,it had thought so. Six surgeries later, his knees were left with a bone-on-bone condition, the knife eventually taking away all of the cartilage.
There has never been two ways about how Roy plays on the court, and his demeanour off it. He liked to play the game at his own pace, and wanted everyone to know that he was the the Alpha dog of the team in his time at Portland. He was dominant and effective in a way that  made coach Nate McMillan design the whole Blazers' offense based on the strengths of Roy, and anyone that stood in its way, Roy made sure was gone(viz. Andre Miller). Roy was all that the Blazers fans had dreamt of and more. They re-payed his performances with a $68 million contract. This however turned into no fairy tale, ending in Portland applying the amnesty clause at the beginning of last year. No one picked Roy off waivers as it was recommended in December 2011 by his doctor that he should stop playing or else risk long-term issues with his knees. 
Now he is back, to the team that had originally drafted him. His mother still has the draft day hat that Roy had worn to go up the stage, and shake the Commissioner's hand. May be it was written in the stars.  Whatever it might have been, he is in Minnesota as their big Lotto ticket.
It will be nearly one and a half years when Roy takes his bow as a part of the Timberwolves. Even in his swansong, he had produced a performance that will live through the ages. In the off season Roy got himself the Kobe Bryant knee treatment, and says with all the rest, he feels as good as he felt before his first surgery in his college days. He wants to play big minutes, but no one knows if his knees will allow him to.
The T-wolves have added Alexey Shved, Andrei Kirilenko, and Brandon Roy to their already functional core of Rubio, Love and Pekovic. If Minnesota hits  the jackpot with Roy, all NBA fans are in for a bon-a-petit. Take my word for it, Roy can seriously Cook. If he comes back to what he was at his prime, he will serve you up the most delicious of dishes. He will slice and dice you. In the blink of an eye, he could serve you something fast as in the microwave. He will fillet the zone if you give him that, making the concept of defense unpalatable. If you don't like what he cooks, he could just shove down your throat a dunk or two, or he would just bring up the blender and just shake, shake and shake it as much as he likes.  He would toast, bake and burn any defense at his whim. He could pound and roll you and soften you  up. He would make you a barbecue just as easily if he gets really hot. 
The new look Timberwolves are already wetting  my appetite. What would you like for dinner?