Top 5 best bowling performances of Sachin Tendulkar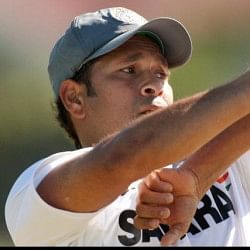 Time and time again, we have seen some of his best batting performances, but now, let's take a look at his best bowling performances.
One has to thank former Australian bowling great Dennis Lillee for producing one of the greatest batsmen to have played the game, Sachin Tendulkar. In 1987 when Sachin went to train at the MRF Pace Foundation, Chennai, Lillee was the one who advised the then young Tendulkar to focus on his batting instead of bowling and crushed Sachin's ambitions of becoming a fast bowler.
Since then it was one way traffic. Sachin owned almost all his opposition bowlers over the last two decades. But there are some occasions in which he won few games for India with the ball instead of the bat. He is a bowler who can bowl right-arm offbreak, legbreak and even seam up deliveries.
We bring you the list of top 5 bowling performances of Sachin Tendulkar in his career.
5. 5 for 32 against Australia, 1st ODI, Kochi, 1998
If Tendulkar failed with the bat against Australia in the first ODI of the 1998 Pepsi triangular series, he made up with this bowling to beat the mighty team from Down Under. India had set Australia a target of 310 courtesy some fine knocks from Mohammad Azharuddin, Ajay Jadeja and Hrishikesh Kanitkar. Tendulkar didn't fare well with the bat as he departed for just eight runs. But once the Australians were cruising through to the target, captain Azharuddin handed the ball to Sachin, who responded brilliantly taking 5 wickets for 32 runs in his ten overs. He picked up the formidable Aussie middle order comprising of Steve Waugh, Michael Bevan, Darren Lehmann and Damien Martyn and helped India win by 41 runs.
4. 5 for 50 against Pakistan, 1st ODI, Kochi, 2005
Sachin reserved his best for arch-rivals Pakistan in the first of the six match ODI series in 2005. India scored 281 in 50 overs with the help of magnificent centuries from Virender Sehwag and Rahul Dravid. This match saw Sachin getting out for run a ball 4. But Sachin came up roaring with the ball, ripping through the Pakistan middle order as he dismissed skipper Inzamam-ul-Haq, Mohammad Hafeez, Abdul Razzaq, Shahid Afridi and Mohammad Sami giving away 50 runs in 10 overs. Eventually India won the match by 87 runs. Ironically his second and last five wicket haul happened in the same venue as his first one.
3. 2 for 36 against Pakistan, 1st Test, Multan, 2004
The 2004 Multan test is best remembered for Virender Sehwag's epic 309. India scored a mammoth 675 in the first innings. Pakistan began their bating in a cautious note top order threatened to defy the Indians a win. The writing was on the cards as Abdul Razzaq and Moin Khan played a calculated innings as they looked to avoid follow on. It was when the disaster struck. The last ball of the 106th over in Pakistan first innings which was also the last ball for day 3 of the first test saw Moin Khan dismissed by Tendulkar and that opened the floodgates for India to restrict Pakistan well before the follow on mark. The wicket ball was a googly that completely beat Moin and went through his legs to hit the timber. Undoubtedly, the best ball delivered by Sachin in his career. He also took the wicket of Shoaib Akthar and finished the innings with figures of 2 for 36.
2. 3 for 31 against Australia, 2nd Test, Kolkata, 2001
It was the match that was considered as the turning point of Indian cricket. After bundling out Australia for 445 in the first innings, India were blown out for just 171 by Glenn McGrath and co. Steve Waugh made the Indians to follow on. Then VVS Laxman and Rahul Dravid took charge and stitched together a partnership of 376 runs. India set Australia a target of 384 on a fifth day wicket at the Eden Gardens. Harbhajan Singh ran into the Aussie lineup by picking up the first 6 wickets. But Matthew Hayden remained defiant. Finally the golden arm of Sachin Tendulkar took the wicket of Hayden and leaving the Aussies to stare at defeat. He also dismissed Adam Gilchrist, Shane Warne and Hayden in the space of 18 balls to seal the match in favour of India. He finished the innings with figures of 3 for 31 off 11 overs.
1. Hero Cup Semifinal against South Africa, Kolkata, 1993
Undoubtedly those six balls bowled by Tendulkar is ranked number one in this list. Kolkata's historic venue the Eden Gardens was packed to see an Indian victory. South Africa needed six runs off the last over. Captain Mohammad Azharuddin didn't know whom to throw the bowl to even as coach Ajit Wadekar sent the 12th man with water and a message "bowl Kapil." The great all-rounder however was a bit reluctant given that there was hardly anything to defend. That is when Tendulkar did the impossible. He grabbed the ball from Azharuddin and pulled the choke on South Africa. Sachin hadn't even bowled earlier in that match. Sachin won the match for India by two runs as the South Africa's last-wicket pair of Brian McMillan and Allan Donald crumbled under pressure. India defeated West Indies in the final and won the Hero Cup.
Sachin has also delivered for India with the ball when he failed with the bat. He has taken exactly 200 wickets across all the formats for India.