A footballer who is in a top club that competes in various tournaments plays an average of 50 games in a season. A lot of preparation goes on behind the scenes at a club to keep the player fit and ready for every match.
Important factors such as diet and number of training sessions are taken into consideration combined with personal attention given to each player to ensure his fitness levels are maintained.
But we have seen on several occasion players with great potential are plagued with constant injury problems despite all the prevention mechanisms. Here are five players who are too good to be spending time the treatment room.
#5 Jack Wilshere - Arsenal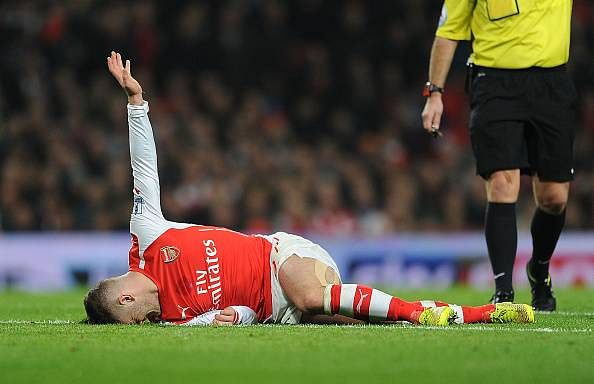 The sad story of Jack Wilshere is proving to be 'oh so familiar' for Arsenal fans. The club's injury problems are well documented in the last seven or eight years. Several players in their team have been out of action for long periods but none more so than Wilshere.
The Young Englishman hasn't featured yet this season as a result of a hairline fracture in his calf bone. The team have become accustomed to playing without the midfielder with the likes of Ramsey Coquelin and Cazorla now the regulars in the squad.
Since making his debut for the club at the age of 16 he has missed 862 days of football through injury. That is more than two years out of the eight that he has been part of first team. Arsene Wenger was facing an injury crisis in December when he had many of first team midfielders out of action, which forced his hand in the transfer market.
The Arsenal star is still only 24 and has his prime years ahead of him. With Arsenal chasing Leicester in the title race he could still play a vital role in Arsenal's campaign in the last few months of the season.