| | |
| --- | --- |
| Founded | 1880 |
| Ground | The Etihad |
| Owner(s) | Sheikh Mansoor |
| Nickname | The Cityzens, The Sky Blues |
Manchester City History
Manchester City was founded 139 years ago in the year 1880 by the name St. Mark's (West Gorton). In 1887, it was renamed as Ardwick Association Football Club and it finally got its present name, Manchester City, in the year 1894.
After a long wait of 19 years, Manchester City in the year 1899 finally made it to the first division (the highest level of English Football) . The Club was promoted to premier league in 2001-02 season, since then, they have been consistent and have not been relegated. Manchester City have won many titles after being bought by Abu Dhabi United Group in september 2008.
Manchester City have seen both very low and very high phases since its foundation. The club faced its worst defeat on 17 March 1893 by the score of 10-2 at the hands of Small Health. The club's widest margin victory was against Darwen on 18 February 1899 by a scoreline of 10-0.
Manchester City Manager - Pep Guardiola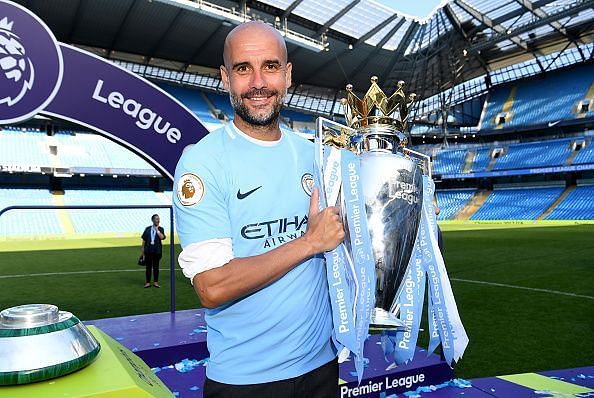 Pep Guardiola, the spanish manager, is known for tiki-taka and his attacking football tactics. Guardiola had managed the European club giants Barcelona and Bayern Munich before joining Manchester City in the year 2016.
Pep is considered as one of the greatest managers of all time. With Barcelona, Pep won 14 trophies including 2 UCLs and a treble with Barca in the season 2008-09. Pep served Barca from 2008-2012 and had a winning percentage of 72.9.
Guardiola managed Bayern Munich from 2013 to 2016 and had a winning percentage of 75.2 winning 7 trophies with the Bavarians. Pep Guardiola joined City in the year 2016 and has 6 trophies in just 3 seasons. The winning percentage of Pep with City is 72.9.
Manchester City Owner - Sheikh Mansour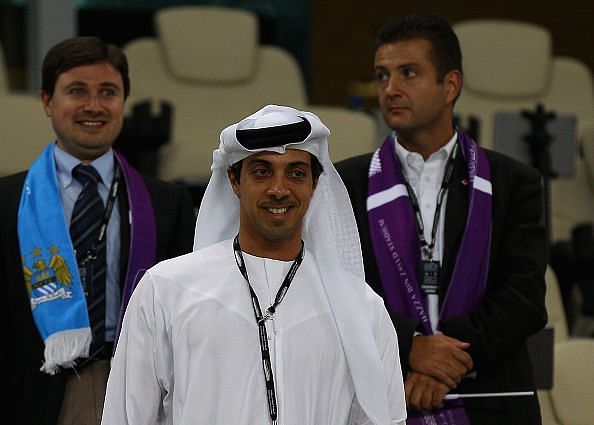 Manchester City have had many owners since its existence. The most significant being Sheikh Mansour who has owned the club since 4 August 2008. Sheikh Mansour has a net worth of 17 billion pounds with a family fortune of around 1 trillion dollars.
Sheikh Mansour bought the club in 2008 for 210 million pounds. The club's parent company City Football Group (CFG) has 13.79 percent of the club's stake. Manchester City have seen a great growth following the investment of Sheikh Mansour.
Manchester City Logo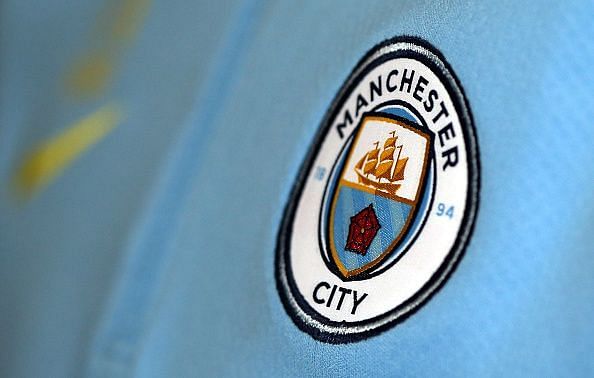 Manchester City have had four different badges in total, the latest one being introduced in 2016. The first logo was adopted in the year 1970 which was based on the design that was used for official documentation of the club. In 1972, a new badge was introduced with few modifications with the rose of Lancashire being introduced in the badge.
In 1997, a new logo was designed which was based on the arms of the city of Manchester and also consisted of a shield in front of golden eagle. In 2015, Club Designed a new logo which was in the same style as the older one with some circular variations. The design was officially unveiled on 26 December 2015, although it was leaked 2 days before.
Manchester City stadium - Etihad Stadium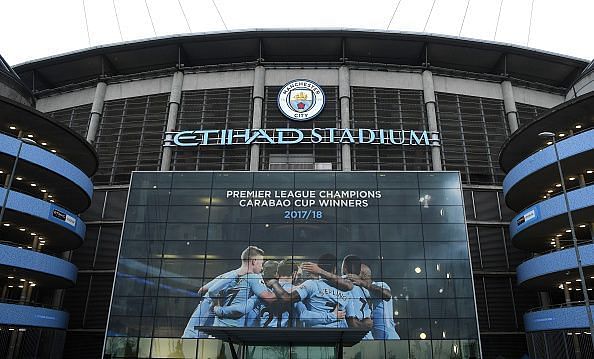 The home ground of Manchester City is the City of Manchester Stadium located in Manchester, England.It is Known as Ethiad Stadium for sponsership reasons. Ethiad stadium was originally built to host the 2002 Commonwealth Games and has hosted some rugby matches as well.
The stadium has undergone regular constructions to increase its seating capacity and has achieved a final seating capacity of 63,000 making Ethiad stadium the third largest stadium of England after Old Trafford and the London Stadium.
Manchester Derby
Manchester City VS Manchester United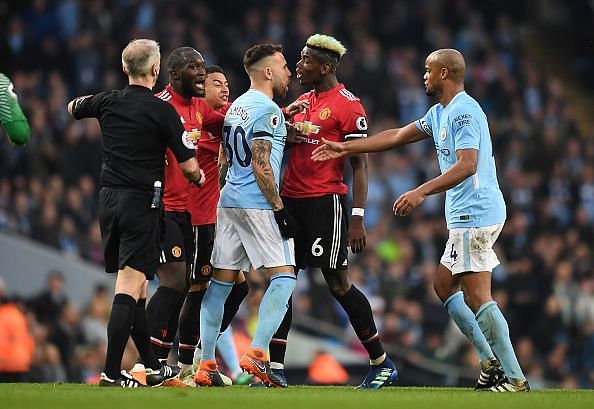 Manchester Derby is the clash of the two biggest clubs of the city of Manchester- Manchester City and Manchester United. Old Trafford (home ground of United) and Etihad Stadium (home ground of city) are just about 6 kilometers apart.
The first Manchester Derby was played in the year 1881 which was won by United with the scoreline
of 3-0. United has emerged out to be more successful than city both head to head and in terms of trophies. The teams have played 178 matches with united winning 73 and City winning 53 with 52 draws
Manchester City Trophies
Manchester City FA Cup Titles (6)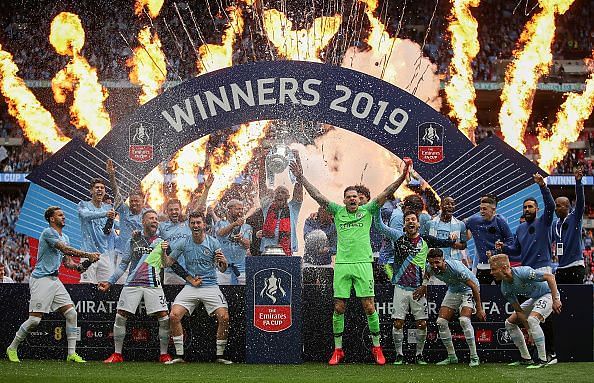 The Football Association Challenge Cup, commonly known as the FA Cup is a knockout football competition for English Clubs. The competition is open to all the eligible clubs down to level 10. In 2011-12, a record number of 763 clubs competed in the tournament. Since its formation, Manchester City have won the Cup 6 times.
| | | |
| --- | --- | --- |
| S. No | Manchester City FA Cup Titles | Runner - Ups |
| 1 | 1903-04 | Bolton Wanderers |
| 2 | 1933-34 | Portsmouth |
| 3 | 1955-56 | Birmingham City |
| 4 | 1968-69 | Leicester City |
| 5 | 2010-11 | Stoke City |
| 6 | 2018-19 | Watford |
Manchester City Premier League Titles (4)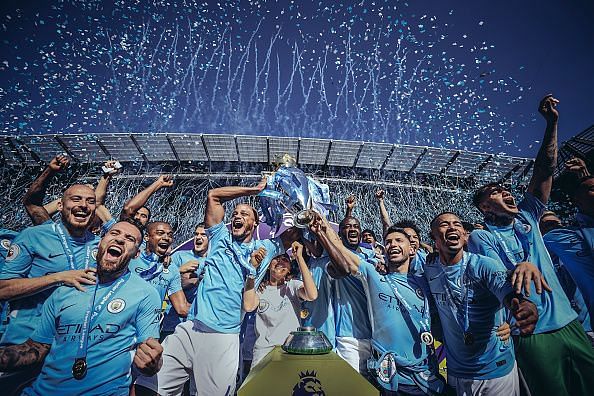 Premier League is the top level league in the English Football League System which is contested between 20 teams. The bottom three teams of the Premier league every season are relegated to the English Football League while the top three of the English Football League are promoted to the Premier League. Manchester City have won the league 4 times since 1992.
| | | |
| --- | --- | --- |
| S No | Manchester City Premier League Titles | Runner - Ups |
| 1 | 2011-12 | Manchester United |
| 2 | 2013-14 | Liverpool |
| 3 | 2017-18 | Manchester United |
| 4 | 2018-19 | Liverpool |
Manchester City First Premier League Title - Season 2011/12
Manager - Roberto Mancini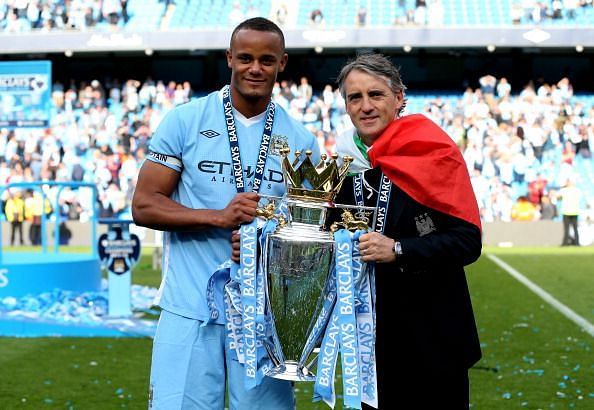 Manchester City had to wait for nearly 20 years to win their first Premier League title in the season 2011-12. Roberto Mancini, the manager of Manchester city during that period, will always be remembered by the city fans for his contribution.
The Italian manager took charge of the club in 2008 and kept on improving the team's performance gradually. His efforts finally gave a good result in 2011-12 season when Manchester City secured 89 and tied with the city rivals Manchester United. Manchester City had a goal difference of 64 while United had a goal difference of 56, making City the champions.
Manchester City scored 93 goals and conceded 29 goals. The top scorer for city in that season was Sergio Aguero. Manchester City had a total of 17 clean sheets in the whole season.
Manchester City All-Time Top Scorer
Sergio Aguero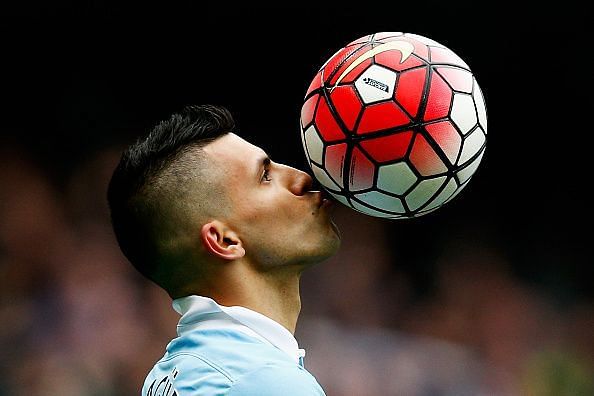 The top scorer for Manchester City is one of their current players- Sergio Aguero. The Argentine striker was bought from Atletico Madrid in the year 2011 and since then has proved himself as one of the best striker in club's history. Sergio Aguero has scored 231 goals of the 338 matches he has played for the citizens.
He has won the Premier League Golden boot in the year 2014-15 for scoring 26 goals and also the Manchester City player of the year in the seasons 2011-12 and 2014-15.