About UEFA Champions League 2023-24
The European Cup was reformed into the UEFA Champions League in the year 1992 and since then, it's been the biggest Cup competition in European club football. The UEFA Champions League (abbreviated as UCL) is an annual club football competition organised by the Union of European Football Associations (UEFA) and contested by European clubs of the top division. It is considered as one of the most prestigious football tournaments in the world and the most prestigious club competition in European football.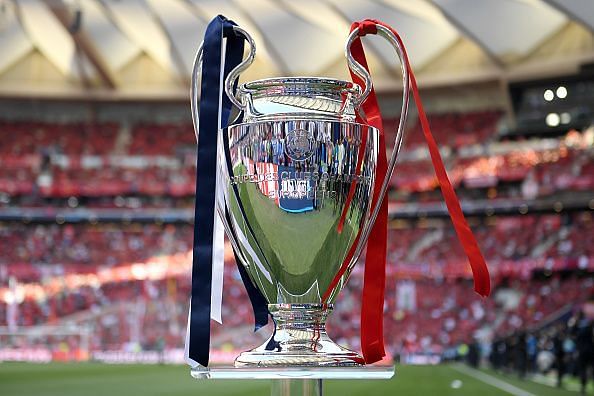 From the 2017-18 season, the Premier League, Bundesliga, Serie A, La Liga will be represented by four sides in the Champions League. Prior to the changed allotments, only the Premier, Bundesliga and the La Liga were allotted four slots.
Champions League 2021-22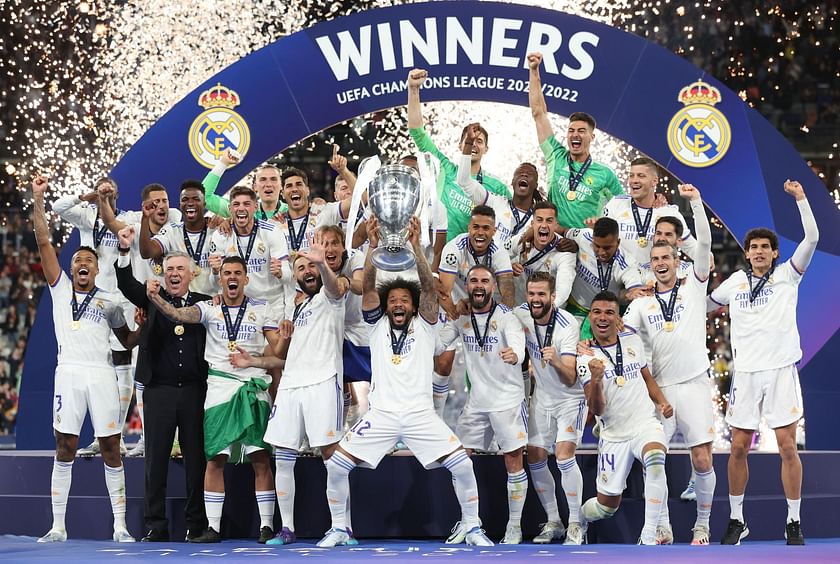 Enter caption
Spanish super giants Real Madrid were crowned as the champions of Europe when they defeated English side Liverpool in the UCL finals. This was Madrid's 14th Champions League victory and the whole Madrid celebrated enormously. Los Blancos defeated Liverpool 1-0, thanks to a great team play which was finished by Brazilian wonderkid, Vinicius Junior.
Champions League 2020-21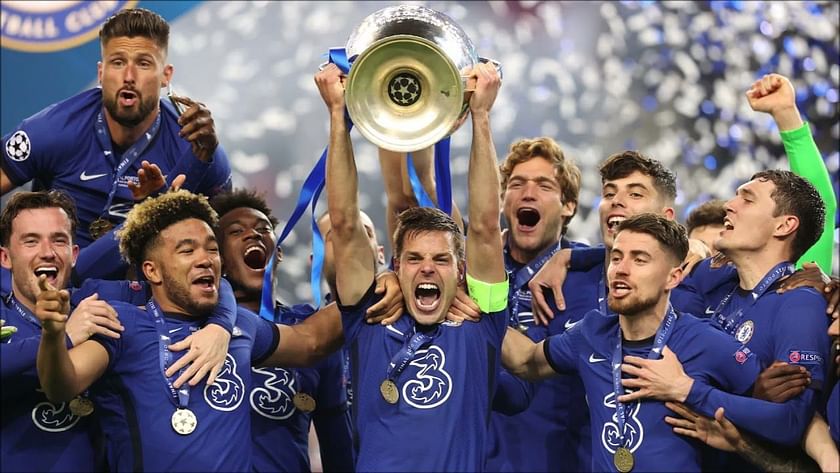 Chelsea won the UCL 2020-21 season by defeating City in the final
English club Chelsea won the Champions League 2020-21 edition as they found a way to defeat their league rivals Manchester City at the Estádio do Dragão, Porto. The Blues were certainly one of the few teams who were touted to reach the latter stages of the UCL. However, only a minority of fans believed in Chelsea to win the final against Manchester City who were unstoppable at that moment. Chelsea's UCL victory was a testament to the hard work their team put in and also the impact that German coach Thomas Tuchel had in a very short period of tme.
Champions League 2019-20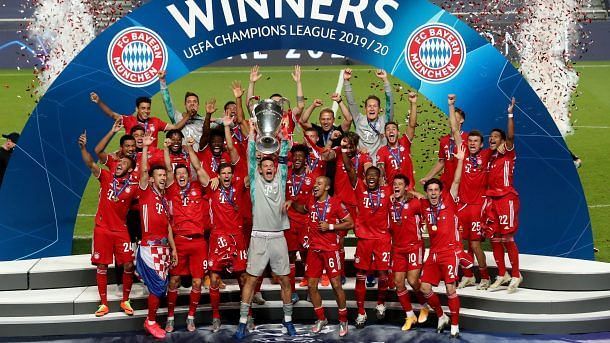 Bayern Munich won the 2019-20 edition of the Champions League. Bayern Munich and Paris Saint-Germain played in the Champions League Final 2019-20, and Bayern beat PSG 1-0 to win their 6th Champions League title.
Champions League 2022-23 format
The tournament follows a group and knockout format. For the Champions League, qualifying begins in the summer with three rounds and then a play-off taking place before 32 teams begin the group stage starting in September. The group stage involves eight groups of four teams, with each club playing everyone else in that group home and away. The top two sides in each group move on to the round of 16 and the start of the knockout phase, while the third-placed team drops into the UEFA Europa League. The round of 16, quarter-finals and semi-finals are played over two legs, home and away, while the final is hosted by a stadium which is selected almost two years in advance.
Champions League 2022-23 Qualified Teams
Champions League winner
Real Madrid (already qualified through league)
Europa League winner
Eintracht Frankfurt (already qualified through league)
Spain (La Liga)
Real Madrid (champions)
Barcelona
Atletico Madrid
Sevilla
England (Premier League)
Manchester City (champions)
Liverpool
Chelsea
Tottenham Hotspur
Italy (Serie A)
AC Milan (champions)
Inter Milan
Napoli
Juventus
Germany (Bundesliga)
Bayern Munich (champions)
Borussia Dortmund
RB Leipzig
Bayer Leverkusen
France (Ligue 1)
PSG (Champions)
Marseille
AS Monaco
Portugal (Primeira Liga)
Porto ( Champions)
Sporting CP
Benfica
Belgium (Jupiler Pro League)
Club Brugge (Champions)
Union Saint-Gilloise
Ukraine (Ukrainian Premier League)
Shakhtar Donetsk (Champions)
Dynamo Kiev (UCL play-off winner)
Turkey (Super Lig)
Trabzonspor (champions)
Fenerbahce
Netherlands
Ajax (finished first in league that was abandoned but not declared champions)
PSV
Austria
Red Bull Salzburg (UCL play-off winner)
Sturm Graz
Cyprus
Apollon Limassol (Qualifying round)
Denmark
FC Copenhagen (Qualifying round)
Midtyjlland (UCL play-off winner)
Scotland
Celtic
Rangers
UEFA Champions League - Overall Winners
The Spanish sides have dominated the European competition historically and in previous seasons. Real Madrid have won the European Cup and the Champions League a combined 14 times and have been the runners-up three times.
Real Madrid's arch-rivals Barcelona have won it five times while Italian side AC Milan are the second most successful side in the competition's history with seven titles.
Bayern Munich won Champions League 2019-20 to make it 6 Champions League titles levelling with Liverpool and leaving Barcelona behind with 5 titles.
UEFA Champions League - Rivalries
In the last decade or so, we've seen quite a few rivalries on the European stage as well. Here are a few of them.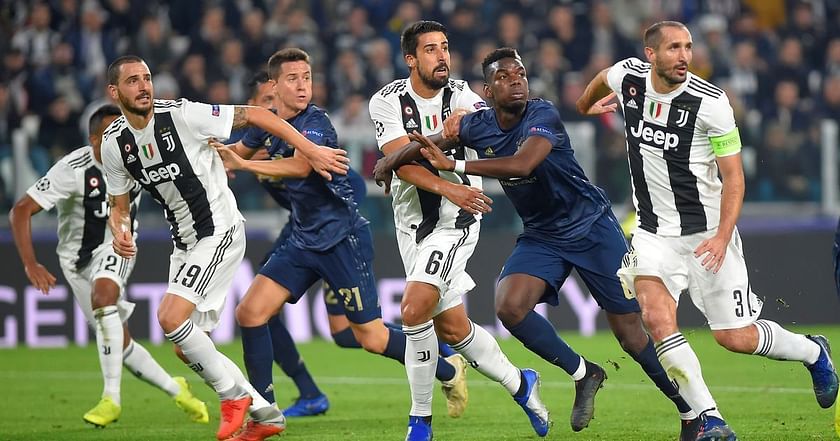 Manchester United vs Juventus
It is pretty clear the respect that the players of these great teams have for each other. Gary Neville labeled Juve as 'the benchmark', and Zinedine Zidane famously claimed Paul Scholes was his toughest opponent. Throughout the 90s and 00s, both domestically and in Europe, these two clubs were setting the standard, and have produced some classic performances, such as a Roy Keane inspired comeback during Manchester United's treble season of 1999. Even as United have struggled in recent years, they still managed to compete with, and even beat Juventus at their own stadium in 2018, and have the edge in the overall record, with 5 victories to 4.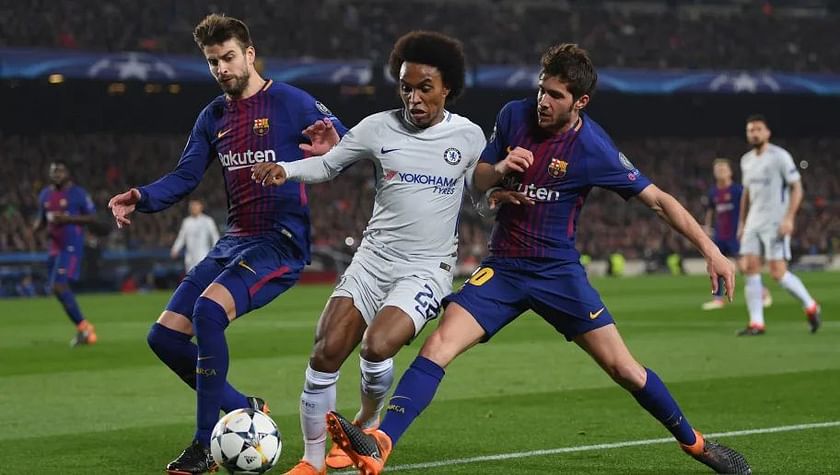 Barcelona vs Chelsea
An unlikely but quite the entertaining rivalry it is. Barcelona vs Chelsea at the grandest stage of UCL has always delivered enormous entertainment for fans. The historic performances from each of these clubs throughout their rivalry have meant immense drama since their first Champions League meeting in 2000. Among many stalemates, Chelsea's victory at the Nou Camp in 2012 led to arguably what is the club's greatest achievement in 2012 in lifting the Champions League, to return the favor for this epic moment.
Bayern Munich vs Real Madrid
When you put Germany's finest against the most decorated side in Spain and Europe 20 times throughout the Champions League era, it is no surprise that it leads to many unforgettable fixtures and the biggest rivalry in Champions League history. These games are usually extremely close and laced with quality, however, there have been some shockingly dominant victories for both teams, such as Madrid handing Pep Guardiola his most embarrassing moment in the competition. The list of players to have competed in these fixtures is outstanding. From Lahm vs Ronaldo to Ribery vs Marcelo, there have been incredible individual battles, and of course, goals.
Checkout the result of the Champions League Draw & Champions League Final