Champions League 2021-22 Standings
Group A
| | | | | | | | | | |
| --- | --- | --- | --- | --- | --- | --- | --- | --- | --- |
| Pos. | Team | Pld | W | D | L | GF | GA | GD | Pts |
| 1 | Man City | 6 | 4 | 0 | 2 | 18 | 10 | 9 | 12 |
| 2 | PSG | 6 | 3 | 2 | 1 | 13 | 8 | 5 | 11 |
| 3 | RB Leipzig | 6 | 2 | 1 | 3 | 15 | 14 | 1 | 7 |
| 4 | Club Brugge | 6 | 1 | 1 | 4 | 6 | 20 | −14 | 4 |
Group B
| | | | | | | | | | |
| --- | --- | --- | --- | --- | --- | --- | --- | --- | --- |
| Pos. | Team | Pld | W | D | L | GF | GA | GD | Pts |
| 1 | Liverpool | 6 | 6 | 0 | 0 | 17 | 6 | 11 | 18 |
| 2 | Atletico Madrid | 6 | 2 | 1 | 3 | 7 | 8 | -1 | 7 |
| 3 | Porto | 6 | 1 | 2 | 3 | 4 | 11 | −7 | 5 |
| 4 | AC Milan | 6 | 1 | 1 | 4 | 6 | 9 | −3 | 4 |
Group C
| | | | | | | | | | |
| --- | --- | --- | --- | --- | --- | --- | --- | --- | --- |
| Pos. | Team | Pld | W | D | L | GF | GA | GD | Pts |
| 1 | Ajax | 6 | 6 | 0 | 0 | 20 | 5 | 15 | 18 |
| 2 | Sporting CP | 6 | 3 | 0 | 3 | 14 | 12 | 2 | 9 |
| 3 | Borussia Dortmund | 6 | 3 | 0 | 3 | 10 | 11 | −1 | 9 |
| 4 | Besiktas | 6 | 0 | 0 | 6 | 3 | 19 | −16 | 0 |
Group D
| | | | | | | | | | |
| --- | --- | --- | --- | --- | --- | --- | --- | --- | --- |
| Pos. | Team | Pld | W | D | L | GF | GA | GD | Pts |
| 1 | Real Madrid | 6 | 5 | 0 | 1 | 14 | 3 | 11 | 15 |
| 2 | Inter Milan | 6 | 3 | 1 | 2 | 8 | 5 | 3 | 10 |
| 3 | Sheriff Tiraspol | 6 | 2 | 1 | 3 | 7 | 11 | −4 | 7 |
| 4 | Shakhtar | 6 | 0 | 2 | 4 | 2 | 12 | −10 | 2 |
Group E
| | | | | | | | | | |
| --- | --- | --- | --- | --- | --- | --- | --- | --- | --- |
| Pos. | Team | Pld | W | D | L | GF | GA | GD | Pts |
| 1 | Bayern Munich | 6 | 6 | 0 | 0 | 9 | 4 | 5 | 18 |
| 2 | Benfica | 6 | 2 | 2 | 2 | 8 | 8 | 0 | 8 |
| 3 | Barcelona | 6 | 2 | 1 | 3 | 10 | 9 | 1 | 7 |
| 4 | Dynamo Kyiv | 6 | 0 | 1 | 5 | 4 | 10 | −6 | 1 |
Group F
| | | | | | | | | | |
| --- | --- | --- | --- | --- | --- | --- | --- | --- | --- |
| Pos. | Team | Pld | W | D | L | GF | GA | GD | Pts |
| 1 | Manchester United | 6 | 3 | 2 | 1 | 11 | 8 | 3 | 11 |
| 2 | Villareal | 6 | 3 | 1 | 2 | 12 | 9 | 3 | 10 |
| 3 | Atalanta | 6 | 1 | 3 | 2 | 12 | 13 | -1 | 6 |
| 4 | Young Boys | 6 | 1 | 2 | 4 | 7 | 12 | −5 | 5 |
Group G
| | | | | | | | | | |
| --- | --- | --- | --- | --- | --- | --- | --- | --- | --- |
| Pos. | Team | Pld | W | D | L | GF | GA | GD | Pts |
| 1 | Lille | 6 | 3 | 2 | 1 | 7 | 4 | 3 | 11 |
| 2 | RB Salzburg | 6 | 3 | 1 | 2 | 8 | 6 | 2 | 10 |
| 3 | Sevilla | 6 | 1 | 3 | 2 | 5 | 5 | 0 | 6 |
| 4 | Wolfsburg | 6 | 1 | 2 | 3 | 5 | 10 | −5 | 5 |
Group H
| | | | | | | | | | |
| --- | --- | --- | --- | --- | --- | --- | --- | --- | --- |
| Pos. | Team | Pld | W | D | L | GF | GA | GD | Pts |
| 1 | Juventus | 6 | 5 | 0 | 1 | 10 | 6 | 4 | 15 |
| 2 | Chelsea | 6 | 4 | 1 | 1 | 13 | 4 | 9 | 13 |
| 3 | Zenit | 6 | 1 | 2 | 3 | 10 | 10 | 0 | 5 |
| 4 | Malmo FF | 6 | 0 | 1 | 5 | 1 | 14 | −13 | 1 |
Bayern Munich became the first European Cup winners to win all their matches during the 2019-20 Champions League as they defeated Paris Saint-Germain in the final, played at the Estádio da Luz in Lisbon, Portugal, 1–0 and. The Germans were the only the second European club to secure a second continental treble and the first to claim any European competition with a 100% winning record. They also earned the right to play against Sevilla, the winners of the 2019–20 UEFA Europa League, in the 2020 UEFA Super Cup, and also qualified for the 2020 FIFA Club World Cup to be held in Qatar.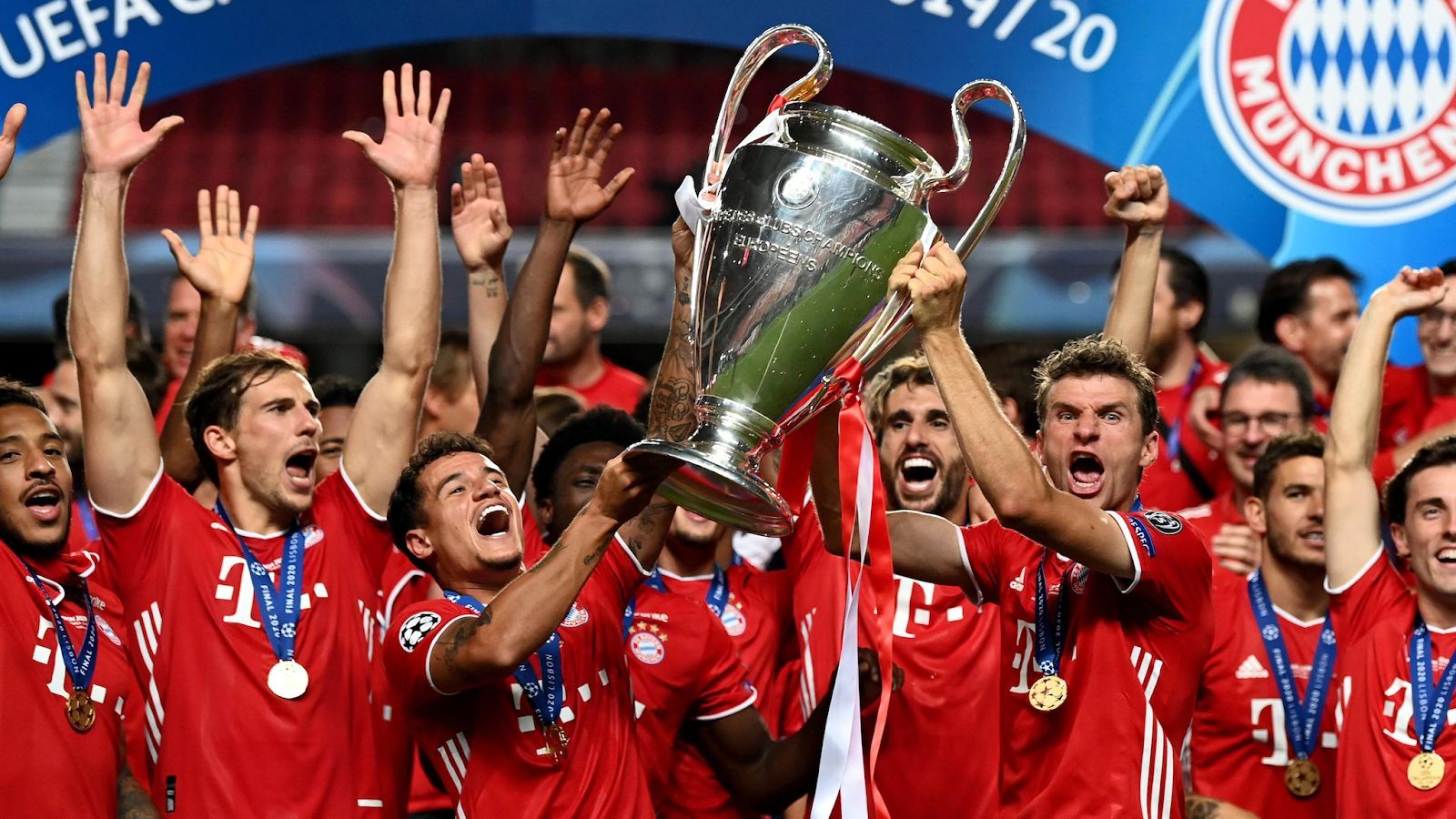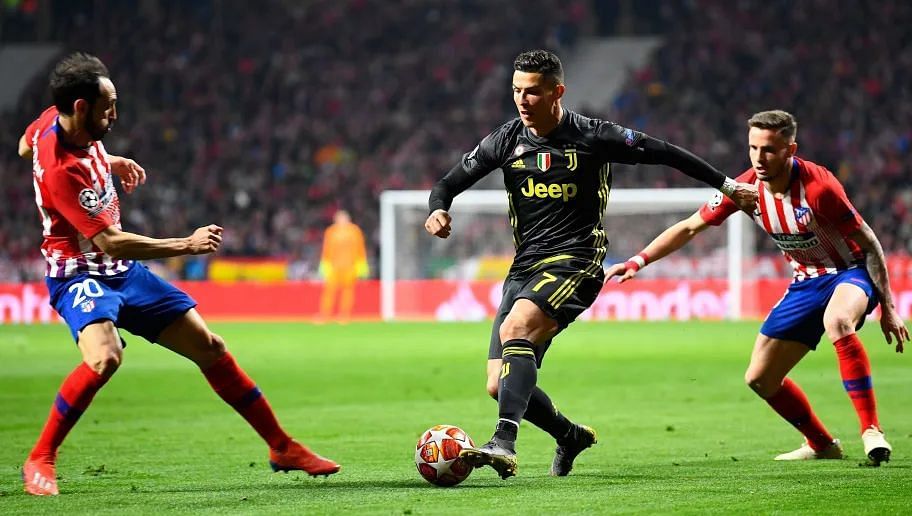 It was PSG's first ever Champions League final and were hopeful to win their first European trophy since 1996. Juventus finished third of the overall league table but lost to Lyon in the knockout phase with an aggregate of 2-2 and couldn't qualify to the Quarter-finals. Defending champions Liverpool along with the previous season's other finalists, Tottenham Hotspur, were eliminated in the round of 16, following defeats to Atlético Madrid and RB Leipzig respectively.


Champions League Group stage: 5 clubs who won all their group games
AC Milan, 1992–93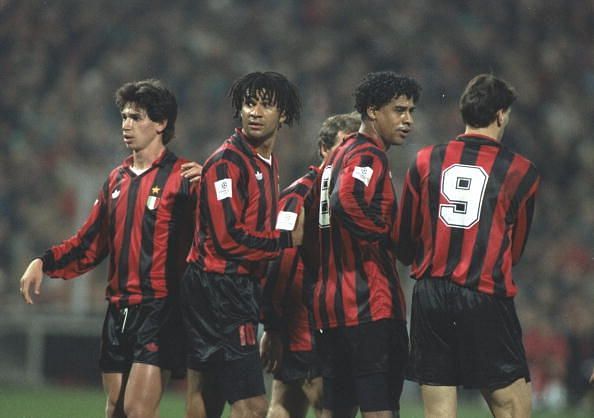 AC Milan won all their Champions League Group games in 1992-93 season, they beat IFK Göteborg 4-0 in their first group game then they beat Porto 1-0 and they also beat PSV 2-0 at home. In the reverse fixtures, Milan beat IFK Göteborg 0-1 in Sweden. Milan then travelled to Porto to face the Portuguese side, and beat them 0-1. In their final game of the group stage, Milan travelled to Netherlands and beat PSV 1-2.




Paris Saint-Germain, 1994–95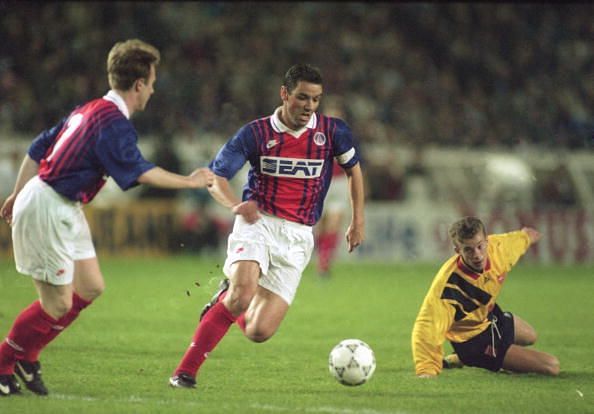 PSG beat Bayern Munich, Spartak Moscow and Dynamo Kyiv in Champions League Group stage, at home. In the reverse fixtures, PSG beat Bayern Munich 0-1 in germany and then they travelled to Russia to face Spartak Moscow and beat them 1-2 in a close game. PSG then beat Ukrainian side Dynamo Kyiv in their final group stage game.


Spartak Moscow, 1995–96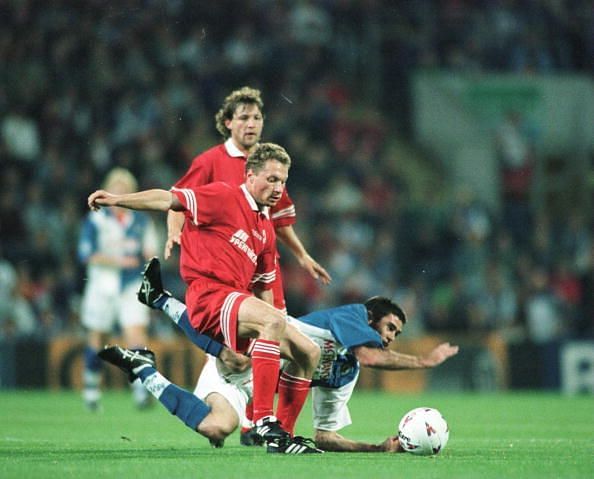 Spartak Moscow won all of their Champions League group stage games in 1995-96 season, they beat teams likes Legia Warsaw from Poland, Rosenborg from Norwegian league and Blackburn Rovers from English Premier League. They are the Russian side to win all the group stage games in Champions League
Barcelona, 2002–03





Barcelona are the first Spanish team to win all of their Champions League Group stage games, they beat the likes of Lokomotiv Moscow from Russia, Club Brugge from Belgium and Galatasaray from Turkey. Barcelona won both home and away games in the group stage but lost to Juventus in the quarter final game.




Real Madrid, 2011–12, 2014–15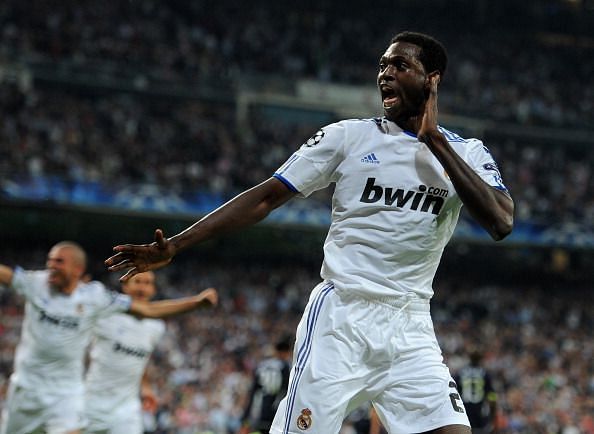 Real Madrid are the second Spanish team to win all of their Champions League Group games and are the only team win all of their group games twice. In 2011-12 Real Madrid beat Lyon from French League, Ajax from Dutch League and Dinamo Zagreb from Croatian League both home and away. Real Madrid again won all of their group games in 2014-15 season, they beat European clubs like Basel, Liverpool and Ludogorets Razgrad both home and away in the group games and lost to Juventus in the semi final game.