| | |
| --- | --- |
| Founded | 1890 |
| Ground | Ramón Sánchez Pizjuán |
| Owner(s) | Sevillistas de Nervión ,Rafael Carrión Moreno |
Sevilla FC Football Videos
Sevilla History
Sevilla Fútbol Club is a professional football club based in Seville, Andalusia, Spain. It is popularly known as Sevilla and plays in the La Liga, the top tier football league of Spain. According to the IFFHS (International Federation of Football History and Statistics), it was the best team in the world in 2006 and 2007.
It was formed in 1890 by a group of Englishmen, Scotsmen and Spanish locals to establish a team for Seville. Sevilla FC is the oldest Spanish club and is known to play the first ever official match in Spanish football.
Due to a dispute in the club of whether or not to sign a player of the working class, few members moved out and started their own club, now known as Real Betis and became the arch-rivals of Sevilla and the match between Sevilla and Real Betis is known as Seville Derby.
Sevilla Records
Sevilla is the most successful club in the history of UEFA Europa League with 5 titles to its name. In the 1956-57 season, they had a home win record of 100%. They have also been granted Royal Order of Sports Merit by the Supreme Council of Sport. Also, Sevilla won the Medal of Andalusia in 2005.
Sevilla Manager - Julen Lopetegui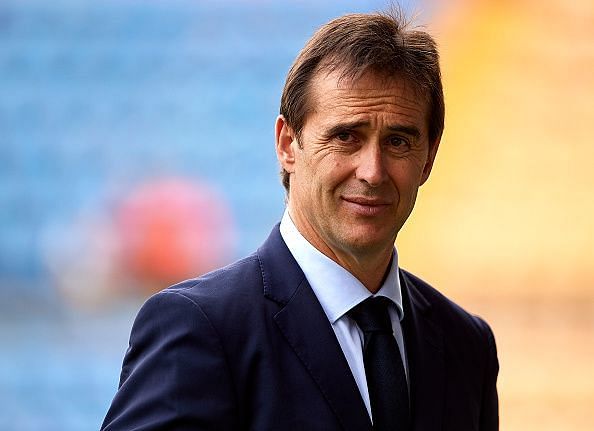 Julen Lopetegui is the current manager at Sevilla and he took charge of sevilla FC in June 2019. The former Spanish player was a goalkeeper back in his days. Lopetegui led the Spanish youth teams to European titles and was the manager of Spain's national team before being dismissed prior to the 2018 World Cup. .
Sevilla Stadium - Ramón Sánchez Pizjuán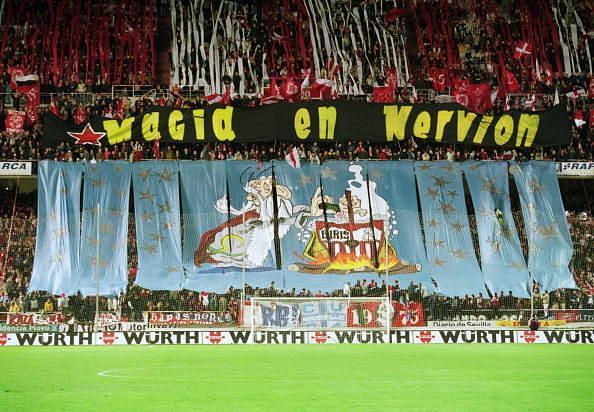 Sevilla FC has played in a lot of stadiums around Seville since the club's formation. They played at la Trinidad Field, the Mercantile Field, 'La Victoria' Stadium and the Estadio de Nervión before moving to their current stadium Ramón Sánchez Pizjuán.
Sevilla's Stadium is named after their former president Ramón Sánchez Pizjuán who served the club for 17 years. Ramón Sánchez Pizjuán Stadium is located in Seville, Andalusia, Spain and has a capacity of 43,883 seats.
Sevilla Logo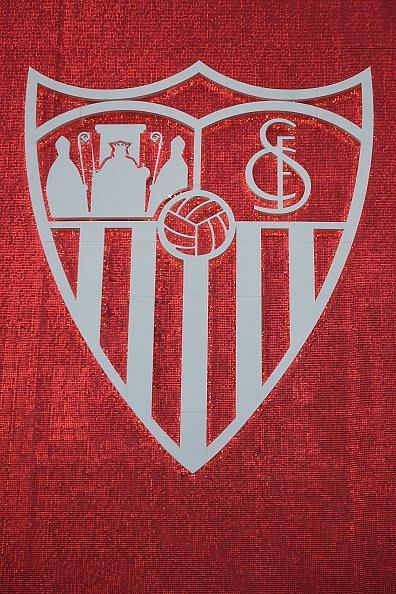 Sevilla's logo consists of a shield which is divided into 3 parts. There are the Christian saints portrayed in the coat of arms of the city on the top left of the logo. On the top right, there are the initials of the club SFC in a series of circles. The lower part consists of red and white stripes and it was inspired by King Ferdinand III of Castile's flag, which was conquered during the reconquest of Seville in 1248.
Sevilla FC President
Jose Castro Carmona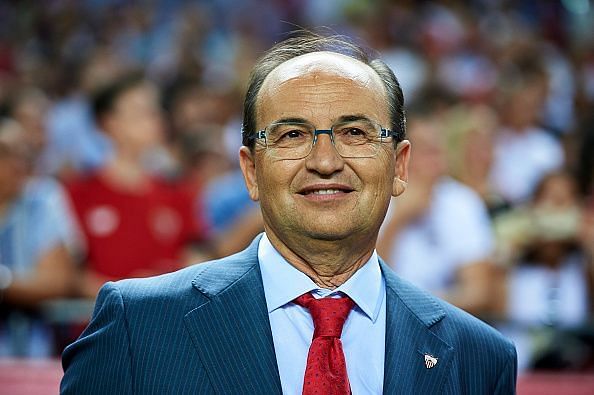 Sevilla is governed by the presidential management system and the president of Sevilla is elected by the shareholders of the club instead of the board members. José Castro Carmona is the current President of Sevilla. He has been the vice president of the club since 1999 and the President since 2013.
Sevilla Trophies
Sevilla Europa League Titles (5)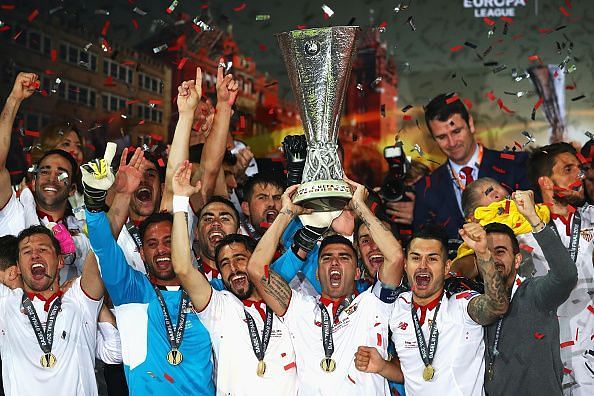 | | | |
| --- | --- | --- |
| S. No. | Seviila Europa League Titles | Runner - Ups |
| 1 | 2005-06 | Middlesbrough |
| 2 | 2006-07 | Espanyol |
| 3 | 2013-14 | Benfica |
| 4 | 2014-15 | FC Dnipro |
| 5 | 2015-16 | Liverpool |


Sevilla Copa Del Rey Titles (5)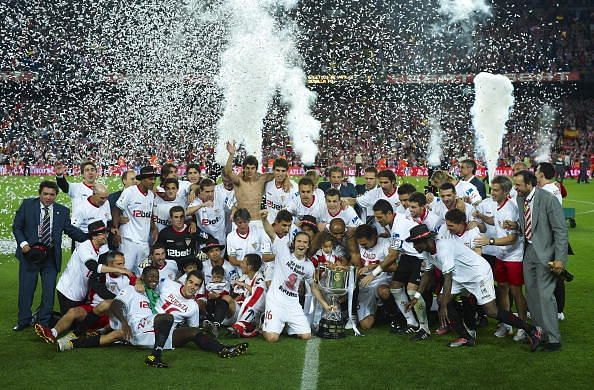 | | | |
| --- | --- | --- |
| S. No. | Sevilla Copa Del Rey Titles | Runner - Ups |
| 1 | 1935 | Sabadell |
| 2 | 1939 | Racing De Ferrol |
| 3 | 1947-48 | Celta Vigo |
| 4 | 2006-07 | Getafe |
| 5 | 2009-10 | Atletico Madrid |
Sevilla LaLiga Titles (1)
| | | |
| --- | --- | --- |
| S. No. | Sevilla La Liga Titles | Runner - Ups |
| 1 | 1945-46 | Barcelona |
Sevilla FC Owner
Sevilla is a sporting limited addition and is owned by Sevillistas de Nervion S.A whose members are Jose Maria del Nido, Roberto Alés, José Castro, José Martín Baena, Francisco Guijarro, and José Gómez Miñán. The majority shareholder of the club is José María del Nido Benavente.
Sevilla Nicknames
Sevilla has been given various nicknames by the Spanish supporters and fans. They are called Sevilistas because of their club name. Due to their white and red kits, they are called "Los Rojiblancos". They are also called "Los Hispalenses" as well as "Los Hispalenses" because they hail from Hispalis and Nervión. Sevilla is the best club of Andalusia and is therefore nicknamed "El Grande de Andalucía"
Sevilla Top Scorer
Juan Arza
Juan Arza is Sevilla's all-time top goal scorer. The Spanish forward was nicknamed "El Niño de Oro" (The Golden Boy). He played at Sevilla for 16 years and scored 207 times for the club. With 414 appearances, he also has the second highest official appearances for the club. He won the Pichichi Trophy (top goalscorer of La Liga season) in the 1954-55 season and served as a manager for Sevilla after his retirement.
Sevilla Legends
Juan Araujo
Juan Araujo Pino was the youth product of Sevilla and is one of their greatest strikers ever. He scored 158 goals in his 11 years with Sevilla and helped them win the league in 1946 and the cup 2 years later.
Jose Maria Busto
Jose Maria Busto is considered as the best goalkeeper for Sevilla throughout its history. He spent 16 seasons in Sevilla and won the league with them in 1946 as well as the domestic cup in 1948.
Manolo Jiménez
Manolo Jimenez spent his entire career playing for Sevilla and played the most La Liga matches for the club. The Spanish defender spent over 14 seasons with the club as a player and after his retirement, he became the manager of the club.
Pablo Blanco
Pablo Blanco was a one-club man and spent his entire career in Sevilla. The Spanish defender is a club hall of famer and in his 12 years with the first team of the club, he made 413 appearances.
Jesús Navas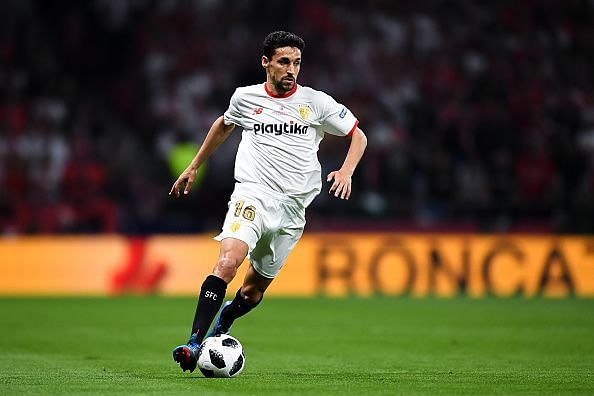 Jesús Navas has played the most number of matches for Sevilla. He helped Sevilla to win 2 UEFA Cups and 5 other major titles which includes 2 Copa Del Rey, 2 Spanish Super Cup, and 1 UEFA Super Cup . The name of the training ground of the club, "Estadio Jesús Navas" is named in his honour after he won the World Cup with Spain in 2010.