About Europa League 2023-24
The UEFA Europa League, formerly known as the UEFA Cup, is a competition which is held annually, conducted and organised by UEFA since 1971. The criteria of qualification of clubs all over the world is based on their performance in the respective leagues and cup competitions.
The title has been won by 28 different clubs, with Spanish club Sevilla being the most successful team with six championship titles.
Winners of the Europa League automatically qualify for UEFA Super Cup and next season's UEFA Champions League tournament, as per the rule changes in 2014-15.
Europa League History
The Inter-Cities Cup was held since 1955 and continued till 1971, finally getting replaced by the UEFA Cup.
The Inter-Cities started hosting 11 countries in its first competition. However, with growing popularity and development, the number of teams increased to 64.
The UEFA Cup was first held in the 1971–72 season and finished with an all English team final as Wolverhampton Wanderers faced Tottenham Hotspur. Spurs made history and won the first competition by 3-2 on aggregate in a two-legged final.
Format
Qualification for the Europa League has changed quite a bit in the last few years. UEFA uses statistics to rank the nations which are called UEFA coefficients. These nations are marked by an association number.
For the first qualification round, under associations 24–54, 31 clubs who have won their domestic cups qualify. Associations 18–53 and 16–51 have 35 of such clubs who also qualify.
For the second qualification round, apart from the teams qualifying from the first round, there are six domestic cup winners from associations 18–23, two domestic league winners from 16-17 and six domestic league fourth placed teams from 10–15.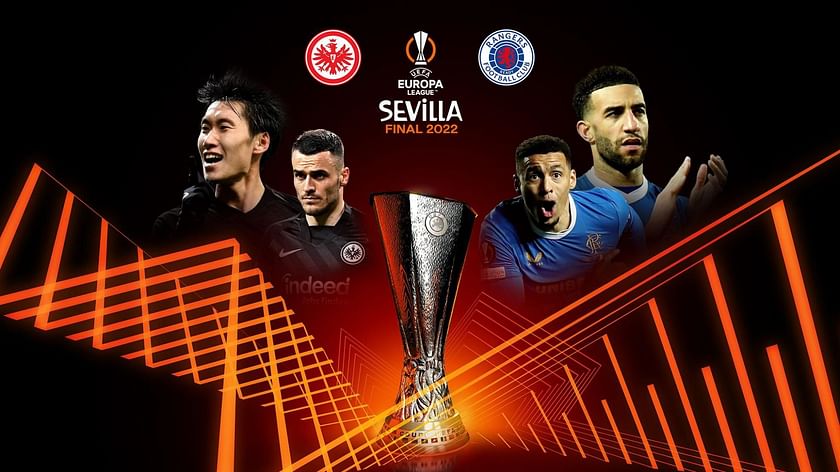 For the third qualification round, the winners of second qualification round are in addition to five domestic cup winners from associations 13–17, nine domestic league third-placed teams from associations 7–15, five domestic league fourth-placed teams from associations 5–9, three domestic league fifth-placed teams from associations 4–6 (League Cup winners for France) and three domestic league sixth-placed teams from associations 1–3 (League Cup winners for England).
In the play-off round, winners of the third qualifying round are added to the fifteen teams who have qualified from losing third qualification round in the UEFA Champions League.
In the group stage, winners of the playoffs join twelve domestic cup winners from associations 1–12, one domestic league fourth-placed team from association four and three domestic league fifth-placed teams from associations 1–3. Apart from this, ten teams who lost in the UCL playoffs also qualify.
In the knockout phase, there are a total of 32 teams, 12 of which are group winners from the group stage and another 12 are runners-up. Eight third-placed teams from Champions League group stage also qualify.
Europa League Trophy
The UEFA Cup trophy was designed by GDA Betoni in the year 1972. It weighs 15 kgs and is made up of silver on a marble base.
The original trophy is kept with UEFA at all times and a replica is given to winners of the competitions each season.
Record of Cup Winners
| | | |
| --- | --- | --- |
| Club Name | Winners(Times) | Years won |
| Sevilla | 6 | 2006, 2007, 2014, 2015, 2016 |
| Liverpool | 3 | 1973, 1976, 2001 |
| Juventus | 3 | 1977, 1990, 1993 |
| Internazionale | 3 | 1991, 1994, 1998 |
| Atletico Madrid | 3 | 2010, 2012, 2018 |
| Borussia Monchengladbach | 2 | 1975, 1979 |
| Tottenham Hotspur | 2 | 1972, 1984 |
| Feyenoord | 2 | 1974, 2002 |
| IFK Göteborg | 2 | 1982, 1987 |
| Real Madrid | 2 | 1985, 1986 |
| Parma | 2 | 1995, 1999 |
| Porto | 2 | 2003, 2011 |
| Chelsea | 2 | 2013, 2019 |
Current Scenario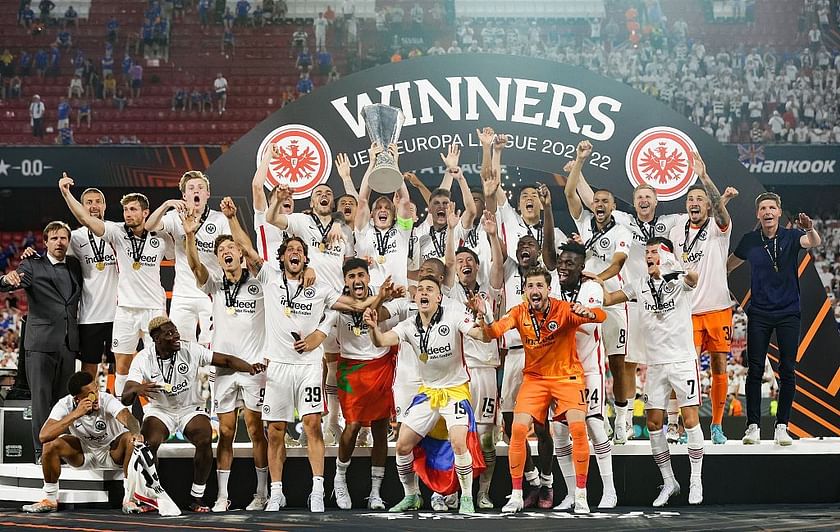 The 2021-22 Europa League was a great edition to watch as German club Eintracht Frankfurt defied all odds to end up being crowned as the new Europa League winners. This was the German club's second Europa title as they has won it before in 1980. Frankfurt defeated a highly motivated Rangers FC who also displayed a great string of performances in the Europa League.
The likes of FC Barcelona, Sevilla, West Ham United, RB Leipzig and many more top teams were part of the knockout stages. The mighty Barca's campaign came to an end when Frankfurt made an incredible comeback in the second leg at the iconic Camp Nou. West Ham United and RB Leipzig managed to reach to the semifinals of the competition. However these two teams were knocked by Frankfurt and Rangers respectively.