Bayern Munich is one of the most prestigious football clubs and have always maintained an unique tradition, a record of consistent success, and a great history. Bayern are one of Germany's most successful football clubs ever.
Bayern Munich History
Bayern Munich is German professional football club based in Munich. Bayern was founded in 1900 and have become Germany's most famous and successful football club. However the club had to wait until 1932 for its first national championship.
The post war era brought its own troubles, with Bayern Munich being relegated in 1955 and narrowly avoiding bankruptcy at the end of the decade. The only bright spot for Bayern was winning their first DFB Pokal in 1957. When the Bundesliga was founded in 1963, Bayern was not among the sixteen teams invited. Instead, they gained promotion two seasons later.
By the end of the 1960's, Bayern's team contained three of the greatest German footballers of all time, goalkeeper Sepp Maier, forward Gerd Müller, and defender Franz Beckenbauer. Those years saw the club win four Bundesliga titles, four DFB Pokals and three straight European Cups from 1974 to 1976.
Ottmar Hitzfeld's appointment as coach at the start of the 1998/1999 season signaled the club's big return to the European scene. During his six years with the club, Bayern Munich won a Champions League and further asserted themselves as the top dog in German football, winning four Bundesligas and two DFB-Pokals.
Even though Bayern Munich won seven additional Bundesliga titles and six DFB Pokals in the years that followed, European success was once again proving elusive. After not getting past the Champions League quarter finals in the period from 2002 to 2010, Bayern Munich finally managed to win another European title by defeating long time rivals Borussia Dortmund 2-1 in the 2013 finals.
Bayern Munich Manager - Niko Kovac
Niko Kovac is just the third former player to coach the record champions after Franz Beckenbauer and Jurgen Klinsmann. He has been brought in to set up the foundations of Bayern Munich's new generation of players, for tomorrow's managers to dominate in Europe.
Bayern Munich Logo
The logo of Bayern Munich originally consisted of the initials FCB.M until a new crest was designed that has been modified many times. The colours used in Current Logo in the middle of the crest are the colours present in Bavaria's flag.
Bayern Munich Ownership Structure
Bayern Munich, the football club, is 75 percent owned by Bayern Munich, the non profit sports club that has almost 250,000 members and also has chess, handball, basketball, gymnastics, bowling and table tennis teams. Audi, Adidas, Coca Cola, Siemens, Lufthansa, Samsung, and Deutsche Telekom now form the basis of the club's financial might. They helped them pay for and finance the impressive Allianz Arena. Bayern are the fourth biggest club in the world by revenue.
Bayern Munich Motto
At Bayern Munich, "Mia san Mia" is much more than just a motto, it is a way of life. Mia san Mia stands for a hardcore winning mentality with a good dose of self-belief, but without any arrogance. The Bavarian giants invoke an all for one, one for all mentality with this motto.
Bayern Munich Nickname
Bayern Munich are also known as "Die Bayern" or "Die Roten". Bayern is the English translation of the German word Bavaria, which is the state where Munich is located. Die Roten means "The Reds" and this came up after the colour of the jersey that Bayern wear - Red.
Bayern Munich Trophies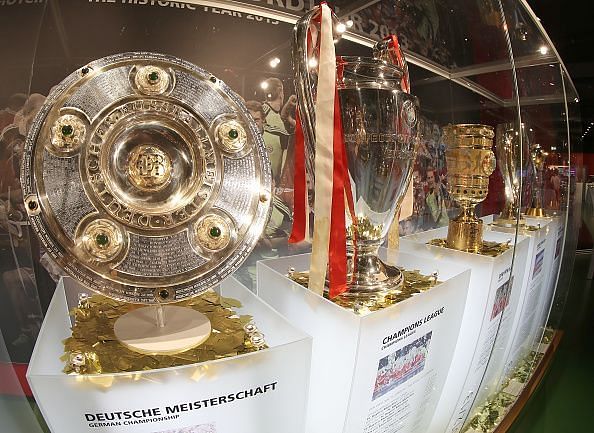 | | |
| --- | --- |
| Tournament | Number Of Times Won |
| Bundesliga | 29 |
| DFB Pokal | 19 |
| Champions League | 5 |
Bayern Munich Bundesliga Titles (29)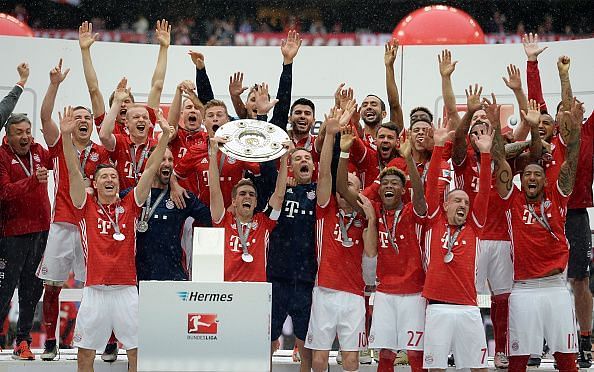 | | |
| --- | --- |
| Decade | Titles |
| 1930's | 1932 |
| 1960's | 1969 |
| 1970's | 1972, 1973, 1974 |
| 1980's | 1980, 1981, 1985, 1986, 1987, 1989 |
| 1990's | 1990, 1994, 1997, 1999 |
| 2000's | 2000, 2001, 2003, 2005, 2006 ,2008 |
| 2010's | 2010, 2013, 2014, 2015, 2016, 2017, 2018, 2019 |
Bayern Munich DFB Pokal titles (19)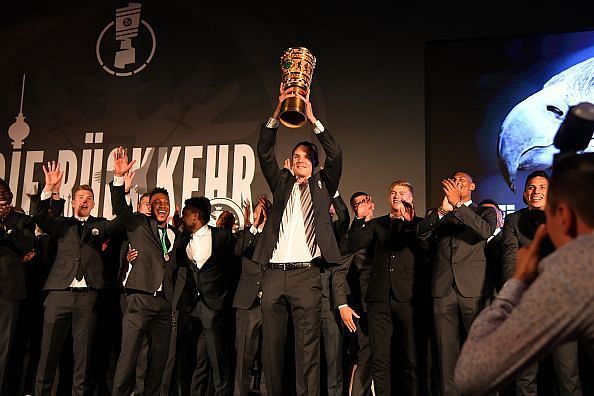 | | |
| --- | --- |
| Decade | Titles |
| 1950's | 1957 |
| 1960's | 1966,1967,1969 |
| 1970's | 1971 |
| 1980's | 1982,1984,1986 |
| 1990's | 1998 |
| 2000's | 2000, 2003, 2005, 2006, 2008 |
| 2010's | 2010, 2013, 2014, 2016, 2019 |
Bayern Munich Champions League Titles (5)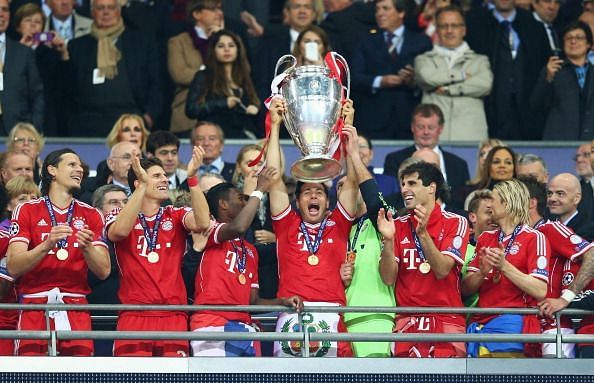 | | |
| --- | --- |
| Decade | Titles |
| 1970's | 1974,1975,1976 |
| 2000's | 2001 |
| 2010's | 2013 |
Bayern Munich Treble Season (2012/2013)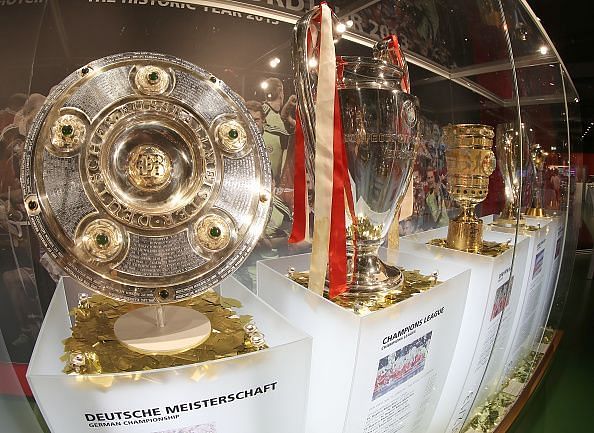 The treble season began with a Supercup victory against double winners Borussia Dortmund. The dominance of the team, called 'Super Bayern' by the end of the season, was evident throughout the campaign. The 23rd Bundesliga title was secured on Matchday 28. In the end, Heynckes' team clocked up 91 points which included 29 wins, a goal difference of +80 and only 18 goals conceded.
Meanwhile in the Champions League final at Wembley, Arjen Robben produced a man of the match performance. The Dutchman netted the winner at 89th minute in an all German final against Borussia Dortmund. The fifth European triumph marked the end of a 12 year barren run in the Champions League.
The DFB Cup also provided a chance to gain revenge on the holders, at the quarter final stage.
A 6-1 win against VfL Wolfsburg in the semi finals was followed by the final at the Olympiastadion in Berlin against a passionate and determined VfB Stuttgart side. However they were unable to spoil the Bavarian party in the end as FC Bayern became the seventh European and first German club to win the treble.
Bayern Munich All Time Top Scorer
Gerd Muller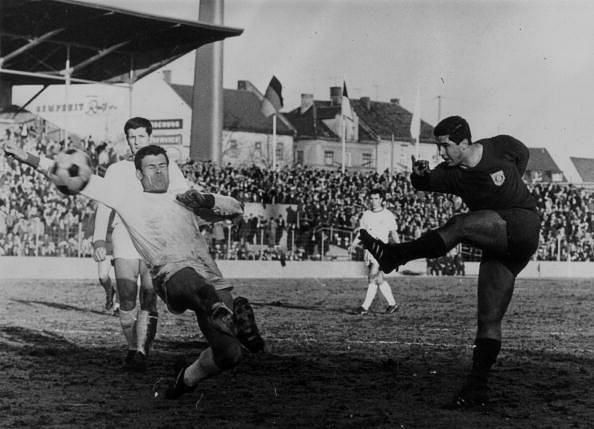 Bayern legend Gerd Muller is the all time top scorer for Bayern Munich, netting 365 goals in 427 games for Bayern. A penalty box predator, Der Bomber netted an incredible haul of 40 in the 1971/1972 season.
Bayern Munich Legends
1. Franz Beckenbauer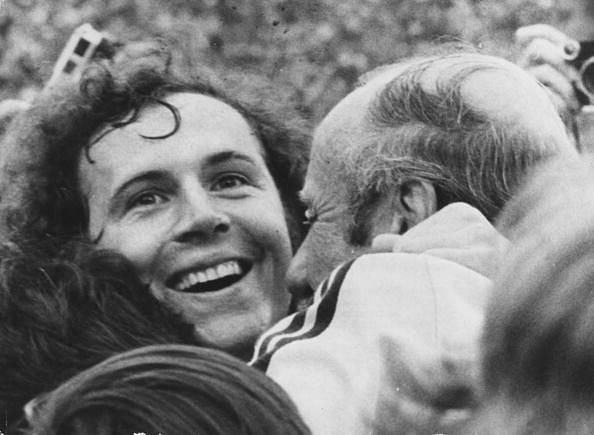 Franz Beckenbauer is regarded as one of the greatest German footballers of all time and one of the most decorated footballers in the history of the game. Beckenbauer was a versatile player, who started out as a midfielder, but made his name as a defender. With one World Cup, three European Cups, and four Bundesliga titles to his name his legacy will remain forever untouched in the halls of Bayern Munich.
2. Karl Heinz Rummenigge

Between the years 1974-1984 Karl Heinz Rummenigge played 310 games for Bayern Munich and scored 162 goals. The forward also managed to rack up eight trophies in the process, picking up as many European Cups as Bundesliga titles. In 1992 Rummenigge took up a position at Bayern Munich as their vice president.
3. Gerd Muller
A prolific striker renowned for his clinical finishing, especially inside the penalty box, Gerd Muller is regarded as one of the greatest goalscorers of all time. After fifteen years with Bayern Munich, he scored a record 365 goals in 427 Bundesliga games.
4. Oliver Kahn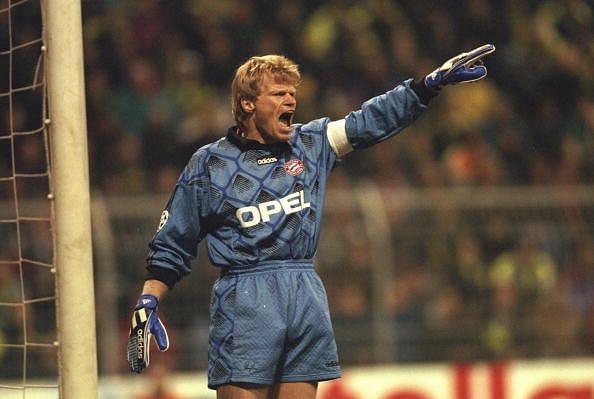 With 429 senior appearances, in which he won eight Bundesliga titles, six DFB Pokal cups and one Champions League trophy, Oliver Kahn is regarded as one of the best German goalkeepers of all time and deserves his place among the legends.
5. Philipp Lahm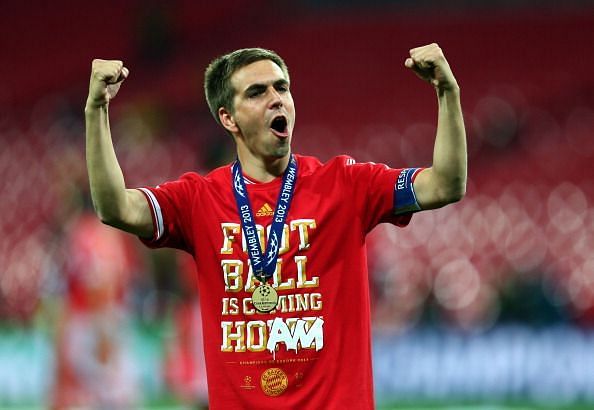 Philipp Lahm was the captain of Bayern Munich during his time, having skippered them to numerous honours, including the 2013 UEFA Champions League. Lahm is considered by many to be one of the best full backs of his generation and arguably the greatest captain Bayern Munich and Germany have ever seen. Lahm has also defined himself as one of the most consistent right backs in modern football.
Der Klassiker
Bayern Munich vs Borussia Dortmund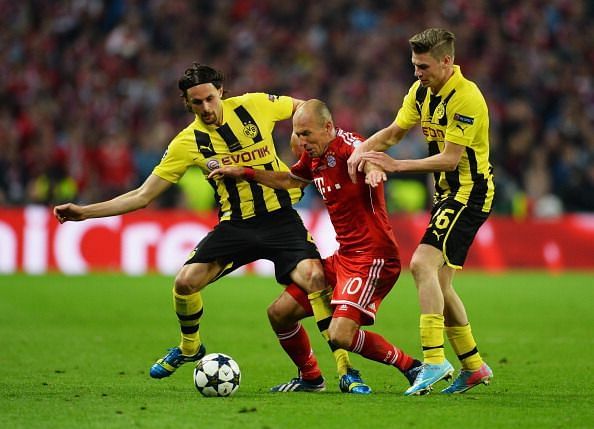 Der Klassiker, otherwise known as the German Clasico, is the name given to any clash between Bayern Munich and Borussia Dortmund - German football's two modern heavyweights. Der Klassiker has become the biggest match in German club football in recent years. The game's status reflects the recent dominance of both sides. In the past 25 seasons, Bayern Munich and Dortmund have won 21 Bundesliga titles between them.
Why Does Bayern Munich Have Four Stars On Their Shirt?
There is a rule in the Bundesliga which states that one star is assigned to the club's emblem for three championships, two stars are given for five titles, three for ten and four for twenty. Bayern Munich has four stars on their shirt above the club's logo, for becoming the champion of Germany a record 29 times.
Bayern Munich Training Ground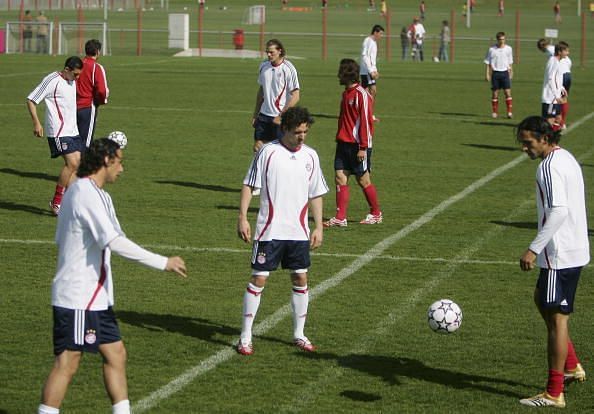 The Sabener Strasse ground offers Bayern Munich's entire roster of teams, from the Bundesliga seniors down to the Under-8's, superb training and playing conditions. Bayern Munich players get to enjoy the use of the club's state of the art complex which includes locker screens to display their personalised schedules, a spa next to their changing rooms, a player zone kitted out with couches, a pool table, video games and big screen televisions.