| | |
| --- | --- |
| Founded | 1903 |
| Ground | Wanda Metropolitano |
| Owner(s) | Miguel Ángel Gil Marín and Enrique Cerezo, Idan Ofer (Quantum Pacific), Wang Jianlin (Wanda Group) |
Atletico Madrid Football News
Atletico Madrid Football Videos
Atletico Madrid Football Bio
Atletico Madrid History
Club Atlético de Madrid, commonly or more popularly known as Atletico Madrid is a professional football club based in Madrid, Spain. The club plays in La Liga, the top tier football league of Spain.
On 26 April 1903, three Basque students from Madrid laid the foundations of a football club known as Athletic Club Sucursal de Madrid. The club started playing in blue and white shirts, slowly moving to the red and white kit, world-renowned today.The red and white shirts gave them the nickname "Colchoneros".
In 1921, Atletico Madrid won their first title, The Federation Regional Championship and From here on they never looked back challenging the likes of Barcelona and Real Madrid for years to come.
Atletico Madrid Stadium - Wanda Metropolitano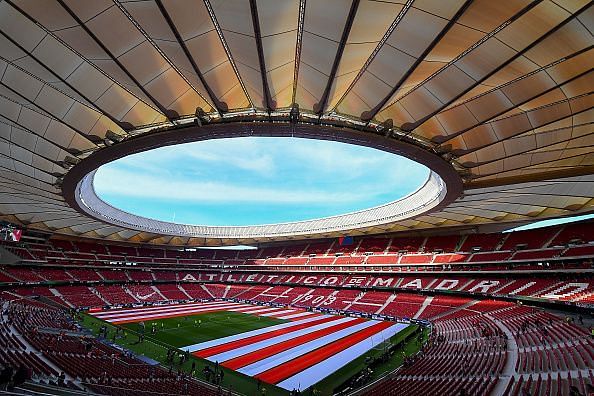 Athletico Madrid have played in 3 stadiums since the club's formation in 1903. They initially played at the Ronda de Vallecas till 1923 and then they moved to Estadio Metropolitano de Madrid.
In 1966, the Vicente Calderon was ready and Atletico Madrid played its home matches from 1966 to 2017 in it. The stadium with a capacity of 54,907 spectators, saw Atletico reaching 3 Champions League finals with the huge home support of the Vicente Calderon.
Atletico Madrid made a move in 2017 to a newly renovated Wanda Metropolitano their new home ground. This stadium in Madrid has a capacity of hosting 67,829 spectators. The UEFA Champions League 2019 final between Liverpool and Tottenham was held in the Wanda Metropolitano stadium of Madrid.
Atletico Madrid Logo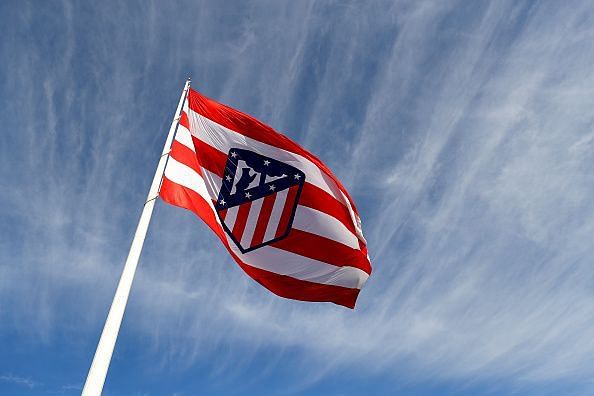 Atletico Madrid has seen 11 crests in its long footballing history. The crest/badge features the key elements of the city of Madrid: a bear and a 'Madroño'(strawberry) tree enclosed within an enclosure of 7 stars. The crest also has red and white stripes, signifying the home colours of the club.
Atletico Madrid Manager - Diego Simeone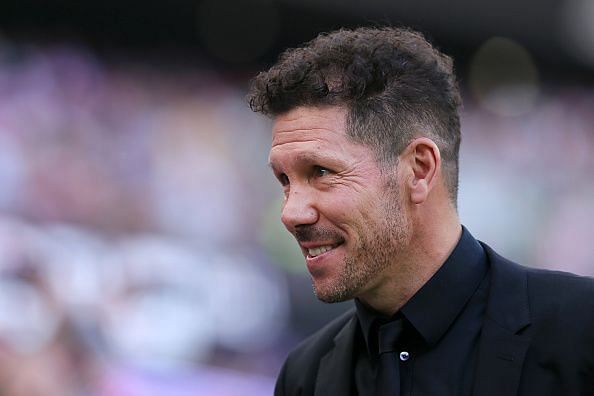 Diego Simeone took charge of Atletico Madrid as a manager back in 2011. The former Argentine played as a midfielder back in his days and is also known as El Cholo by many. Under Simeone's guidance and management, Atletico Madrid have won 1 La Liga, 1 Copa Del Rey, 2 UEFA Europa Leagues, 2 UEFA Super Cups and have reached the finals of the Champions League twice.
Atletico Mardrid Trophies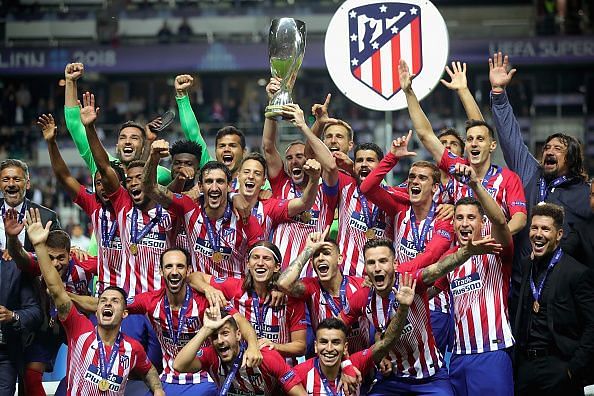 Facing stiff competition from Other big clubs of Spain, Atletico Madrid have created an identity for themselves over the years. The Rojiblancos have won the La Liga as well as the Copa del Rey 10 times each. Atletico Madrid have also been the winners of the Europa League thrice and runners-up of the Champions League three times.
Atletico Madrid La Liga Titles (10)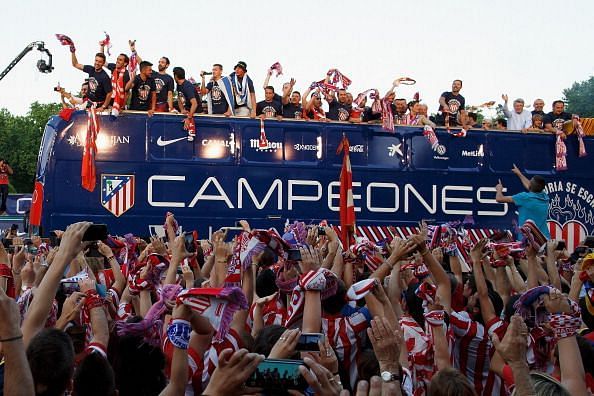 | | |
| --- | --- |
| Decades | Titles |
| 1930's | 1939-40 |
| 1940's | 1940-41, 1949-50 |
| 1950's | 1950-51 |
| 1960's | 1965-66, 1969-70 |
| 1970's | 1972-73, 1976-77 |
| 1990's | 1995-96 |
| 2010's | 2013-14 |
Atletico Madrid Copa Del Rey Titles (10)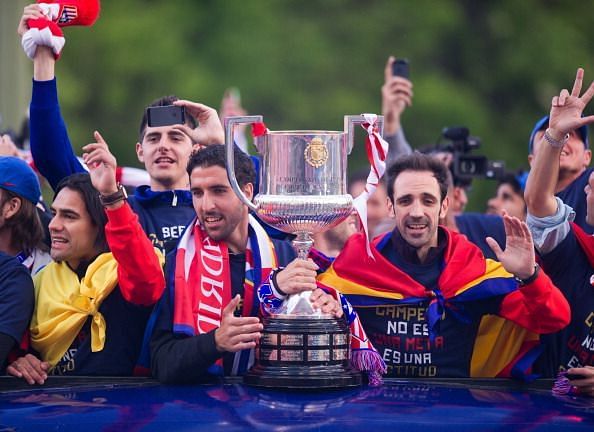 | | |
| --- | --- |
| Decades | Titles |
| 1950's | 1959-60 |
| 1960's | 1960-61,1964-65 |
| 1970's | 1971-72, 1975-76 |
| 1980's | 1984-85 |
| 1990's | 1990-91, 1991-92, 1995-96 |
| 2010's | 2012-13 |
Atletico Madrid Europa League Titles (3)
| | | |
| --- | --- | --- |
| S. No | Atletico Madrid Europa League Titles | Runner - Ups |
| 1 | 2010 | Fulham |
| 2 | 2012 | Athletic Bilbao |
| 3 | 2018 | Marseille |
Atletico Madrid Nickname
Atletico Madrid have been given various nicknames by the Spanish supporters and fans. They are known as Los Colchoneros (The Mattress Makers), Los Rojiblancos (The Red and Whites) as well as Los Indios (The Indians). Atletico Madrid came to be known as the Mattress Makers because their red and white striped jerseys closely resembled the general colour of Spanish mattresses at that time.
Atletico Madrid Top Scorer
Jose Luis Aragones Suarez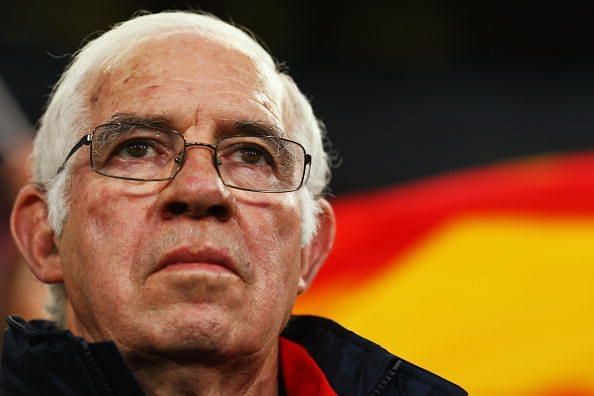 José Luis Aragonés Suárez is Atletico Madrid's all-time top goal scorer. The Spanish forward played at Atletico Madrid for 10 years and in his 265 appearances for the club, Luis scored an impressive 172 goals. Even 45 years after his retirement, his achievement stands strong in the record books of the club.
The Madrid Derby
Atletico Madrid vs Real Madrid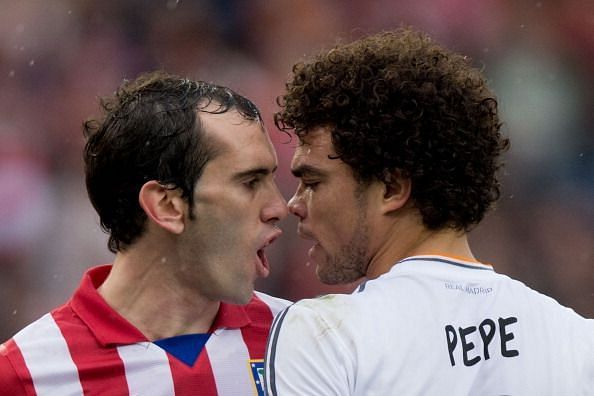 One of the biggest rivalries in Spain, the Madrid derby, is one of the most awaited matches in Spanish football. Atletico Madrid face Real Madrid in the Madrid derby. Both teams hail from Madrid, with Atletico Madrid coming from the southern part of Madrid and Real Madrid coming from the northern part of the city.
Atletico Madrid have had 14 winless years against Real Madrid till the 2012-13 season. This streak ended with Atletico Madrid beating Real Madrid 2-1 at the Santiago Bernabeu for the Copa Del Rey title.
Atletico Madrid Training Ground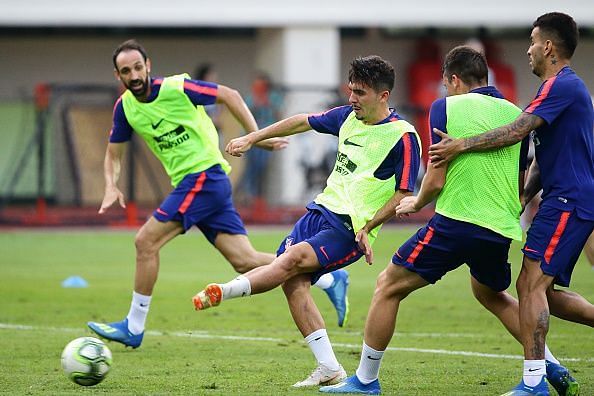 Ciudad Deportiva Atlético de Madrid is the official training ground of Atletico Madrid. Located in Majadahonda, 20kms west of Madrid, the training centre was officially opened in 1995. This training centre is also home to Atletico Madrid B side.
Atletico Madrid Transfer Ban
Back in 2016, Atletico Madrid were handed out a transfer ban, banning them from participating in 2 consecutive transfer windows for the violation of Article 19 of the FIFA regulations. This article deals with the signing of under-age players of other nationalities to prevent the violation of their rights.