August 2010 – On the first day of the 3rd Test between India and Sri Lanka at the P Sara Oval, a visibly distressed Yuvraj Singh was heckled with chants of 'waterboy' by a bunch of inebriated fans. The incident may not have made news if it was ignored, but a pricked ego led to attention being drawn to the fact that Yuvraj was hurting from being replaced by Raina for the series decider despite being fit. Clearly, he felt unwanted and the heckling made it even worse. The incident didn't win him any admirers either, and it turned him into a laughing stock and a source of much mirth for people clamoring for his removal from the squad. This came on the heels of a disappointing year in both Tests and ODIs, and Yuvraj was at the crossroads in his career for the umpteenth time.
Fast forward to April 2, 2011 – A breathless Ravi Shastri calls forward a beaming Yuvraj Singh to the podium at the post World Cup final ceremony, to accept the Player of the Tournament award. 362 runs at an average of 90.50 and 15 wickets at an average of 25.13 – there was really no contest for the award.
How did Waterboy turn into Superman in the span of 7 months?
——————————————————————————————————————————————
Ever since Yuvraj made his debut in Indian colors, the one thing that stood out for him, was the confidence, bordering on arrogance. It was the same confidence that led to a clinical dismantling of a top Aussie bowling attack led by Lee in just his second game (his first innings) of his ODI career. That confidence extended to the memorable 2002 Lord's final, where along with Kaif, he tore the record book to shreds and took India to an unfathomable win. It is that innate belief that enabled him to score a sizzling 139 against Australia in their own backyard, put up a string of consistent performances against arch rivals Pakistan, and score six 6s in an over in a crucial World T20 game against England. That inbred confidence/arrogance did not hide an unmistakable ego, which drove him in the pursuit of excellence, similar to Kevin Pietersen but did not cushion him for the lack of single minded focus and inevitable pitfalls, in the manner it would have befitted Sachin Tendulkar.
That is why, even after a decade in the game, he found himself constantly having to battle questions over his form and fitness in front of a ravenous media, eager to pounce at a hint of fallibility. He may not have had a career of ups and downs like a certain Shoaib Akhtar, but there was no doubt that after 10 years on the International scene, Yuvraj's was a story of unfulfilled promises and harsh realities. From being earmarked as a FIC (Future Indian Captain), he had slipped to being a peripheral member of a team modeled on Dhoni's dynamism.
All success stories start at the same point: a self realization. It took a long time, but finally Yuvraj realized that people were not going to remember him for the number of actresses he had dalliances with, or the amount of money he had earned through multiple endorsements. Somewhere down the road, he had taken his eyes off the ball, and consequently he had let younger, fresher batsmen to vie for the position which he had held for so long. The emergence of Raina, Kohli, Pujara, and Vijay meant that the Indian team did not need to depend on Yuvraj, as much as they used to before. Just like that, Yuvraj found himself at the same point in his career where his one-time famous partner-in-crime Kaif had dropped off. He had to decide if he wanted to keep fighting or just give up. Luckily, he chose wisely.
Self belief and a willingness to persevere can take you far; when that is coupled with the support of the people who matter, they are an unstoppable force. Zaheer Khan, who began his career along with Yuvraj at the same time, told him in no uncertain terms, 'You are going to win the World Cup for us'. MS Dhoni, a long time partner in successful run chases during the Chappell era and who overtook Yuvraj in the captaincy race, kept pushing him to strive harder and provided unstinting support behind the scenes. Even India's Atlas that is Sachin Tendulkar had more confidence in Yuvraj's abilities than the player himself. Along with Gary Kirsten, these players stood behind Yuvraj in the unwavering belief that 'cometh the hour, cometh the man'.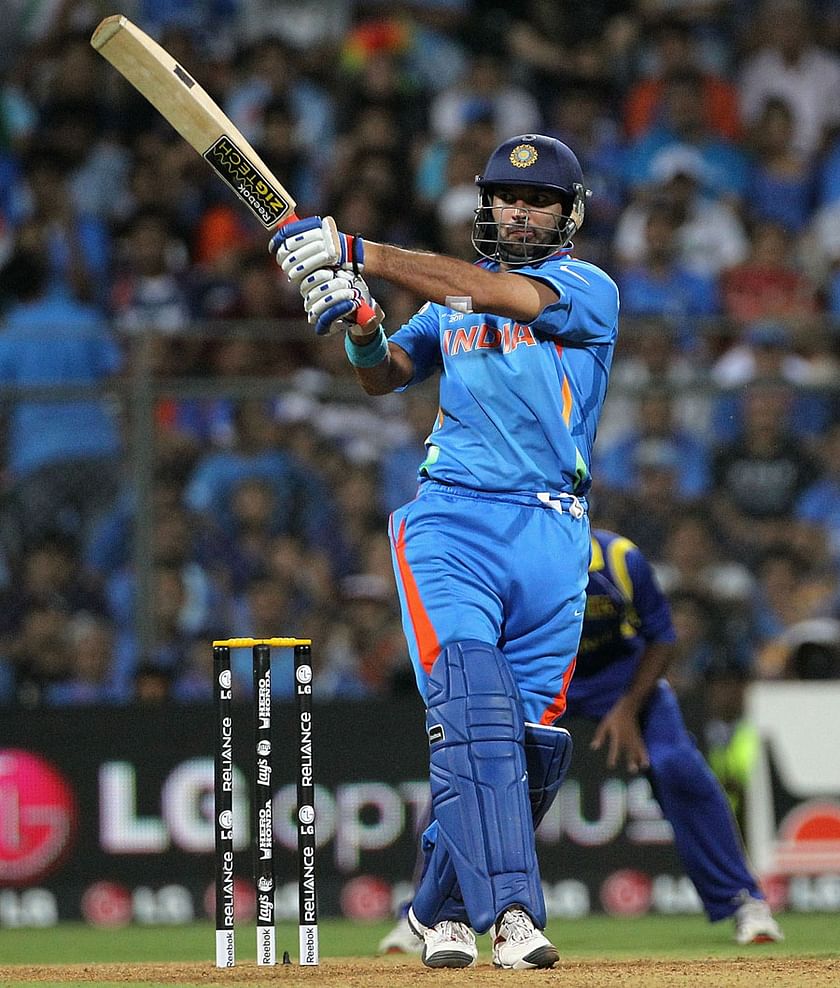 So, Yuvraj Singh entered the 2011 World Cup, knowing that apart from satisfying the wishes of a billion people, he had to repay the faith invested in him by the team's senior men. As he admitted later, the pressure was immense. Sleepless nights, vomiting and staying calm under pressure – they were all part of the World Cup package. After a quiet game against Bangladesh, he showed a sign of things to come, with a now forgotten 50 in the game against England. Against Ireland and Netherlands, he had to do everything by himself. Take wickets and score runs to avoid major embarrassments. Against South Africa, he failed with the bat, but pulled things back while bowling to give India its best chances of a victory. Against West Indies, he scored his first century in World Cups to put the total beyond the opposition's reach. By the time, the quarterfinal arrived, he was a regular 5th bowler and a crucial batsman who could set up a challenging total, as much as chasing one down.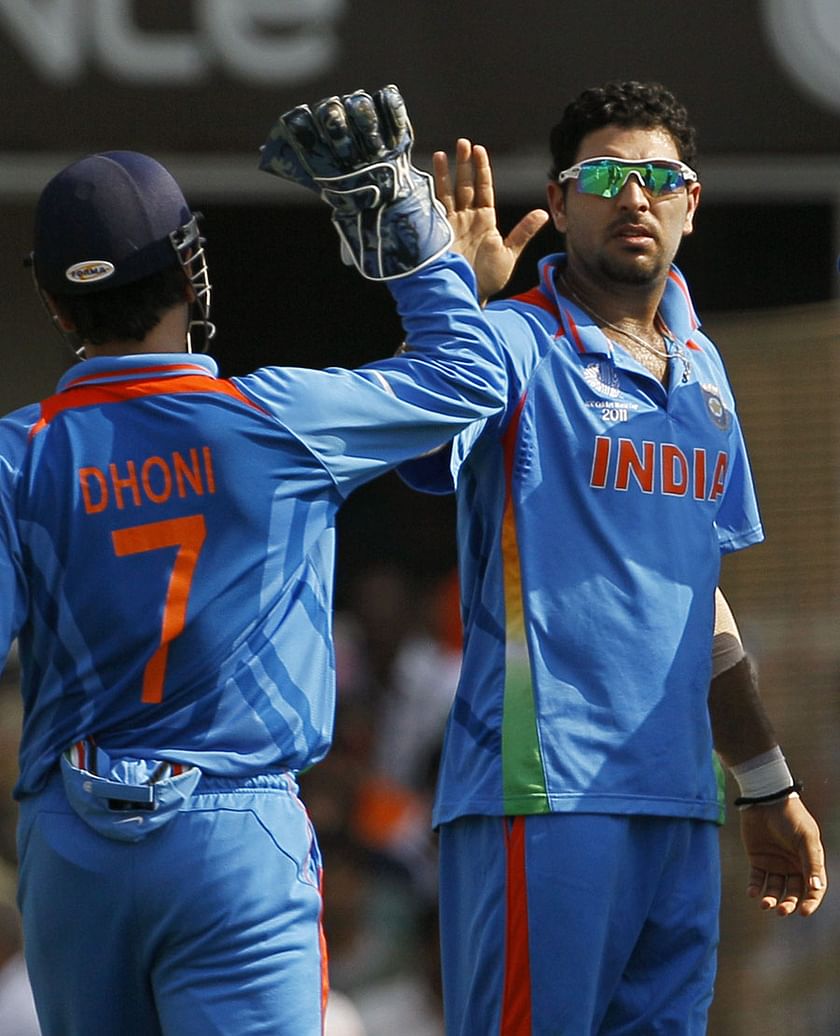 Without a doubt, the unbeaten 57 against the old rivals will rank as his performance of the tournament. It also signaled the turning point for the Indian team, who after an indifferent league phase, knew that the World Cup was theirs for the taking. India were in a precarious position chasing 261 for victory when Raina joined him. Up against him was a familiar opponent of many a battle – Brett Lee. From the other end, a raging Shaun Tait, who was not sparing with either nasty bouncers or nasty verbals. It was as if, all these past months of fighting inner demons and public doubts had led him to this stage in the campaign. There was no doubt that India needed this win as much as Yuvraj did.
You can call it confidence or you can call it arrogance. Later, he said that he had dreamed of playing this kind of innings against the Aussies in a World Cup final. Whatever it may be, that innate self belief and confidence which has been the template for many of Yuvraj's successes in the past led him to deposit Tait to backward point at the most crucial phase of the chase and in the following over, he guided Lee to the third man boundary and spanked the last ball of the over to the point boundary. With those shots, he opened the floodgates and along with Raina took India to a famous win. The image of him letting out a primitive roar on crashing the winning runs will be one of the images of the tournament.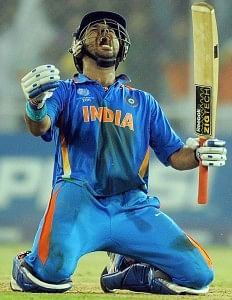 After that, India kicked off from there. Despite his first ball duck in the semifinal, India overcame Pakistan to set up a clash against the Lankans in the final. Despite having to chase a daunting 275, India were always in the driving seat through their innings. While Dhoni deservedly deposited one of the most unforgettable shots in Indian cricket history, there was a nice kind of poetic justice to see Yuvraj at the non striker's end during the winning moment. As Dhoni maintained the winning pose for the photographers' benefit, Yuvraj raised him arms in exultation and rushed to envelop his skipper in a fierce hug. Over the next few minutes, he broke down and cried unabashedly over the shoulders of Tendulkar and other team mates. Memories of the 2003 final and 2007 campaign were washed away in happy tears, which was the release of months of pent up frustration, determination and hard work. For a billion people who had been waiting on Sachin Tendulkar to deliver this moment for the last two decades, it was a pleasant surprise as to the identity of the man who got them to World Cup glory. Apparently, it was not the Little Master; they had been waiting for Superman all along!