Multi-time Intercontinental Champion 'open' to AEW return following initial talks with Tony Khan
AEW President Tony Khan has brought in his fair share of ex-WWE names since founding All Elite Wrestling in 2019. Now it seems that one of those names is open to a return in the future.
The star in question is John Morrison, who made a handful of appearances for AEW as "Johnny Elite" in May and June 2022. He debuted as the "Joker" pick in the Men's Owen Hart Foundation Tournament, where he took on Samoa Joe. He was later tasked with being Miro's first opponent upon his return.
Since his appearances for All Elite Wrestling, Morrison has competed worldwide for various promotions. He currently reigns as the MLW National Openweight Champion, defeating former ROH World Champion Davey Richards to secure the title.
In an interview on Chris Van Vliet's podcast Insight, Morrison spoke about his time in AEW and noted that while he only ever agreed to one-off appearances, he is open to a return.
"I think that the roster got scared. No. You know, I don't know. I never discussed with Tony [Khan] anything more than one-offs. I was open and am open. I think that roster is just jam-packed with talent. And you never know in wrestling what could happen." (H/T WrestleZone).
Will Johnny Elite return to All Elite Wrestling? Only time will tell!
---
John Morrison teamed up with a top AEW star in Mexico
John Morrison is widely known for having more surnames than pretty much any wrestler of the modern era.
Whether it's Johnny Elite, Johnny Mundo, or Johnny Downunder (yes, that last one is a name he's used), fans are always excited to see him compete. However, in 2022 he adopted a name that no one saw coming: Johnny Hardy.
Following Jeff Hardy's suspension from AEW, The Hardys' scheduled trip to Mexican promotion AAA seemed doubtful. However, Matt Hardy found himself a new partner in the form of John Morrison, who dubbed himself Johnny Hardy for the event.
The "Hardys" were defeated at the TripleMania XXX: Tijuana event by Dralistico and current WWE Superstar Dragon Lee in the show's main event. Hence, it's safe to say that the "Johnny Hardy" name will probably never be used again.
What is your favorite John Morrison name? Let us know in the comments section down below.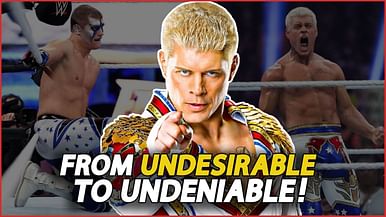 How Cody Rhodes returned to WWE and change pro wrestling forever!
See more
More from Sportskeeda