| | |
| --- | --- |
| Full Name | Matthew Moore Hardy |
| Date of Birth | September 23, 1974 |
| Nationality | American |
| Birth Place | Cameron, North Carolina, United States |
| Height | 1.85 m |
| Weight | 236 lb (107 kg) |
| Current Team(s) | |
| Theme Song | "Live for the moment" |
| Debut | October 15, 1992 |
| Nickname | Woken |
| Family | Reby Sky (m. 2013) |
Matt Hardy: A Brief Biography
Matthew Moore Hardy is an American professional wrestler signed with AEW. Hardy made his name by working in various promotions, such as WWE, TNA, ROH, and AEW. He is currently the leader of Hardy Family Office (HFO) in AEW.
Professional Wrestling Career
Early career
The Hardy's and their friends started their wrestling promotion in their backyard, where they performed moves on a trampoline. Trampoline Wrestling Federation (TWF) was integrated into a country fair in North Carolina. Matt and Jeff formed their wrestling promotion, called Organization of Modern Extreme Grappling Arts (OMEGA). The promotion dissolved in April 1998 when they signed contracts with the WWF.
Enhancement Talent (1994–1997)
They primarily used Matt as an enhancement talent in his initial years. He was losing matches against Crush, Razor Ramon, Hakushi, Owen Hart, the imposter Undertaker, Hunter Hearst Helmsley and "The Ringmaster" Steve Austin.
The Hardy Boyz & Split (1998–2004)
Matt and Jeff were repackaged and made their debut as Hardy Boyz. They quickly rose to prominence and won their first WWF Tag Team Championship by defeating the Acolytes. Matt gained popularity by performing extreme moves with a ladder alongside his brother. At WrestleMania 2000, Hardy Boyz faced E & C and Dudley Boyz in a triple threat ladder match and created history. The team lost, but they made several memories throughout the match. The teams faced off again at SummerSlam in a TLC match, which they lost.
In April 2001, both they pushed the brothers for a singles run. Jeff won the Intercontinental Championship, and Matt won the European Championship. In 2002, they separated Matt and Jeff due to the Draft. In 2003, Matt, along with Shannon Moore, developed a new attitude and claimed a better version of himself called "V1". At No Way Out, Matt defeated Billy Kidman to win his first Cruiserweight Championship. Matt defended the title at WrestleMania but lost it on SmackDown to Rey Mysterio.
In 2004, Matt returned to RAW and paired up with Lita. The rivalry concluded when Matt was choke slammed through tables and lost. Matt was taken off because of a knee injury.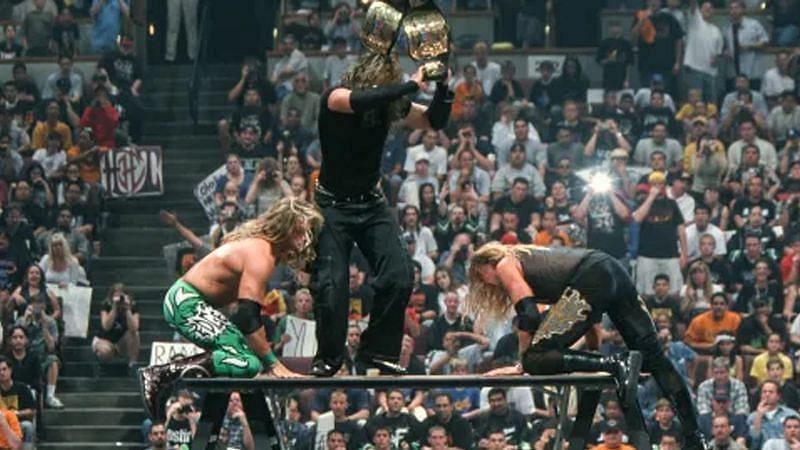 Return and Feud with Edge (2005-2006)
Matt was fired by WWE during a storyline with Edge and Lita. Edge and Matt had a heated rivalry during the summer of 05. Matt faced Edge at SummerSlam but lost due to referee stoppage. The rivalry concluded when Edge won and the loser was forced to leave RAW. On SmackDown, Hardy feuded with MNM and Gregory Helms before reuniting with his brother.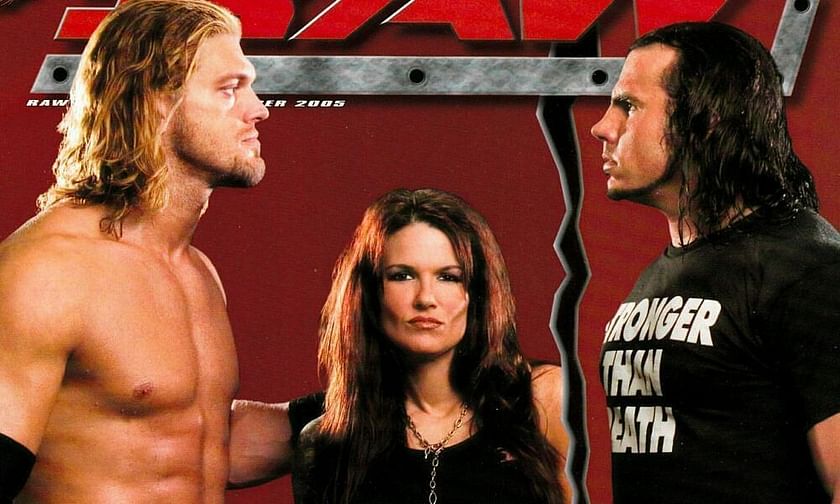 The Hardy Boyz Reunion (2007)
Matt and Jeff reunited at the beginning of the year. The night after WrestleMania, Hardy Boyz won the World Tag Team Championship. They eventually lost the championship to Cade and Murdoch on RAW after two months.
MVP, Championships and Feud with Jeff (2007-2010)
Matt defeated MVP in a non-title match. Thus, began their rivalry for the United States Championship. Matt won WWE Tag Team Championships with MVP. On SmackDown, the duo lost the titles to Miz and Morrison. At WrestleMania, Matt returned to attack MVP during the Money in the Bank ladder match.
At Backlash, Hardy defeated MVP for the United States Championship and declared himself as a fighting champion. He took the title over to ECW and defended against various opponents. He finally dropped the title to Shelton Benjamin, and the title went to SmackDown.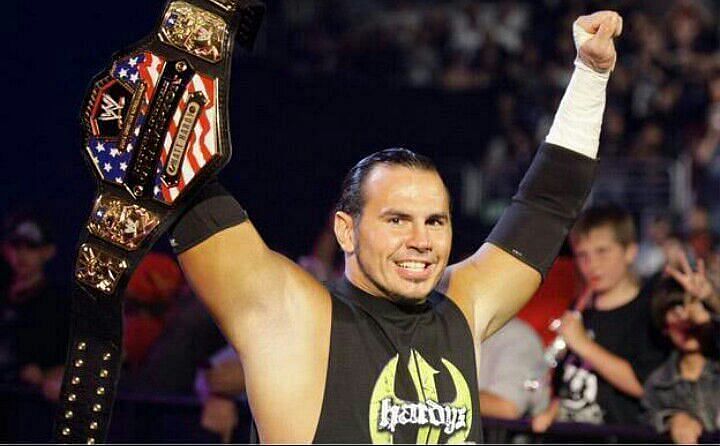 At Unforgiven, Hardy was the first person to win a scramble match and became the new ECW Champion. The title reign was short-lived as he lost to Jack Swagger on ECW.
At the Royal Rumble, Jeff lost the WWE Championship to Edge. Matt interfered in the title match and kicked off their rivalry. Matt faced Jeff Hardy in an Extreme Rules match at WrestleMania 25, which Jeff lost. At Backlash, Jeff defeated Matt in an "I Quit" match and ended their rivalry.
After a few unsuccessful attempts at the United States and Intercontinental Championship, Matt entered the Money in the Bank ladder match at WrestleMania 26. The match was won by Jack Swagger and Matt was released by the company a few months later.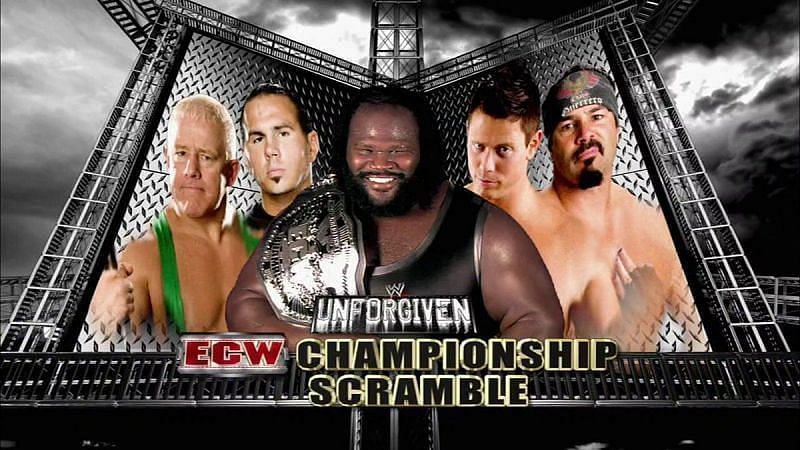 TNA & Independent Circuits (2005, 2011-2017)
After being released by WWE in 2005, Matt wrestled for various promotions, such as Allied Powers Wrestling Federation (APWF), International Wrestling Cartel (IWC), Ring of Honor (ROH) and Big Time Wrestling.
After being released by WWE in 2011, Matt joined TNA. He aligned himself with Immortal, which had Jeff Hardy. Matt helped his brother to retain the world championship frequently. Hardy was released by the company due to a DUI arrest. Hardy wrestled for several independent promotions, such as OMEGA and ROH, before returning to TNA in 2014.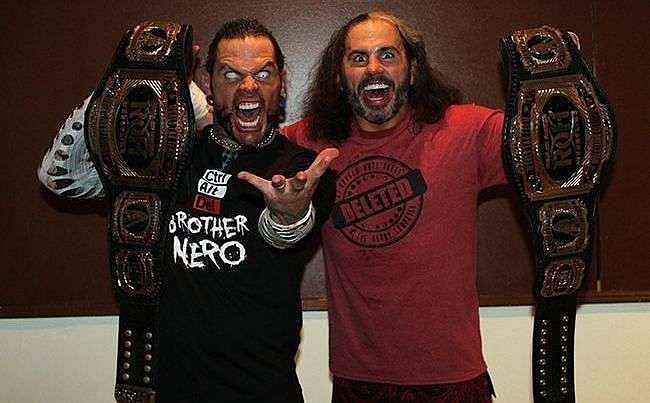 Hardy Boyz Reunion (2014-2015)
The Hardy Boyz reunited to face The Wolves at Destination X for the TNA World Tag Team Championships and lost. The Hardy Boyz defeated Samoa Joe and Low Ki to earn another TNA World Tag Team Championship match. On March 16, 2015, The Hardys won an Ultimate X match for the belts which marked as their first reign. On May 8, 2015, they forced the Hardys to vacate the TNA World Tag Team Championship due to a dirt bike accident that broke Jeff's leg.
TNA World Heavyweight Champion (2016-2017)
Hardy began his chase for the TNA World Heavyweight Championship in 2015, he faced several wrestlers such as Bobby Roode, Austin Aries, EC3, and Drew Galloway before getting a title shot at Bound for Glory. At Bound for Glory, Matt Hardy won his first TNA World Heavyweight Championship, by defeating EC3 and Drew Galloway. After Bound for Glory, EC3 filled an injunction and banned Hardy, which made him vacant for the championship.
Hardy entered the tournament to become a two time TNA World Heavyweight Champion but lost to EC3. On Impact, Tyrus turned heel and helped Matt Hardy to win his second TNA World Heavyweight Championship from EC3. On March 15th, Hardy lost the title to Drew Galloway.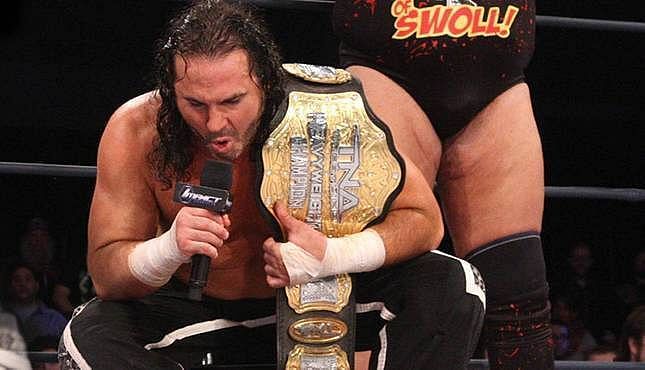 Broken Hardyz (2016-2017)
After Matt lost the title, he continued his feud with Jeff. In June, Matt challenged Jeff to a final match. On July 5, at "The Final Deletion", Matt defeated Jeff to become the sole owner of the Hardy brand, forcing Jeff to drop his last name and become referred to as "Brother Nero". At Bound for Glory, the Hardys defeated Decay to win their second TNA World Tag Team Championship. After successfully defending the titles against DCC, Decay and The Wolves, The Hardys disappeared and vacated the titles as they left the company.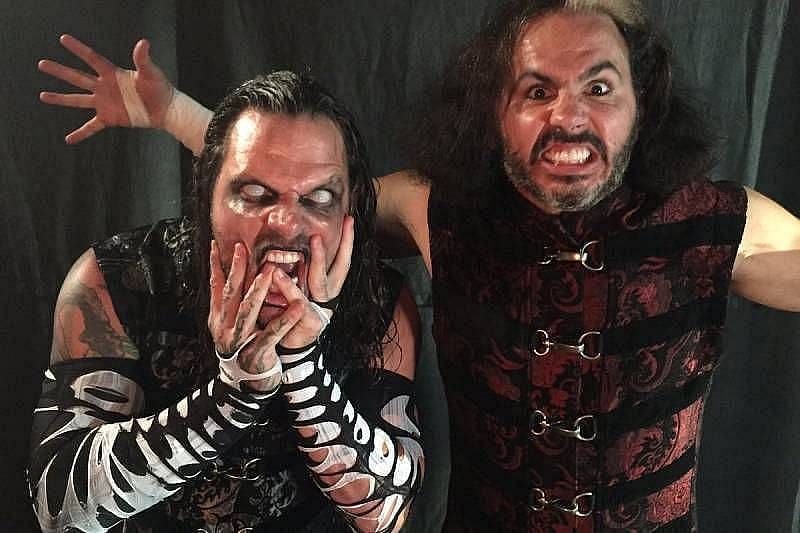 WWE
Championships, Woken Hardy and Release (2017-2020)
At WrestleMania 33, Jeff and Matt returned and won the RAW Tag Team Championship. The duo began their rivalry against The Bar where they finally lost the titles at Extreme Rules. Matt started to behave differently after his brother was sidelined with an injury.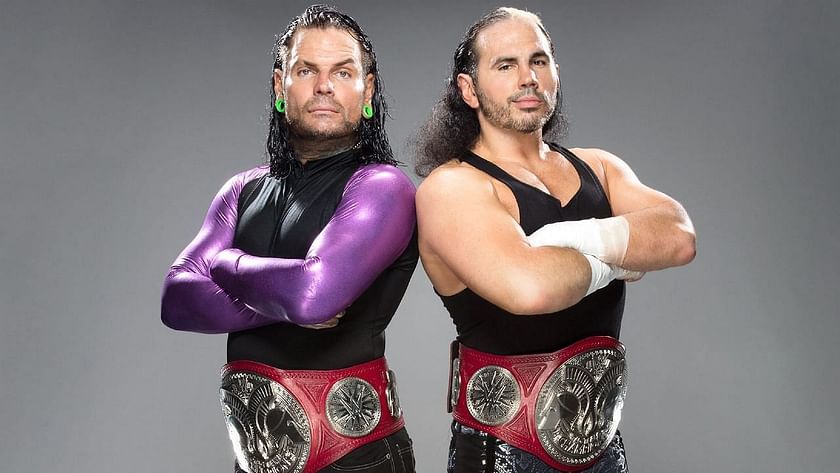 Matt's famous character made a debut in WWE. Matt started a rivalry with Bray Wyatt where he faced him in an Ultimate Deletion match. At WrestleMania 34, Matt won the André the Giant Memorial Battle Royal and teamed with Bray Wyatt. After WrestleMania, the duo called themselves The Deleters of The Worlds and won the RAW Tag Team Championship. The duo lost the title at Extreme Rules to The B-Team.
After a few months of absence, The Hardy Boyz reunited on SmackDown. At WrestleMania 35, Hardy took part in André the Giant Memorial Battle Royal, which he lost. On SmackDown, The Hardy Boyz defeated Usos to win the SmackDown Tag Team Championship. The team vacated the title due to Jeff's knee injury.
After spending a few months on both the brands, Hardy was featured in a rivalry between Randy Orton and Edge. Randy Orton defeated Hardy and took him out as a part of the storyline. Shortly, Hardy was released from the company.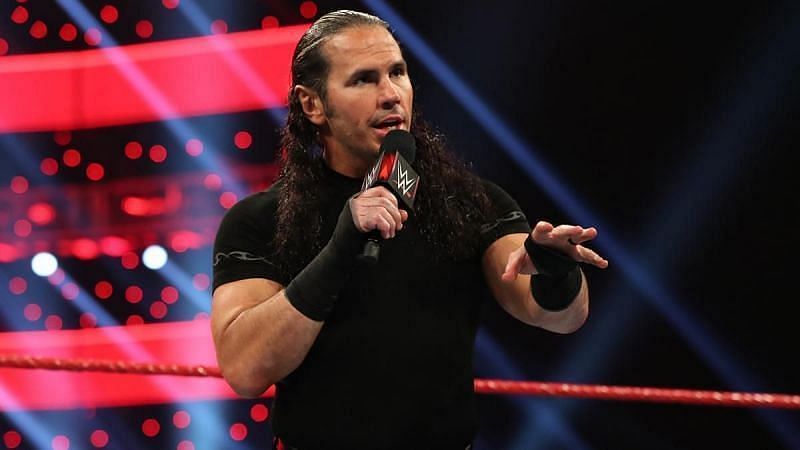 AEW (2020-Present)
In March, AEW signed Matt Hardy and he debuted as one of his broken characters to fight the Inner Circle. At Double or Nothing 2020, Hardy took part in a Stadium Stamped match which the Team Elite and Hardy won. Matt feuded with Sammy Guevara and defeated him in a Broken Rules match at All Out 2020. The rivalry concluded with The Elite Deletion match at Hardy compound, which Matt won.
Hardy turned heel and aligned himself with Private Party. Hardy was heavily featured in the tag team division and assisted Private Party. The two faced each other at Revolution 2021, after Hardy tried to recruit Hangman Page. The HFO and Dark Order tried to interfere, but Hardy lost. After Revolution, The HFO gained more members and gained few victories. At Double or Nothing 2021, Hardy competed in the Casino Battle Royale and got eliminated by Christian. Hardy has been wrestling on Rampage and Revolution on a weekly basis. At Revolution, Hardy and the team lost to Darby, Sting, and Guevara. On Dynamite, he reunited with Jeff Hardy and reformed The Hardyz.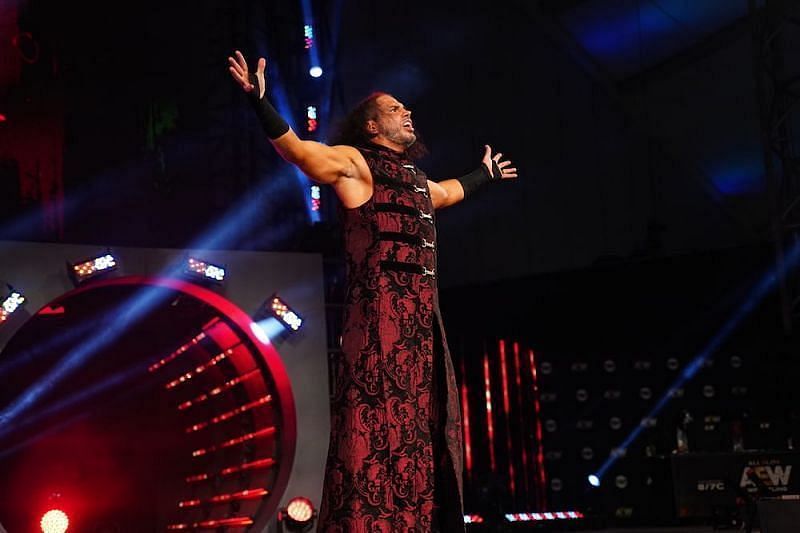 Championships and Accomplishments
| | |
| --- | --- |
| Championship | Number of Times |
| The Crash Tag Team Championship | 1 |
| FSW Heavyweight Championship | 1 |
| HOG Tag Team Championship | 1 |
| MCW Heavyweight Championship | 1 |
| MCW Tag Team Championship | 1 |
| Extreme Rising World Championship | 1 |
| NCW Heavyweight Championship | 1 |
| NCW Light Heavyweight Championship | 1 |
| NDW Light Heavyweight Championship | 1 |
| NDW Tag Team Championship | 1 |
| NEWA Heavyweight Championship | 1 |
| NFWA Heavyweight Championship | 1 |
| NFWA Tag Team Championship | 1 |
| NWA 2000 Tag Team Championship | 1 |
| OMEGA Heavyweight Championship | 2 |
| OMEGA Tag Team Championship | 2 |
| PWS Heavyweight Championship | 1 |
| PWS Heavyweight Championship | 1 |
| Remix Pro Tag Team Championship | 1 |
| ROH World Tag Team Championship | 1 |
| TNA World Heavyweight Championship | 2 |
| TNA World Tag Team Championship | 2 |
| WrestleCade Championship | 2 |
| ECW Championship | 1 |
| WCW Tag Team Championship | 1 |
| World Tag Team Championship | 6 |
| WWE Cruiserweight Championship | 1 |
| WWE Raw Tag Team Championship | 3 |
| WWE SmackDown Tag Team Championship | 1 |
| WWE United States Championship | 1 |
| WWF European Championship | 1 |
| WWF Hardcore Championship | 1 |
| André the Giant Memorial Trophy | 1 |