"I don't think them the two best teams"- Paul Pierce makes bold claim about Nuggets and Heat reaching NBA Finals
"I don't think them the two best teams"- Paul Pierce makes bold claim about Nuggets and Heat reaching NBA Finals
Coming into the 2022-23 season, the notion of the Miami Heat and Denver Nuggets being in the NBA Finals didn't cross anybody's mind. However, after a strong postseason for both teams, they now find themselves competing for a chance to be crowned champions.
According to Boston Celtics legend Paul Peirce, neither the Miami Heat nor the Denver Nuggets are the two best teams in the NBA.
"I don't think them the two best teams," Pierce said. "Listen. Miami, I don't consider them the best team. They're playing the best. Miami was the worst-scoring team in the league during the regular season. They showed bad habits all year long; then all of a sudden, they got to the playoffs, and they became a whole other team."
He continued.
"These are the two teams playing the best."
The Denver Nuggets are 9-0 at home this postseason, having made the Ball Arena a fortress other teams clearly dred visiting. The Miami Heat, though, have found a new gear in the playoffs, beating championship favorites Milwaukee Bucks and Boston Celtics.
As such, it's clear that the Nuggets and Heat are the two most well-polished teams in this year's postseason, even if they weren't the prized picks entering the season. Furthermore, it's worth noting that Jimmy Butler and Nikola Jokic have been the two star performers during the playoffs, which is another reason both teams have a shot at the championship.
---
Jimmy Butler takes blame for Miami Heat's Game 1 loss
Following the Miami Heat's Game 1 loss to the Denver Nuggets on June 1, Jimmy Butler shouldered the blame for his poor performance.
"I'm always going to pass the ball to my teammates," Butler said. "I have so much belief and faith in them that they're going to take and make shots.
"And if they can't, they're going to make the next play. That's how we've been playing all year long. That's not going to change now that we're in the finals."
A significant part of Miami's struggles against the Nuggets was their inability to get easy buckets at the free-throw line.
Throughout the 48-minute contest, the Heat attempted just two free throws, which paled in comparison to the Nugget's 20. Miami's ability to force fouls could determine how Miami fare in the series.
Game two of the NBA Finals takes place on Sunday (June 4) at the Ball Arena in Denver, where the Miami Heat will look to even up the series before heading back home for games three and four.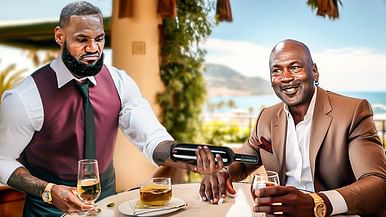 How is Michael Jordan officially richer than NBA's 10 richest players?!
See more
More from Sportskeeda