Sam Smith on Chicago Bulls possibly adding Derrick Rose - "He has plenty left"
Sam Smith on Chicago Bulls possibly adding Derrick Rose - "He has plenty left"
Derrick Rose will likely head to a new team this offseason, possibly the Chicago Bulls. The former MVP had begun his career in Chicago.
Rose is on the New York Knicks currently, and his contract holds a $15.5 million team option for next season. However, the Knicks are expected to decline the option, considering that coach Tom Thibodeau removed him from the rotation this season.
If the option is indeed declined, Rose will become a free agent this summer. Longtime Bulls writer Sam Smith would like to see the three-time All-Star sport a Chicago uniform once again (via nba.com):
"I've been among many to suggest adding Rose. We know he sat much of last season, but the indications I get are that he has plenty left. And certainly he is rested.
"He never caused a problem, suggesting he'd fit off the bench or in a limited role. He still knows how to run an offense and score; he may not play in the air, but he still can beat most anyone off the dribble."
Smith is right. Rose might not be the high-flying superstar he once was during his Bulls days, but he's still a good player who has plenty left in the tank.
---
Revisiting Derrick Rose's time in Chicago
Rose was selected by the Bulls with the top pick in the 2008 NBA Draft. The Chicago native went on to win Rookie of the Year honors and later became the youngest player to win the NBA MVP award.
During that MVP season (2010-11), Rose averaged 25 points and 7.7 assists per game. The former Memphis Tiger also led the Bulls to the league's best record and a trip to the Eastern Conference Finals.
Unfortunately, Rose tore his ACL the next season, which would be just one of many injuries he has suffered throughout his NBA career. The Bulls traded Rose to the Knicks during the 2016 offseason. He has since played for the Cleveland Cavaliers, Minnesota Timberwolves, Detroit Pistons and is now in his second stint with the Knicks.
Rose would be an excellent pickup for the Bulls, who certainly need help at the point guard spot. Acquired by the team two years ago, Lonzo Ball has played great when healthy. Yet, he has been bitten hard by the injury bug, and there's a possibility that he could never play again.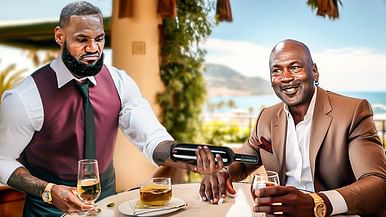 How is Michael Jordan officially richer than NBA's 10 richest players?!
See more
More from Sportskeeda