| | |
| --- | --- |
| Full Name | Lonzo Anderson Ball |
| Date of Birth | October 27, 1997 |
| Age | 25 Years |
| Nationality | American |
| Height | 6 ft 6 in |
| Current Team(s) | |
| Draft | 2017 |
| Role | Point Guard |
| Past Team(s) | |
| Debut | October 20, 2022 |
| Nickname | Zo |
| Partner | Ally Rossel |
Lonzo Ball: A Brief Biography
Lonzo Ball is an American professional basketball player who plays as a point guard for the Chicago Bulls in the NBA. He is currently playing his 5th season and has been in the 2018 NBA All-Rookie Second Team. Also Known as "Zo," he was selected by the Los Angeles Lakers as the second overall pick in the 2017 NBA Draft. He is well known in the NBA community due to the loud and bold personality of his father, Lavar Ball. Due to his vision and basketball IQ, Lonzo was one of the finest point guards in the country at the collegiate and high school levels.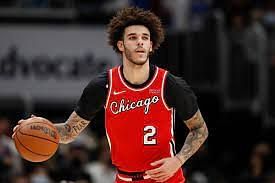 Early life
Lonzo was born on October 27, 1997, in Anaheim, California. He and his two brothers, Lamelo and Liangelo, played their high school basketball for Chino Hills High School and Ball's average was 25 points, 11 rebounds, 9.1 assists, 5 blocks, and 5 steals as a junior. During his senior season, he would lead his team to an unbeaten record by scoring triple-doubles by averaging 23.9 points, 11.3 rebounds, and 11.7 assists per game. His team also won the state title and was ranked the number-one team in the nation. Lonzo received the Naismith Prep Player of the Year award and was rated as a five-star recruit by the end of his senior year. The UCLA Bruins is where he would play during his lone season in college, racking up more awards on the way. Going into the 2017 NBA Draft, there was a large amount of hype surrounding Lonzo.
NBA Journey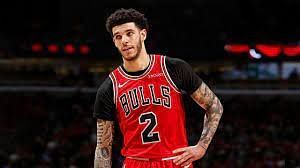 The LA Lakers selected Lonzo Ball as the second overall pick in the 2017 NBA Draft. He had a bright start to his NBA Career, winning the NBA Summer League MVP. His rookie season was very hot and cold as he missed a few games due to knee and shoulder injuries. In spite of his shooting inefficiencies and missing 30 games, he made it to the All-NBA Rookie Second Team.
During his second season with the Lakers, the team signed LeBron James. The signing took away the spotlight and some of the ball-handling responsibility from Zo, allowing him to develop and learn without much scrutiny from the fans and media. He would get sidelined due to a knee injury and would later get traded to the New Orleans Pelicans.
After another middling season, Lonzo broke out during the 2020-2021 season. He was made to play a '3 and D' Role which he played very well. His shooting efficiency increased and he played great defense. At the end of the season, he became a sought-after free agent. The Chicago Bulls signed him to a four-year $85,000,000 deal.
The ball was acquired by the Chicago Bulls from the New Orleans Pelicans on August 8, 2021, as part of a sign-and-trade deal for Tomas Satoransk. He recorded a triple-double against the New Orleans Pelicans on October 22 with 17 points, 10 rebounds, and 10 assists in a 128-112 victory. On January 20, 2022, he got injured with a meniscus tear and underwent left knee surgery.
Lonzo Ball Education -
In Chino Hills, California, he went to "Chino Hills High School." He committed to attending the esteemed "University of California, Los Angeles" (UCLA) and playing for the "UCLA Bruins" in 2015 by signing a "National Letter of Intent." For Chino Hills High School, where Lamelo played his high school basketball, Ball averaged 25 points, 11 rebounds, 9.1 assists, 5 blocks, and 5 steals per game as a junior. In his final year, he would average triple-doubles of 23.9 points, 11.3 rebounds, and 11.7 assists to help his team to an undefeated record. Additionally, his squad won the state championship and was recognized as the best in the nation. After enrolling at "UCLA" in 2016, Lonzo and fellow freshman T.J. Leaf changed the course of the "Bruins." He worked tirelessly to make the "Bruins" into the nation's best-scoring offense. The ball was the only player to average 14 points, 7 assists, and 6 rebounds by the end of the 2016–17 season with an average score of 14.6 points, 7.6 assists, and 6.0 rebounds. Californian Jason Kidd was the first to do so in the years 1993 to 1994.
Lonzo Ball Rookie Year -
Lonzo Ball was chosen by the LA Lakers as the second overall choice in the 2017 NBA Draft. His NBA career got off to a strong start as he was named the NBA Summer League MVP, but the strong start didn't stay for long as he faced some injuries. In a 132-130 victory over the Phoenix Suns during his Rookie year, he recorded a then-career-high 29 points, 11 rebounds, and nine assists. He was one assist away from becoming the youngest player in NBA history to record a triple-double. Plus, In a loss against the Milwaukee Bucks on November 11, he finished with 19 points, 13 assists, and 12 rebounds, making him the game's youngest player to ever post a triple-double at the age of 20 years and 15 days.
Due to knee and shoulder problems, he missed a few games during his first season, which was quite up and down. He was named to the All-NBA Rookie Second Team despite having poor shooting stats and missing 30 games.
Awards and Achievements
| | | |
| --- | --- | --- |
| Award/Accolade | Year | Team |
| NBA All-rookie second team | 2018 | Los Angeles Lakers |
| Consensus first team All American | 2017 | Los Angeles Lakers |
| First-team all-pac-12 | 2017 | Los Angeles Lakers |
| NCAA season assists leader | 2017 | Los Angeles Lakers |
| Wayman Tisdale award | 2017 | Los Angeles Lakers |
| NABC freshman of the year | 2017 | Los Angeles Lakers |
| Mr. Basketball USA | 2016 | UCLA Bruins |
| Naismith prep player of the year | 2016 | UCLA Bruins |
| McDonald's all-american | 2016 | UCLA Bruins |
Lonzo Ball Records
He became the first player in league history to have more than 10 assists in more than one game when he had four games with at least ten assists.

While playing his Rookie Year Lonzo became the franchise's youngest player to record at least 10 assists in a single game.

Lonzo achieved a triple-double at the age of 20 years and 15 days while playing against the Milwaukee Bucks, becoming the youngest player at the time.

He received 16 rebounds against the Denver Nuggets, Since Steve Francis had 17 rebounds in 1999–2000, it was the most rebounds by an NBA rookie guard.

He joined the select group of NBA players that includes Ben Simmons, Magic Johnson, Connie Hawkins, Art Williams, and Oscar Robertson who have earned double triple-doubles in each of their first 20 games.
Lonzo Ball Net worth
Lonzo Ball's net worth is reportedly $12 million, with a salary of $18.06 million, according to Celebrity Net Worth. He was selected by the LA Lakers as the second overall pick in 2017 but was traded to the New Orleans Pelicans in 2019. In the 2021 summer, he joined the Chicago Bulls. Lonzo and the Chicago Bulls agreed to a four-year, $85 million contract in August 2021. The agreement will provide an average salary of $21 million annually.
.
Lonzo Ball Contract -
The 6 feet 6 inches point Guard for the Chicago Bulls earns around $35 million through all its sources be it NBA, or the Endorsements like Marvel, Footlocker, Big Baller Brand. Lonzo made $11,003,782 in the 2020–2021 NBA Season. He signed a free-agent contract with the Chicago Bulls in 2021 summer. He committed to a four-year, $80 million contract. Lonzo's salary for the 2022–2023 NBA season is $19,534,884. Lonzo is a clever investor who saves money from his NBA contract. In 2021, Lonzo made investments in the Overtime sports network and the Hungry catering marketplace company.
Lonzo Ball Endorsements -
The well-known American Basketball player Lonzo ball who is also known for his accuracy in his shooting ability endorses some brands. Many advertisements feature Lonzo Ball. Presently, he supports Marvel, Footlocker, and C4 Energy. He formerly supported the Big Baller Brand and owned stock in it. He broke relations with BBB in 2019 after learning that Alan Foster had stolen Zo's invested funds via fraud. Lonzo was a prominent character on The Ball Family's reality program, "Ball in the Family." The program had 116 episodes over six seasons. For each appearance, he received the money.
Lonzo Ball Family
Lonzo was born in Anaheim, California to Lavar and Tina Ball. He also has two brothers Lamelo Ball and Liangelo Ball who are also professional basketball players who play in the NBA. He and his family made their Facebook Watch reality series Ball in the Family debut in August. Denise Garcia and Ball had a long on-and-off relationship and were blessed with a daughter recently.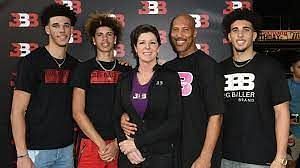 Lonzo Ball Girlfriend -
The Point Guard player of the Chicago Bulls has relations with a Model and social media influencer Ally Rossel has a huge Instagram fan base. She is well recognized for being the young point guard for the Chicago Bulls' girlfriend. Ally Rossel is a model and a social media influencer. She has around 133K followers as of November 2021. She models for 'Muse. The Agency'. Through Zo's Instagram account, Lonzo and Ally made their romance public on Halloween of 2021.
Lonzo Ball Brother -
One of the most well-known groups of brothers in the sports world is the Ball family. Since their senior year of high school, Lonzo, LaMelo, and LiAngelo have been the subject of media attention.
Like his older brother Lonzo, LaMelo LaFrance Ball is an American professional basketball player who plays point guard for the Charlotte Hornets. LaMelo is actually the most talented of the three brothers, according to LaVar. In addition, he is the youngest of the trio.
The 6 feet 5 inches American Basketball Player LiAngelo is a shooting Guard and middle child of the family. Although LiAngelo has the three brothers' most pure jump shot, he lacks the sense of the game, unlike his other two siblings. He is the family's middle kid.
Lonzo Ball House -
The 25-year-old point Guard from the Chicago Bulls who used to play in the NBA owns a mansion in California's Chino Hills In 2017, Lonzo invested $5.2 million in a mansion there. The interior of the home, which was constructed in 2005, is 13,800 square feet and boasts a formal entry, game and movie rooms, a chef's kitchen, a gym, eight bedrooms, and 8.75 bathrooms. In addition to an elevator with wood panels, there are front and back staircases.
Along with this, Lonzo spent about $7.3 million on a fully updated property in Sherman Oaks, California, in April 2022.
Lonzo Ball Tattoos -
Lonzo like his brother LaMelo also had a few tattoos done. His Left forearm is fully covered with a tattoo of Barack Obama's portrait. Plus, we can also see the portrait of another African-American icon Martin Luther King Jr. in his Left arm. Rosa Parks, regarded as the first lady of civil rights, is also portrayed by Lonzo. Along with this Lonzo has several other tattoos also like Malcolm X Portrait Tattoo, Harriet Tubman Portrait Tattoo, 'Born to ball because of Him' Tattoo, Praying Hands Tattoo, etc.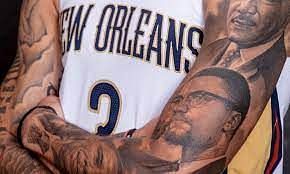 Lonzo Ball Shoe -
Big Baller Brand "is aiming for Lonzo's signature sneaker to enter in a brand-new market The ZO2, Lonzo's go-to sneaker, cost an astounding $495. Due to manufacturing problems, those who could purchase the kicks had to wait months to acquire them. Moreover, Ball informed Alan Foster, his former business partner, that he could no longer wear his trademark shoes.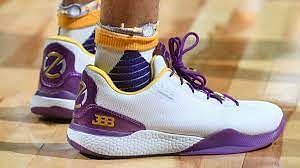 The Young Point Guard of the Chicago Bulls Lonzo Ball was identified as having a "small" meniscus tear in his left knee, according to Shams Charania of The Athletic on January 20, 2022.
Lonzo is reported as being 190 lb or 86 kg and 6 feet 6 inches (1.98 meters) tall. LaMelo is 6'8" and Lonzo is 6'6". Despite being older than his sibling, LaMelo is far less muscular.
At the age of two, 6-foot-6-inch (1.98 m) Ball began playing basketball, and he treats Lebron as his Idol. He preferred to move to his left and shoot jumpers.
Lonzo plays as a point guard for the Chicago bulls. And is well known for his high-level accuracy in his shooting ability.