10 famous artists who have contributed music to WWE
10 famous artists who have contributed music to WWE
Over the years, WWE has worked with a plethora of talented musicians to produce music for the company. Whether it be for a superstars entrance theme, or for a pay-per-view theme, WWE has always delivered.
WWE's place in pop culture means that they are already rubbing shoulders with some talented musicians, and many are always open to working with WWE. Take, for example, more recently, Bad Bunny. Not only did he perform his five-time title worthy hit 'Booker T', but he also played a big role at WrestleMania 37.
WWE fans may be familiar with the name Jim Johnston. Johnston was WWE's lead when it came to music during the 90's and 2000's. Johnston was responsible for a lot of the classic theme tunes we remember today, such as The Rock's theme and Stone Cold Steve Austin's glass shattering entrance.
Jim Johnston told VICE:
"My music reflected society. Stone Cold's theme was about giving the viewers the courage to stand up to power. Undertaker was about helping kids process death in a way that wasn't depressing." Jim Johnston said (h/t VICE)
Jim would have worked alongside many talented musicians to work on music in WWE over his time. That being said, let's take a look at ten famous artists that contributed to music in WWE.
---
#10 Killswitch Engage contributed music to WWE
From the album 'As Daylight Dies', Killswitch Engage's song 'This Fire' was used in WWE for a number of years. In fact, it was first used as Randy Orton's theme song for a couple of weeks. It was eventually handed to CM Punk for use, and will be well remembered blaring out in Chicago's Allstate Arena at the historic Money in the Bank pay-per-view in 2011.
The song was also featured on WWE's compilation album 'Wreckless Intent' that was released in 2006. Killswitch Engage revealed in 2017 that they were once again working with WWE, but the deal didn't go according to plan.
"One's for one company and then the other is for WWE. The WWE one was really complicated because it was another thing where they sent us a song and said, 'You need to cover this as best as possible or as close as possible' and it's not a good song." Said Mike D'Antonio (h/t Metal Injection)
#9 Three 6 Mafia contributed music to WWE
'Somebody's gon' get their wig split, somebody's gon' get their.." You know the rest. Mark Henry left a trail of destruction in WWE with his famous theme song 'Some Bodies Gonna Get It' which was performed by hip-hop group Three 6 Mafia. The group worked with WWE on the song, which also features on their 'Wreckless Intent' compilation album. They even performed it on an episode of SmackDown as Mark Henry was making his entrance.
Three 6 Mafia recently went on an eleven year hiatus, but they are now back together and making music. They told NME:
"It was all about timing and it felt right for everybody. On top of that, with what's going on with the music scene right now, with everybody redoing old Three 6 Mafia songs we're more popular now than we were when we were putting out music. So we just felt that this was probably the best time to come back."
#8 P.O.D contributed music to WWE
P.O.D. has contributed music to WWE in multiple ways. Their partnership started when they created Rey Mysterio's 'Booyaka 619' theme song. They also contributed music to the Survivor Series pay-per-view in 2005 with 'Lights Out', and also at WWE's Saturday Night's Main Event shows with their song 'Boom'.
P.O.D also played 'Booyaka 619' live at WrestleMania 22 in Chicago, when Rey Mysterio was making his entrance for his world title match. Rey Mysterio told WWE.com in 2006:
"It was a good feeling that night in Chicago, and I can't wait to do it again. Just knowing that the 619 boys were together for that one special moment on the night I won the World Heavyweight Championship…it was like a 619 coming out party." Said Rey Mysterio (h/t WWE.com)
#7 Snoop Dogg has contributed music to WWE
WWE and Snoop Dogg have had a long-standing friendship, which began at WrestleMania 24. He was the Master of Ceremonies for a Lumberjill match between Maria Kanellis and Ashley Massaro against Melina and Beth Phoenix.
Snoop is an avid WWE fan and is the cousin of WWE Superstar Sasha Banks. More recently, Snoop has contributed music to WWE, with Sasha Banks' latest theme song. The song is a remix of her 'Sky's the Limit' song which is now remixed by Snoop Dogg adding in his own rap.
Sasha Banks told WWE:
If I'm going to make a big re-debut of wrestling coming back, I say why not make a change? Got a new hair, new attitude, a whole new me. A better me, actually. So why not brand new music from my cousin Snoop Dogg?"
#6 Disturbed contributed music to WWE
You may remember Disturbed for their classic 'Glass Shatters' theme song that Stone Cold Steve Austin used when he unceremoniously turned heel. The song was featured on WWE's 'Forceable Entry' compilation album released in 2002. The song itself was written by Jim Johnston and Disturbed.
Disturbed have also provided songs for WWE events, including 'Stricken' which was used at the New Year's Revolution pay-per-view in 2006. They will outrightly be remembered for 'Glass Shatters' which was used for a short period on-screen.
#5 Alterbridge contributed music to WWE
'On this day, I see clearly..'. just give us goosebumps. It will simply go down as one of the best WWE theme songs of all-time. Performed by Alterbridge, 'Metalingus' was adopted by Edge as his own. The 'Rated R Superstar' still uses the theme to this very day.
Alterbridge discussed Edge's use of the song for Kerrang:
"I think people latched onto this song in particular probably because of its energy. When we play it live it always goes over very well and it's a great crowd-interaction type of song. It also got a lot of exposure when the wrestler Edge used it as his theme song. That got us a lot of attention and I think it's still Alter Bridge's top streamed song." Said Mark Tremonti of Alterbridge (h/t Kerrang)
We'd absolutely love it if Alterbridge were to perform the song live and in-person at WrestleMania, for example. It would simply blow the roof off any arena.
#4 Chris Warren contributed music to WWE
Chris Warren's musical contributions to WWE will stand the test of time. Sadly, Warren is no longer with us, but what he left behind will be recognized by fans for generations to come.
Warren's voice can be heard on the DX theme song, as well as Triple H's 'My Time' theme, which became popular in the late 90's. Warren also performed numerous times at WWE events, providing lyrics for DX's entrance.
Jim Johnston told WWE.com about Chris Warren:
"My buddy Chris Warren sang that theme. Boy, is he a wild guy. I wanted something that sounded rebellious. I found Chris and told him to just let it go." Jim Johnston said (h/t WWE.com)
Johnston continued discussing the origins of the DX theme:
"I stood in front of him at the microphone. And he was a sweaty wreck because he had just been singing and screaming, and I started feeding him lines. Out came, 'You think you can tell us what to do?' and 'You think that you're better?'" Jim Johnston said (h/t WWE.com)
#3 Saliva contributed music to WWE
Saliva has been contributing music to WWE for a number of years now. They have provided a handful of pay-per-view event themes, with their first being in 2001 at the No Mercy pay-per-view using their song 'Click Click Boom'. Their most famous pay-per-view contribution was the use of their song 'Ladies and Gentleman' being the main song for WrestleMania 23 in Detroit.
However, Saliva's biggest contribution was providing their song 'I Walk Alone' as Batista's entrance music. The song fitted 'The Animal' perfectly, and was adopted by him during his rise in 2005. Batista used the song in his last match against Triple H at WrestleMania 35.
#2 Limp Bizkit contributed music to WWE
'Keep rollin, rollin, rollin, rollin!' blasted out at WWE WrestleMania 19 as The Undertaker made his entrance, to a thuderous reception. Fred Durst, the lead singer of Limp Bizkit, made it an iconic entrance for The Deadman. It will go down as one of the greatest entrances we've seen at WrestleMania.
At the time, Limp Bizkit was one of the coolest and most popular bands around, and WWE was affiliated with them already on numerous occasions, including using some of their songs at pay-per-view events.
The Undertaker spoke about his entrance at WrestleMania 19 with Loudwire:
"Rollin' and being on the bike all tied in together. Again, another high-energy song, a song that a lot of people recognized and identified with. A wrestling match, in my eyes, doesn't start at the bell. It starts when the music plays. As soon as that music kicks in, your match has started. It sets the tone for the entire match. It was a such a high-energy, fun song and still kind of badass and got people going, got them excited. The lyrics, obviously, weren't quite the same, but the energy level was still where we wanted it to be." The Undertaker said (h/t Loudwire)
You will also find Limp Bizket attached to one of WWE's greatest pre-match promo's ever produced. Prior to The Rock and Stone Cold Steve Austin's main event at WrestleMania 18, their song 'My Way' was dubbed over the video package.
#1 Motörhead contributed music to WWE
The legendary Motörhead became affiliated with WWE, thanks to a friendship formed between Triple H and the band. Triple H's entrance theme 'The Game' is performed by Motörhead, and was performed live at WrestleMania 21 in Los Angeles in 2005.
Motörhead has also provided songs for Triple H, including his 'King of Kings' theme and 'Line In The Sand' for his stable Evolution. Motörhead frontman Lemmy Kilmister thanked Triple H for rejuvenating the band, as Triple H told Metal Injection:
"We were talking and [Lemmy] goes, 'You've gotta look out there tonight. Wait until you see all the kids that are at our event. We didn't have any of that before we started with you'" Triple H said (h/t Metal Injection)
Sadly, Lemmy passed away in 2015, but the band's connection with WWE will remain forever strong, with Triple H still using his Motörhead's songs as his themes when he appears.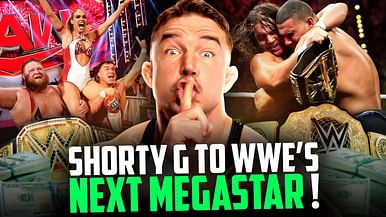 Why Chad Gable could be the next WWE mega star
See more
More from Sportskeeda