Bray Wyatt discloses heartbreaking reason why he will never wear his old attire on WWE TV again
Bray Wyatt recently had a chat with Ryan Satin of WWE on FOX and opened up about the Hawaiian shirt that he used to wear back in the day.
Wyatt had a successful stint in WWE from 2013 to 2018 before he became The Fiend. Back then, he wore a Hawaiian outfit that became synonymous with his character.
While speaking with WWE on FOX's Ryan Satin, Bray Wyatt opened up about the Hawaiian shirt and revealed why he would never wear it again on WWE TV:
"For me, the Hawaiian shirt, of Bray, who he was... it can't be without Brodie to me. I can't be that without Brodie. I mean it's just not the same. It's disrespectful to my best friend. It just can't be without him," he said. [00:00-00:21]
---
Bray Wyatt and Brodie Lee were incredibly close in real life
Brodie Lee tragically passed away on December 26, 2020, at the age of 41. Lee's passing left the wrestling world in mourning.
Wyatt penned a heartfelt message for his friend on Instagram. Here's an excerpt from Wyatt's heartbreaking Instagram post:
"You were my best friend. My brother, my partner, my Terry Gordy. We changed this whole game because we refused to do it any way but OUR way. We were always at our best when we were a team I think we both knew it. We fought like brothers because we were. I'm so goddamn pi**ed. This isn't how it was supposed to be, it was supposed to be us fat, bald and useless running Wyatt Family spots in high school gyms in our 70's. Where do we go now? What do I do knowing I'll never hear your condescending sarcasm as I am riding high."
WWE released Wyatt in mid-2021. He made his return last year at the Extreme Rules event. He is set to wrestle his first PLE bout since his return at the upcoming Royal Rumble event.
Do you miss Bray Wyatt's Hawaiian outfit? Sound off in the comments!
---
If you use Bray Wyatt's quotes, please credit WWE on Fox and give a H/T to Sportskeeda for the transcription!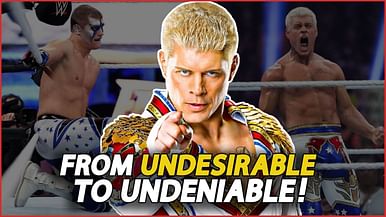 How Cody Rhodes returned to WWE and change pro wrestling forever!
See more
More from Sportskeeda