Unbeaten fighter, who handed Jake Paul his first-ever loss, wants to face Logan Paul in WWE
Unbeaten fighter, who handed Jake Paul his first-ever loss, wants to face Logan Paul in WWE
Logan Paul is set for a match at WrestleMania against Seth Rollins this week, but it seems there's another fighter outside WWE eyeing matches against him. Tommy Fury has spoken up about coming to the company in a recent interview.
Fury, who has a 9-0 undefeated record in boxing, gave Jake Paul the boxer's first-ever loss earlier this year. It happened only a month ago and is still fresh in everyone's mind.
Since then, Logan Paul has offered to return to the ring and face Tommy Fury to avenge his brother. It remains to be seen if that fight materializes. However, it might turn out that they face each other somewhere else instead.
During his Soccer AM interview, Tommy Fury spoke about facing Logan Paul in WWE. He said he'd be more than open to joining WWE, citing how his half-brother Tyson Fury had already worked with them.
"100%. All they need to do is ring the phone and I'll be there the very next day. I mean I watched wrestling as a kid growing up... I love wrestling. I watched all my life growing up as many young kids do. So, working with WWE, obviously, Tyson has done some bits with them yeah, it would be a dream come true." [1:46 - 2:01]
---
Tommy Fury wants to have a character like The Rock if he faces Logan Paul in WWE
The Rock is naturally a character most fans look up to. It seems that The Rock would also be the inspiration for Fury, should he choose to come to WWE.
Speaking about jumping to WWE to face Logan Paul, he said he wanted to have a character like The Rock instead of a simply babyface.
"I'm thinking more like a character like The Rock. Bit controversial, funny, can be a villain, but can be a hero." [2:08 - 2:16]
As of now, Fury does not have a contract with WWE, but if such a deal materializes, it would be interesting to see how it would play out.
Would you like to see Tommy Fury in WWE? Sound off in the comments below.
If you take any quotes from this article, please credit Soccer AM and give a h/t to Sportskeeda for the transcription.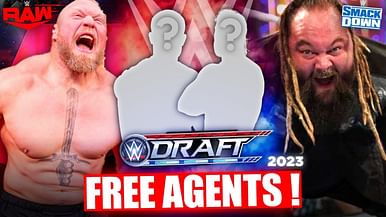 Brock Lesnar and 10 WWE stasr who are FREE AGENTS
See more
More from Sportskeeda