WWE seemingly teases retired star's return at Royal Rumble 2023
Royal Rumble 2023 is only a couple of hours away, and fans are getting excited each minute, thinking of all the surprises WWE has in store for them. The Rumble has always been one of the most anticipated premium live events in the company's repertoire, rivaling WrestleMania in popularity by comparison.
Considering this is the first Rumble under the Triple H regime, things are expected bound to be trailblazing. There have been a lot of rumors swirling around the surprise appearances that could enter this year's 30-man melee, with WWE teasing some as well.
The Stamford-based promotion seems to have hinted at a potential in-ring return of a former Intercontinental Champion, Stu Bennett, aka Wade Barrett, on social media. A video posted on their official account showed Drew McIntyre drawing his number in Rumble, with him not being happy with the bad news he received from the lucky draw, shortly followed by a celebration from Barrett.
You can watch the entire video below:
We're not sure what lousy number Drew McIntyre got stuck with to appear in the Rumble, but we think it's pretty certain it wasn't in the ending stage. However, it's quite peculiar that Barrett was happy to see his friend meet his misfortune from the lucky draw, but perhaps maybe because he could be joining the match too.
WWE reportedly could be bringing Wade Barrett to the Royal Rumble
We're quite sure that WWE has big surprises up their sleeves for the fans for Royal Rumble 2023, but they could also be delivering some "bad news" to them in the form of the current SmackDown commentator, Wade Barrett.
Following the playful tease from WWE of Barrett celebrating McIntyre's misery at receiving bad news, a report claimed that he is joining the Men's Royal Rumble match as well. Xero news reported on social media that the "Bad News Barett" is a lock appearance as a participant in the signature match.
"Bad News You Say Remember We reported Wade Barett In Rumble," Xero News tweeted.
We're not sure yet if WWE would bring him in for a one-off appearance to wrestle in the 30-man Royal Rumble match or a full-time in-ring star, but it sure would be to see him back in action after seven years.
Would you like to see Wade Barrett return at the Royal Rumble 2023? Sound off below.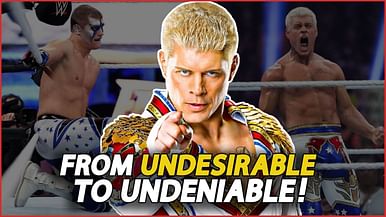 How Cody Rhodes returned to WWE and change pro wrestling forever!
See more
More from Sportskeeda