Candidate for National Sport of India: Running
2.00K //
16 Aug 2012, 01:13 IST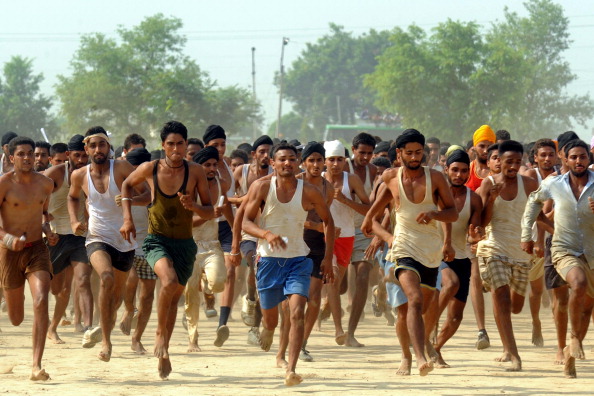 A national sport is a sport that represents a particular country's culture. Cricket is England's national sport, and rightly so. The Englishmen invented the game and it fits perfectly with the British image of a "Gentleman's" game. It is also Australia's national sport. The Ashes series played against England and Australia gives the World Cup a run for its money in terms of popularity.
Table tennis is China's national game. Few paddlers are as quick, nimble and swift like the Chinese. At the London Olympic Games, 55 of the 173 table tennis players were of Chinese descent. Peddlers of Chinese descent play for 23 different countries.
India's national sport is unofficially hockey.  The Indian hockey team has a storied history but no such laurels to its name to boast of since 1980. At one point, from 1928 – 1980, India was the most dominant field hockey team at the Olympics, winning 11 medals in 12 Games. This included 6 successive gold medals. India's last medal in hockey came in the year 1980. Since then, Indian hockey has embarked on a massive downturn, one where to hope for a rise might be nothing more than a mere illusion.
Funnily enough, in my opinion, India doesn't have a national sport even unofficially. Living under the impression that Hockey is our national sport, we never bothered to expand our horizons and wonder if there may be other sports which are more deserving of the title of India's national sport. Having already covered the reasons why wrestling can be India's national sport, here we take a look at another candidate for India's national sport, the simplest sport of all. One which is practised by all Indians, willingly or unwillingly. Running.
We are always running. Running for something. Running away from something. Running towards something.  We have all grown up running. Running is a part of all our lives, whether we realize it or not. And all we need to practice this sport are a pair of shoes. Not even that if you ask some barefoot runners. And there are a number of those out there as well.
Now when we talk about running taking precedence over hockey for the position of national sport, one may wonder how the achievements of India on the track and field are better than hockey. However, caution must be exercised to ensure that this suggestion is not based on achievements alone, but also on the significant part that running plays in all our lives. All our hockey players, would not be hockey players had they not been good enough runners in the first place. Athletics is the basis of all sports. You have got to be a good runner in order to excel at any other sport that requires physical exertion. Sachin Tendulkar did not just become the highest run scorer in the world by virtue of the fours and the sixes he hit. Running between the wickets also had a considerable role to play.
If achievements are to be held as a benchmark, agreed, India's athletic performance bears no comparison to that of hockey. So much so that Indian athletics could have the distinction of rendering hockey the stalwarts of Indian sport when the two are placed side to side. But this argument could probably hold true only till back in 1980.  As mentioned previously, the hockey team hasn't won a single medal since then, even failing to qualify for the 2008 Beijing Olympics. At this year's London Olympic Games, we didn't manage a single win and finished at the bottom of the table. Makes one sit back and wonder, amidst all the controversy that surrounded the Indian teams selection for the Olympics, were we better off not qualifying at all?
Athletics on the other hand, has had its share of the limelight at the Olympics time and again, albeit one baby step at a time. At the 1984 Olympics, PT Usha just missed a bronze medal in the 400 mts by 1/100th of a second and that race is still remembered by all who had the good fortune of witnessing it. Today, her protégé, Tintu Luka, is all set to rule the track in the middle distance events, having just missed making it to the finals of the 800 metres at the London Games. Milkha Singh, the flying Sikh, is another legend who will be remembered till time immemorial. At the 2012 Olympics, India sent a team of 14 athletes, including 6 women and 8 men. Irfan Thodi finished a respectable 10th in the men's 20 km walk, but not before ensuring that he set a new National record for the same. Krishna Poonia stood 7th in the women's discuss throw event while Vikas Gowda  finished 8th in the men's discuss throw. A decent performance by the Indian athletes this time around.
With so much young talent on the rise, Indian athletics is sure to make its mark in the coming years. Athletics has always been looked upon as a poor man's sport, but it is important to note that this poor man's sport is the basis for most of the rich man's sports in the fray. Athletics is the pinnacle event at the Olympic Games, but sadly, the sport does not enjoy as much respect in India as do it's "wealthier" counterparts, viz., cricket, tennis, etc.
How about it? Do you think running deserves to be the national sport of India?
(Written by Zeba Changi with inputs from Siddarth Sharma)